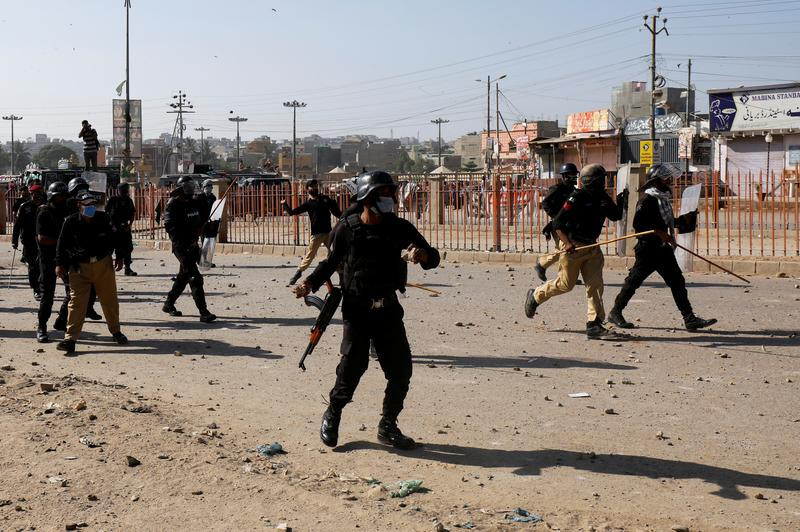 ---
LAHORE:
Hafiz Muhammad Saad Rizvi, detained head of the banned Tehreek-e-Labbaik Pakistan (TLP), has urged his party workers and supporters to end their sit-in in Lahore and call off their protest scheduled for April 20.
In a letter surfaced on Sunday, Rizvi has also called upon the members of the Majlis-e-Shura (advisory council) to disperse peacefully and surrender themselves to the law enforcement agencies.
"The sit-in outside Rehmatul Alamin Mosque should be called off immediately, workers should return home peacefully and Shura members should surrender to the law," the letter written by Rizvi in Urdu read.
The TLP chief also said that due to the stubbornness of members of central committee, hundreds of workers and citizens have been suffering for the last six days.
He directed his party activist Zaheerul Hassan Shah to implement his instructions immediately.
Shafiq Amini, another senior leader of the proscribed TLP, said in a video statement that sit-in staged on Multan Road will continue till the release of their leader.
"Workers should not pay attention to the false news, the demonstration will continue until the negotiation begins with the government," he added.
Meanwhile, Punjab Chief Minister Usman Buzdar has made an appeal to the masses to not pay heed to any unsubstantiated reports on social media.
He, in a statement, assured the public that overall law and order of the province is under control, adding that the people will be kept in touch with the latest developments with regards to crackdown on violent TLP demonstrations.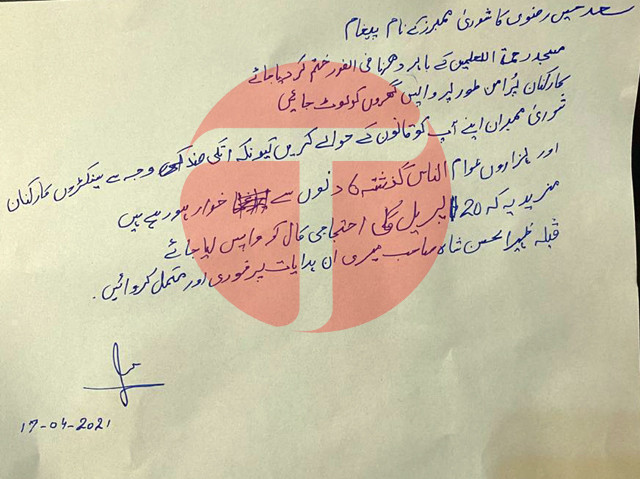 Earlier in the day, a deputy superintendent of police was reportedly taken hostage and tortured by workers of the proscribed TLP in Lahore.
According to the Punjab Police, the incident happened after workers belonging to the TLP attacked the Nawankot police station early in the morning.
In a short video doing the rounds, the Nawankot police station DSP, who identified himself as Mohammad Umer Farooq, can be seen appealing to the government to resolve the matter through dialogue.