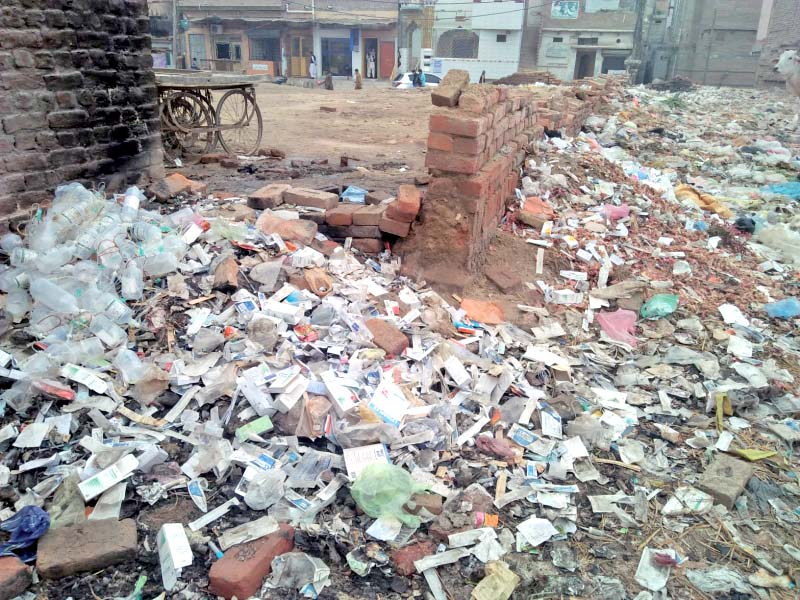 ---
KARACHI:
It was in February 2019 that the inhabitants of a small city of Sindh called Rato Dero went through the nightmare of rushing their children to clinics- children with drooling mouths, coated tongues and frail little bodies almost collapsing.
These children had been healthy, yet suddenly over a period of a few months went through drastic weight loss, sudden chills and weakened immunity. The parents went from clinic to clinic till it was discovered that the little angels were HIV positive.
Historically, this infection is acquired through vertical transmission, meaning an HIV positive mother passing the virus to her child during pregnancy, delivery or breastfeeding. It was unusual for small children to be HIV positive when their parents were not and neither had these children suffered any disease which required blood transfusion.
The news of a Human Immunodeficiency Virus (HIV) outbreak among children shocked the world and Rato Dero, a small town, gained notoriety due to which the Ministry of Health sent an international team to Sindh's remote town to investigate the matter.
Read: Rato Dero HIV outbreak highlights sick state of healthcare in Sindh
The investigators found that needles and intravenous (IV) lines were being reused. Another shocking discovery was that a central market place seemed to be the dumping ground of syringes, sharp needles, cannulas and blood bags. One look at this dumping ground in the center of the town, often used as a playground by children, identified the cause of this epidemic and the fatalities that had followed.
Throwing medical waste in public areas is not just gross negligence but a criminal act, endangering lives, and in this case starting an epidemic. Even the children who survived would live a life dependent on medication and constant surveillance by parents.
It was only the negative media coverage, intense public pressure and the World Health Organisation declaring it an emergency that forced the Sindh government to deploy doctors to the area.
The doctor who had diagnosed and reported the first case was reprimanded by government doctors, and pathologist handling the HIV positive results was pressured by government officials to downplay the numbers.
According to the list compiled by the doctor, 48 children have died from the epidemic since its outbreak, and he also had substantial proof that results have been tampered with, bringing down the number of HIV positive results.
It was discovered that most of the clinics were shabby and depreciated one-room establishments. Doctors were never on site, yet got monetary benefits. Patients, being from simple backgrounds, were easily fooled and believed that anybody with a stethoscope was a doctor.
Even those with medical degrees did not follow measures to avoid infections and indulged in the criminal act of reusing needles and IV cannulas. The mishandling of medical equipment seemed prevalent and used needles were littered in health facilities, on filing cabinets and windowsills.
If the Sindh AIDS Control Programme had been actively engaged in disease surveillance, the early cases in Rato Dero would have been detected and many innocent young lives saved. Unfortunately, the provincial government was totally unaware or indifferent to this alarming situation and only learnt about the outbreak when it was covered by the media.
Read more: HIV positive child dies in Rato Dero
Ironically, Larkana, where Rato Dero is located, is the constituency of Pakistan Peoples Party (PPP) Chairperson Bilawal Bhutto. Yet, instead of receiving attention, the inhabitants were the victims of criminal medical practices and later their cover ups.
HIV numbers have been discouraging in Pakistan during recent years and tragically, only 21 per cent of those infected with HIV in the country are aware of their status. There are approximately 190,000 HIV positive people in the country, and only 12 per cent of them receive treatment, with the result that there has been a 385 per cent increase in HIV related deaths since 2010. The emergence of Covid-19 has put additional pressure on the already strained health system.
The health sector in Sindh, which is on the verge of collapse, urgently requires strategic allocation of resources and active disease surveillance. The provincial government needs to realise that only a healthy population can contribute to economic growth and this requires children to be protected against diseases and treated as the most prized resource of the country, but only if the PPP-led Sindh government cares.
The writer is a Pakistan Tehreek-e-Insaf MPA since 2018 and the chair of Regional Parliamentary Committee for Child Rights.
COMMENTS
Comments are moderated and generally will be posted if they are on-topic and not abusive.
For more information, please see our Comments FAQ