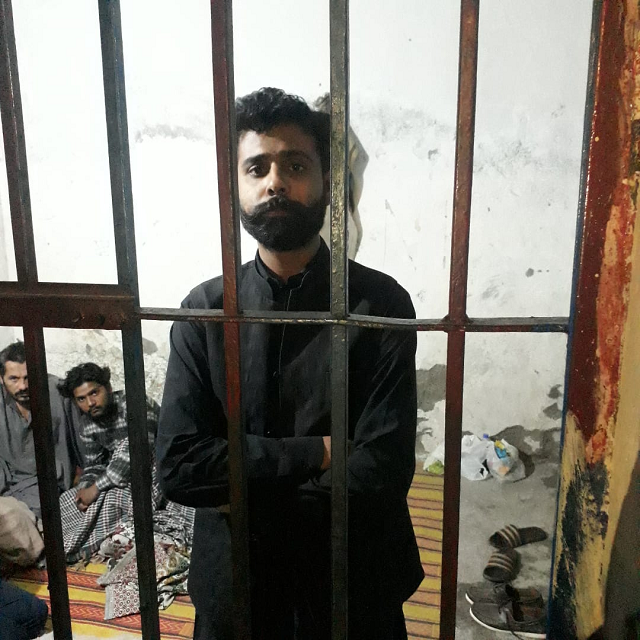 ---
RAWALPINDI:
Shaheer Sialvi, a student leader and president of the State Youth Parliament, has been arrested for allegedly expressing solidarity with the head of banned Tehreek-e-Labbaik Pakistan (TLP) and challenging the writ of the state.
Police Sub-Inspector Tayyab Zaheer told The Express Tribune that a case has been registered at Westridge Police Station in Rawalpindi against Shaheer Haider Malik alias Shaheer Sialvi under the provisions of the Anti-Terrorism Act (ATA).
The police official said that Sialvi in a video which went viral on social media can be seen inciting people to violence against the state while denouncing TLP head Muhammad Saad Rizvi's arrest.
The federal government on Thursday banned the ultra right-wing TLP – whose supporters rioted across the country for nearly three days after their leader Saad Rizvi was detained in Lahore.
In the video, the sub-inspector said Sialvi challenged the writ of the state through hate speech and provoked his followers to attack the law enforcement agencies.
Also read: TLP protest winds down, sporadic skirmishes reported in some cities
Police registered a case under sections 7ATA, and 11-X (3) and 505 (2) of the Anti-Terrorism Act, he added.
Earlier in the day, Interior Minister Sheikh Rashid Ahmed had said that the crackdown against the banned TLP would continue while apologising for temporarily suspending social media services amid fears of protests.
"I apologise for suspending the services of social media for three hours because they [TLP] could have taken to streets after the Friday prayer," Rashid said in a video statement on Friday, pledging that such a ban would not be imposed again.
Rashid said the crackdown against the ultra-right wing party would continue and "no one will be allowed to take law into their hands at any cost".
"We have declared them [TLP] proscribed organisation. We will also go for dissolution and will freeze their bank accounts and block passports as well," he added.