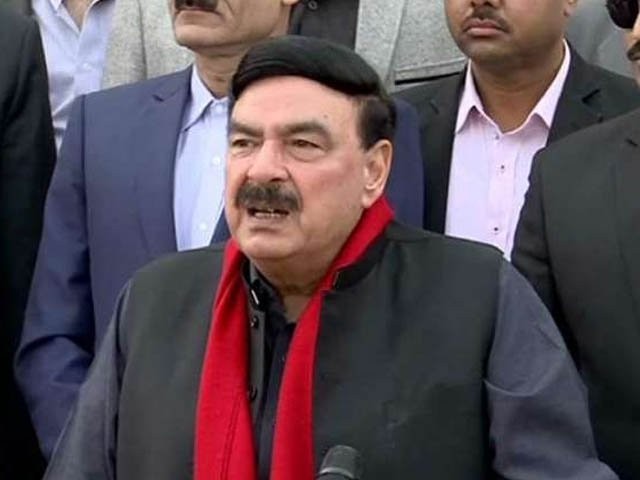 ---
ISLAMABAD:
The interior ministry decided on Wednesday to deal sternly with the 'miscreants' taking the law into their hands, as the Tehreek-e-Labbaik Pakistan (TLP) protest subsided in most areas of the country, with sporadic clashes reported in some cities.
According to police officials, the protests have been ended in most places across the country, while a few incidents of skirmishes between the police and protesters have been reported.
The meeting, with Interior Minister Sheikh Rashid in the chair and senior officials in attendance, reviewed the law and order situation across the country, particularly in Islamabad.
On the occasion, Rashid lauded police, Rangers and district administration on getting majority of the areas cleared. Those in attendance praised police officials who lost their lives in the clashes.
The interior minister directed the participants to ensure the writ of the state at all costs. He said that motorways, GT Road, and other major arteries have been reopened for traffic.
Also read Unrest in garb of protest won't be allowed: PM
He added that Liaquat Bagh, Tarnol, Bara Kahu, and Rawat have also been cleared for vehicular traffic.
Officials of Safe City Authority Lahore stated that several places in the provincial capital are still closed due to the protests.
Deputy Commissioner Lahore said that Thokar Niaz Beg, Multan road and some other areas have been reopened for traffic.
In Rawalpindi, several people have reportedly been injured following clashes with the police. Shelling was reported from the Liaquat Bagh chowk and Murree road, with protesters pelting stones on the law enforcement personnel.
Also read Gridlock in metropolis distresses citizens
The city's metro-bus track turned into a battleground, with several reportedly injured. The protesters also set properties on fire and were dispersed by Rangers through a baton-charge.
Skirmishes were also reported from Taxila where protesters have managed to continue their sit-ins.
Traffic has reportedly been restored in Karachi and Sahiwal too as police successfully dispersed the protesters.
Clashes have been reported from Multan, with several police officials sustaining injuries in the incidents.