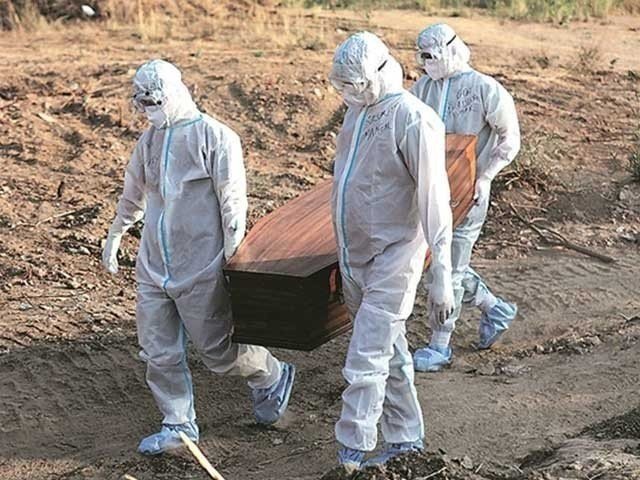 ---
RAWALPINDI/ISLAMABAD:
Eight more people died of the novel coronavirus in Rawalpindi on Thursday.
According to details, one patient succumbed to the virus at the Holy Family Hospital, five at the Benazir Bhutto Hospital and two at the Rawalpindi Institute of Urology and Kidney Liver Transplant (RIUKT). Some 280 patients are receiving treatment in these hospitals and among them, 248 are on oxygen support and seven on ventilators.
Smart lockdowns
Given a surge in the number of coronavirus cases amid the third wave of coronavirus in Rawalpindi, health officials have recommended the enforcement of smart lockdowns in seven localities in light of anti-Covid standard operating procedures (SOPs) violations.
The areas outlined for smart lockdowns include sector 4, street four, block C, Airport Housing Scheme; Moza Khardin, Ward No 9, Gujar Khan; street no 28, Khurram Colony, Muslim Town; Abdul Ghani area, street Tench Bhatta; Maira Shams Union Council Sui Cheemian, Daryala Khaki; lane no 5, Rahe Aman Road, New Lalazar; and Hashmi Colony, Lala Rukh area, Wah Cantt, Taxila.
Read more: 470 new Covid infections detected in Sindh
The district administration has also been requested to enforce a smart lockdown outside two houses on Sarwar Road due to the presence of Covid patients. The house numbers are 175 and 176.
Islamabad children
The number of children who have tested positive for the novel coronavirus has reached 7,052, said the district health authority on Thursday.
A health authority official said 7,052 minor children aged up to 10 years have been infected by the coronavirus since the first Covid case was reported in Pakistan last year.
According to details, 6,253 children aged between 11 to 20 years, 13,803 youth aged between 21 to 30 years, 19,258 persons aged between 31 to 45 years and 13,028 persons aged between 46 to 60 years have contracted the virus to date.
He said 7,001 senior citizens aged between 60 and 80 years and 648 persons above 80 have also contracted the virus.
SOP enforcement
Deputy Commissioner Islamabad Muhammad Hamza Shafqaat has directed all assistant commissioners to ensure full implementation of anti-coronavirus SOPs at mosques for public safety amid the third wave of the pandemic. He gave these directives while visiting different mosques of the city
The DC issued notice to the management of a mosque in sector F-7 for not adhering to the SOPs, whereas a prayer leader of a mosque located at sector G-11 was summoned to his office on the same grounds.
Published in The Express Tribune, April 16th, 2021.