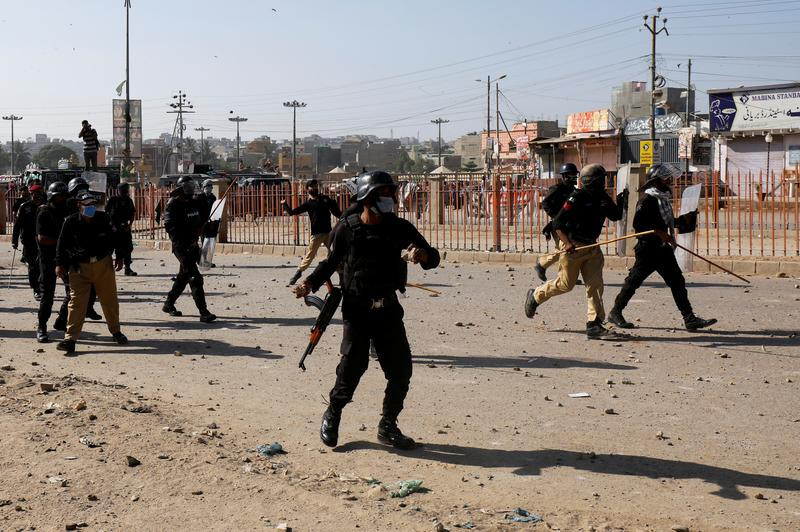 ---
LAHORE:
Flow of traffic on main roads of the city remained affected for the third day on Wednesday, although the extent of protests by a religious party decreased.
Amid action by police and paramilitary forces, the number of protest sites in the city dropped to seven in the evening from 13 in the morning and 22 at the earlier stage.
The entry and exit points of the city, motorways and highways remained clear.
Read: Protests erupt across Pakistan after TLP chief detained in Lahore
Police registered over 40 FIRs against the protesters for their violence, including the second murder case against the party's leader Saad Rizvi and others over the death murder of Constable Ali Imran in Gujjarpura. On Tuesday, he was booked for the murder of Constable Muhammad Afzal in Shahdara.
A large number of protesters have been arrested.
Violent clashes between police and the protesters continued on Wednesday, although their intensity subsided.
A mob attacked the emergency gate of Lahore General Hospital. The suspects were chasing some policemen who ran to the basement of the building for shelter.
Skirmishes between police and the protesters were reported at Babu Sabu interchange, Ring Road, Chungi Amar Sadhu and some other places. At Shanghai Bridge, a mob broke the tiles to pelt police officials with them. They also punctured the tyres of trucks and other vehicles to block the roads.
The points that remained blocked for traffic included Bhatta Chowk, Chungi Amar Sadhu, Shadbagh Chowk, Daroghawala GT Road, Ring Road, Samanabad, Yateem Khana Chowk and Scheme Mor.
Funeral prayers of Constable Imran were offered at Police Lines Qila Gujjar Singh. Capital City Police Officer (CCPO) Ghulam Mehmood Dogar, Rangers Director General Major General Amir Majeed and other officials were present on the occasion. The policeman had succumbed to injuries that he had suffered during clashes with protesters.
Read more: TLP protest winds down, sporadic skirmishes reported in some cities
The CCPO also visited a hospital to enquire after the injured police officials. Head Constable Imran and Muhammad Amin, Constable Rizwan, Muhammad Aslam, Farooq and Idreess were undergoing treatment at the hospital.
Dogar said at least 125 policemen had been injured during the clashes, of whom most had been discharged from hospitals after treatment, six were under treatment at Jinnah Hospital and one at Kot Khawaja Saed Hospital.
The police also held a flag march for the second day that passed different roads of the city.
Published in The Express Tribune, April 15th, 2021.
COMMENTS
Comments are moderated and generally will be posted if they are on-topic and not abusive.
For more information, please see our Comments FAQ