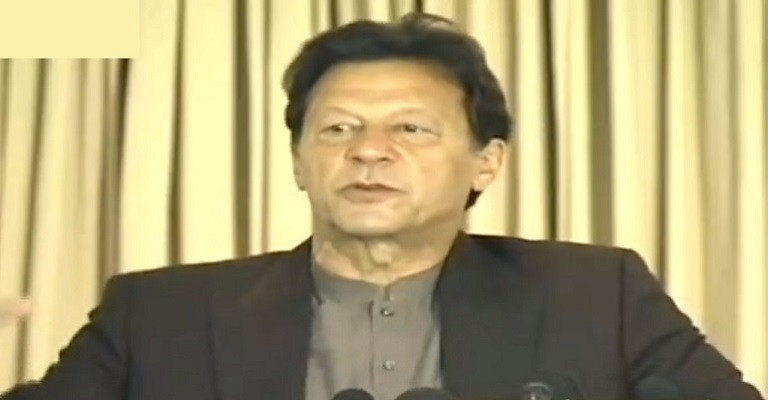 ---
ISLAMABAD:
Prime Minister Imran Khan said on Sunday that the government would expand the network of kitchen trucks and health coverage across Pakistan, saying these measures would uplift the underprivileged and help the country prosper.
"We have now initiated this facility in Peshawar, Lahore, and Faisalabad, and this network will now see its expansion in the entire country," the premier said.
His remarks came as he addressed a ceremony marking the expansion of the 'Ehsaas Koi Bhoka Na Soye' programme, aimed at distributing free food to daily-wage earners, in Punjab and Khyber-Pakhtunkhwa.
"We can only emerge among the comity of developed nations if we take steps for the welfare of the underprivileged," the premier stated.
A programme like this, he noted, will bring the bounties of the Almighty on the country, and will help the country prosper.
PM Imran reiterated that it was the responsibility of the state to uplift the underprivileged and deserving segments of the society.
Read PM Imran inaugurates another housing project for the underprivileged
"In the next step, we will expand the net of hospitals across the country, with people being able to benefit from the facilities through the health card," he added.
"It is our responsibility to provide universal health coverage under a system across Pakistan," PM Imran added.
Fulfilling these responsibilities will also set the path for us to bring justice to the country and ensure supremacy of law in it, the premier concluded.
The premier addressed the inaugural ceremony virtually in view of the third wave of Covid-19. Chief ministers and parliamentarians of K-P and Punjab were a part of the conference.
The food trucks inaugurated under the programme will provide free food to 1,500 to 2,000 people every day through the designated points.
The programme will benefit the daily-wage earners and lower class workers who don't yet have access to Ehsas shelters and charities.
PM Imran inaugurated the service on March 10 for the daily-wage earners of Rawalpindi and Islamabad. So far, 37,827 people have been provided food, with the service now being extended to three more cities.
Those, who do not have access to Ehsas shelters or charities are to be benefited in the said districts.
The Ehsas Koi Bhoka na Soye programme is PM Imran's vision for the year 2021.
COMMENTS
Comments are moderated and generally will be posted if they are on-topic and not abusive.
For more information, please see our Comments FAQ