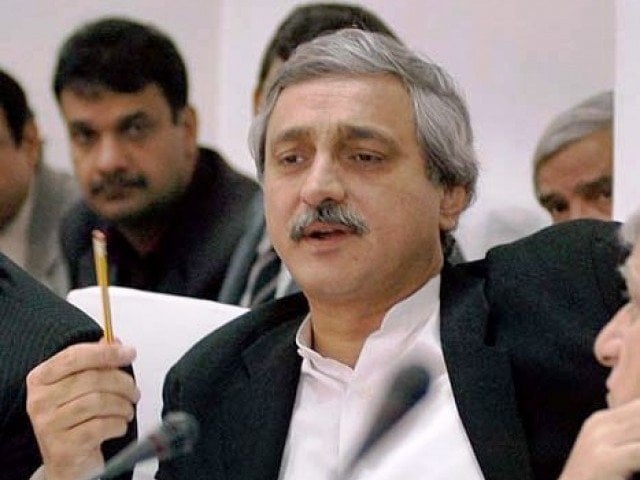 ---
On the request of the Federal Investigation Agency (FIA), 36 bank accounts belonging to estranged PTI leader Jahangir Tareen and his family have been frozen in connection with the probe into the sugar scandal.
Sources in the State Bank said the family had these accounts in nine banks, both government and private.
They added that 21 of these accounts belong to the former PTI general secretary's son, Ali Tareen.
Fourteen of them belong to the estranged PTI leader himself and one to his wife.
Read more: 'PML-N doors not shut on Jahangir Tareen'
Four of them are US dollar accounts, two British pounds and the remaining of local currency.
The sources added that there are "tens of millions of rupees" in the frozen accounts.
Earlier in the day, Tareen and son appeared before a team of FIA officials along with their company's secretary Maqsood Malhi.
Tareen in his questionnaire was asked to explain why did he sell sugarcane for Rs4.85 billion, a price he had fixed himself.
"How much did your family benefit at the expense of shareholders from this transaction?" the questionnaire read.
Similarly, the father and son duo have each been given five questions to respond to in another case.
Ali has been asked about why did the Tareen family sell off their JKFSL sugar business.
"Was the sale of the business advertised? How many potential buyers contacted the company and how much did they bid?" the questionnaire read.
The agency noted that the record of the JKFSL showed that it had suffered a loss of Rs326 million in 2013.
"Despite suffering losses, why was the sugarcane business sold to the JDW [also owned by Tareen] at an exorbitant price of Rs4.35 billion?"
Ali has been asked to provide the money trail of where the JKFSL spent the Rs4.35 billion.
Tareen has already refuted these charges, claiming they false and baseless.
Last month, the FIA booked the former PTI general secretary, his son Ali and other members of his family in separate cases on charges of financial embezzlement and money laundering.
The cases were registered under sections 406 (criminal breach of trust), 420 (cheating of public shareholders) and 109 of the Pakistan Penal Code (PPC), read with sections 3/4 of the Anti-Money Laundering Act.
Responding to the charges, Tareen claimed on Twitter that the allegations against him and his family were "totally fabricated".
"I have already submitted a detailed reply along with concrete evidence in response to the FIA notice. Unfortunate to see them go on another smear campaign against me & my family without establishing anything illegal," he wrote.