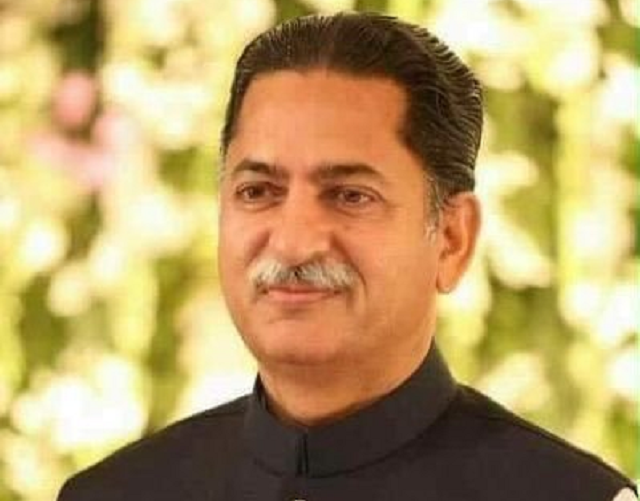 ---
LAHORE:
Lahore High Court's (LHC) Chief Justice Muhammad Qasim Khan denied giving relief to Pakistan Muslim League-Nawaz's (PML-N) Mian Javed Latif with an observation that "a person who speaks against the country or the Constitution could not be given relief from me".
The MNA filed a plea seeking direction to quash a First Information Report (FIR) registered against him over allegedly hurling insults at the state, its institutions and their integrity and for spreading chaos and panic among people by making statements during a TV talk show.
As the proceedings commenced, the chief justice came down hard on Latif after his counsel, Syed Farhad Ali Shah, read the FIR.
"As a Pakistani who lives in Pakistan and enjoys all facilities, takes oath in parliament, have you evaluated yourself," CJ Khan remarked.
Advocate Shah argued that a specific portion of the interview had been mentioned in the FIR merely to create a wrong impression against his client.
Read: LHC says no one dares to comment against other institutions
While addressing the counsel's argument, Justice Qasim Khan said the accused can provide the transcript of the interview in question to the Investigation Officer (IO) if he suspects something was not done correctly in the investigation process. He added that the accused can also apply on all forums to declare himself innocent.
Shah prayed the court to pass direction to the concerned quarters for a fair investigation.
"Gentleman lawyers made dint of efforts in the creation of Pakistan and now a lawyer is representing a man who gave statements against Pakistan", the CJ said.
Justice Khan asserted that there is no relief for someone who speaks out against the country.
Following the chief justice's remarks, counsel to the PML-N leader withdrew the petition which was later dismissed.
While talking to the media, Latif stuck to his stance and claimed he had done nothing wrong. He maintained that such hardline policies give birth to traitors and said that the "state should avoid such policies at all cost and instead make policies which would create patriots".
The PML-N lawmaker added that if drawing attention to loopholes and mistakes is an issue, then he is ready for execution. "Did someone think why people say 'Zindabad' (long live) to those whom the 'certificate of traitor' is given and why people do not welcome those who award such certificates," he questioned.
Latif added that it is easier to declare someone a traitor. "Those who occupied the nation and violated the Constitution have been pronouncing a civilian as 'ghadaar' [traitor]," he claimed.
Elaborating the statements he passed in a talk show, the lawmaker said Pakistan Peoples Party (PPP) leader Benazir Bhutto had expressed concern before her murder and it was the responsibility of the state to protect her.
Latif also said that it is regrettable that the legal heirs of Benazir Bhutto aligned with those whose names she had disclosed.
Read more: Javed Latif granted pre-arrest bail in 'defaming state institutions' case
The MNA was earlier quoted as saying in a talk show: "If anything happens to PML-N Vice President Maryam Nawaz, the PML-N will not say Pakistan Khuppay."
On March 19, police registered a treason case against Latif for allegedly hurling insults at the state and its institutions.
The FIR was registered on the complaint of one Jameel Saleem under sections 120, 120B, 153, 153-A, 500 and 505(I) (B) and 506 of PPC.
Latif, the FIR said, violated criminal, national and constitutional laws by making the statement against national security and state institutions.
The MNA's statement had invited stern backlash, especially from the treasury benches, who asked the MNA to explain his stance and reassure his loyalty to the country.