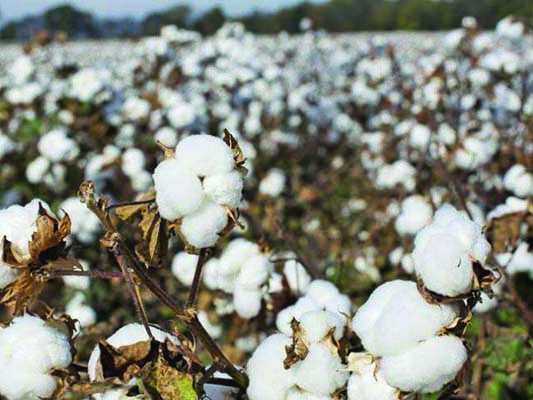 ---
LAHORE:
Despite an upward trend witnessed by the textile industry during last year, the Punjab government failed to keep up cotton production resulting in a decline of 34% compared to last year.
According to experts, textile exports increased by 7.8% during the first six months of the current financial year which led to earnings of $7.4 billion but the industry had to import cotton worth 321 million during the same period.
The country is currently facing a historic shortage of cotton due to the reduction in the main cash crop cultivation.
The State Bank of Pakistan in its report on the agricultural sector has revealed that the area under cotton cultivation has been steadily declining up to its lowest level ever, 2.2 million acres, since 1982. The negligence of the authorities has waned farmers off the country's main source of foreign exchange for the past many years.
According to experts, cotton production in Punjab and Sindh declined by 34% and 38% respectively.
"Up to February this year only 5.6 million bundles of cotton were collected compared to 8.5 million in 2020," the experts said while pinpointing the dearth of the fibre through data. Cotton is a Kharif crop that is sown during March-May and is then fed by the monsoon rain in June-July.
Cotton cultivation is currently ongoing in different districts of Punjab and the government has set a target of growing cotton on at least four million acres this year. To entice farmers, the provincial government has also announced a subsidy on cotton seeds, fertilizers and pesticides.
Chaudhry Muhammad Khalid, a farm owner, told The Express Tribune that he used to grow cotton on 25 acres but plans to double the plantation area this time.
"If the government continues to incentivise cotton cultivation, he will further increase the crop area for cotton next year onwards and reduce plantation area of other crops," Chaudhry underlined.
He stated that the cotton production suffered owing to criminal neglect by authorities in the shape of substandard seeds, expensive fertilizers and pesticides coupled with challenges posed by climate change.
Another farmer, Mohammad Farooq, said that if the government provides subsidies on agricultural products and machinery to the growers the high production would end the need for cotton import from United States, Brazil, Africa or India.
"Farmers in India are given subsidy on electricity; their production cost is lesser than ours while the yield per acre is even higher due to improved seed quality. If Pakistani farmers are given these facilities, they can help the country become self-sufficient."
Punjab Department of Agriculture Director General (Extension) Dr Anjum Ali urged farmers to use approved cotton seed varieties such as IUB 13, MNH 886, BS 15, Niab 878 and FH 142 for better yields and pest resilience.
"Punjab government is providing approved varieties of seeds for an area over 200,000 acres at Rs1,000 per bag. It also offers a subsidy of Rs4.4 billion for insecticides to exterminate whitefly," he added. H
e said that about 4 million acres of cotton crop are expected to yield an average of 17 maunds per acre. Pakistan is the fourth-largest producer of cotton in the world and 80% of its total production comes from Punjab. Dr Anjum Ali underlined that the use of unapproved and illegal seeds has significantly reduced the production of cotton.
"On the direction of Punjab Agriculture Minister Syed Hussain Jahanian Gardezi, a campaign has been launched to apply seed medicine before sowing cotton in the next season for added resilience to pests and diseases," the director-general revealed.
However, a progressive farmer Amir Hayat Bhandara was wary about the specifics of the offered subsidies. "We don't know which whitefly insecticide has been put on subsidy by the government. There's a communication gap between the farmers and the government which has led to a lack of interest towards cotton growing," he explained.
"The Economic Advisory Council does not even include a single farmer," Bhandara lamented.
COMMENTS
Comments are moderated and generally will be posted if they are on-topic and not abusive.
For more information, please see our Comments FAQ