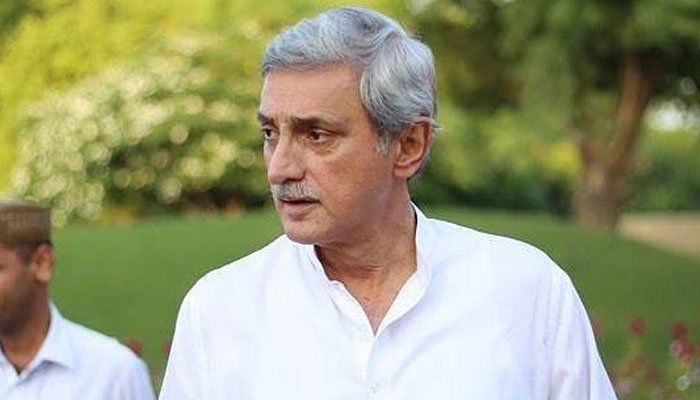 ---
Estranged Pakistan Tehreek-e-Insaf (PTI) leader Jahangir Tareen on Tuesday refuted reports of his alleged meetings with leaders of Pakistan Peoples Party (PPP) aimed at joining the latter in a bid to send his party's governments in Punjab and Centre packing.
PPP's senior leader Shehla Raza had claimed that Tareen is likely to jump ship next week when he is scheduled to meet Asif Ali Zardari.
Raza's claim drew an immediate snub from Jahangir Tareen, who along with his son is currently facing money laundering charges.
"Jahangir Tareen met with Makhdoom Ahmed Mahmood [a senior PPP leader in Punjab]," Shehla Raza, former speaker Sindh Assembly, wrote on her verified Twitter handle.
"Jahangir Tareen will meet former president Asif Ali Zardari next week in Karachi," she claimed.
جہانگیر ترین کی مخدوم احمد محمود سے ملاقات،اگلے ہفتہ کراچی میں سابق صدر آصف زرداری سےملاقات کریں گے،خیال ہے کہ جہانگیر ترین اس ملاقات میں پی ٹی آئی چھوڑنے اور ساتھیوں سمیت پی پی پی میں شمولیت اختیار کر لیں گے،اگر واقعی ایسا ہوگیا تو نہ بوزدار رہے گا نہ نیازی ہوگا

— Syeda Shehla Raza (@SyedaShehlaRaza) April 6, 2021
It is believed that he would announce joining the PPP along with his supporters in the meeting with Zardari, according to her.
"If this happens, then neither Buzdar nor Niazi will survive," she said while referring to Punjab Chief Minister Sardar Usman Buzdar and Prime Minister Imran Khan.
However, Tareen was quick to dismiss the report as "propaganda against me". "There is no truth in reports about me meeting with PPP leaders or joining the PPP," he said. "Those running fabricated stories against me will face disappointment."
Also read: Tareen questions 'hype' surrounding his sugar mills
Tareen and his son Ali last week obtained bail orders in three different FIRs registered against them by the Federal Investigation Agency (FIA) over allegations of fraudulently misappropriating shareholder's money, company's money and committing money laundering.
Adviser to Prime Minister on Interior and Accountability Shahzad Akbar had said that Tareen, once considered to be the closest confidante of Premier Imran, will be prosecuted as per law, adding no one will be given an NRO.
The adviser told the media in Lahore that attempts for "NROs are no secret, but we are not going to give them to anyone". He said, "There will be no favouritism in this and Tareen will be prosecuted as per the law."
'Fabricated allegations'
Tareen, while responding to the case registered against him, claimed that the allegations levelled against him and his family were "totally fabricated".
"I have already submitted a detailed reply along with concrete evidence in response to the FIA notice. Unfortunate to see them go on another smear campaign against me and my family without establishing anything illegal," he wrote.
Read more: Jahangir Tareen to be prosecuted as per law: Shahzad Akbar
According to FIA sources, Tareen transferred over Rs3 billion from his company JDW Group, to his son-in-law Waleed Akbar Farooqui's firm, Farooqui Pulp Private Limited, which was shut down in 2011.
Around 26% of the company's shares belong to the public shareholders.
An inquiry disclosed that the JDW had made fraudulent payments to the closed mill under the guise of clearing dues.