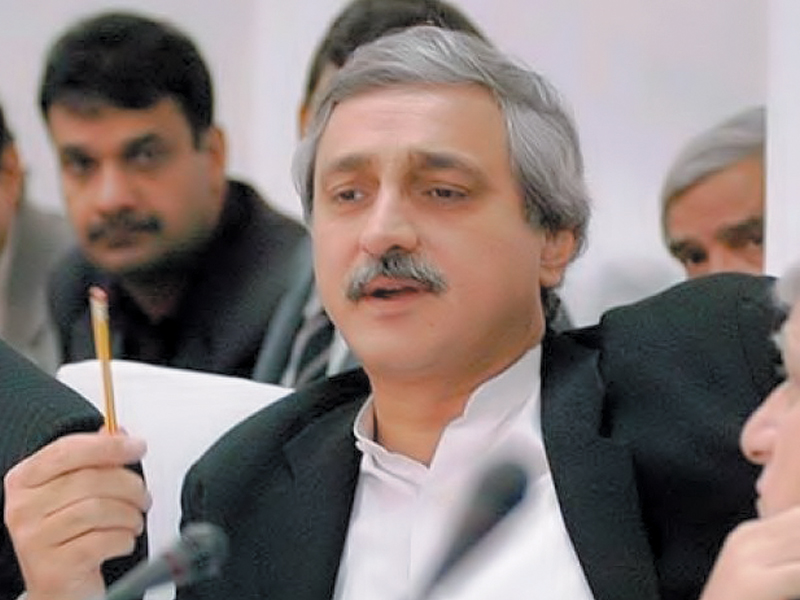 ---
LAHORE:
The Federal Investigation Agency (FIA) has booked former PTI general secretary Jahangir Tareen, his son Ali Tareen and other members of his family in two separate cases on charges of financial embezzlement and money laundering, The Express Tribune learnt on Wednesday.
The cases were registered earlier in March under sections 406 (criminal breach of trust), 420 (cheating of public shareholders) and 109 of the Pakistan Penal Code (PPC), read with sections 3/4 of the Anti Money Laundering Act.
Responding to the charges, Tareen claimed on Twitter that the allegations against him and his family were "totally fabricated".
"I have already submitted a detailed reply along with concrete evidence in response to the FIA notice. Unfortunate to see them go on another smear campaign against me & my family without establishing anything illegal," he wrote.
According to sources in the FIA, Tareen transferred over Rs3 billion from his company JDW Group, to his son-in-law Waleed Akbar Farooqui's firm, Farooqui Pulp Private Limited, which was shut down in 2011.
Around 26% of the company's shares belonged to public shareholders.
An inquiry disclosed that the JDW had made fraudulent payments to the closed mill under the guise of clearing dues.
"The transfers, especially after FY 2011-2012, were patently fraudulent investments which ultimately translated into personal gains for the family members of the JDW CEO," the FIR read.
Tareen, his son and other family members also bought dollars from the open market in Lahore in a "structured manner".
Also read FBR sugar mills report irks PM Imran
In 2016 when the JDW Group was incurring losses, "Ali Khan Tareen remitted approximately $7.4 million to the United Kingdom for purchasing properties (to be investigated in detail during the course of investigation) which makes them liable for Anti-Money Laundering investigation," the FIR further read.
In the other FIR, the FIA stated that "voluminous withdrawals amounting to at least Rs2.2 billion were fraudulently and dishonestly made through a trusted cash rider".
It added that Amir Waris, a cashier at JDW's Corporate Head Office, deposited large amounts into the personal and business accounts of Tareen and his family members.
"This modus operandi of cash-based misappropriation and money laundering was employed to break the onwards money trail of deposits into personal and business accounts of the accused Tareen and family," the FIR read.
The FIA has also registered a case against Jahangir's right-hand man and chief financial officer, former agriculture secretary Rana Nasim, who received Rs600 million from the JDW's accounts.
He [Rana Nasim] claims these humungous amounts as salary, bonuses and gentlemanly-agreed benefits."
In March, the Federal Board of Revenue (FBR) presented a report to Prime Minister Imran Khan about the recovery of taxes from the sugar mills, which, according to a sugar inquiry commission, had minted billions of rupees through illegal means.
In its preliminary report -- unveiled on April 5 last year -- the commission stated that sugar mills belonging to the families of top politicians including PML-N's Shehbaz Sharif, PTI's Jahangir Tareen and Khusro Bakhtiar, PML-Q's Moonis Elahi and PPP's Asif Ali Zardari were among beneficiaries of the crisis.