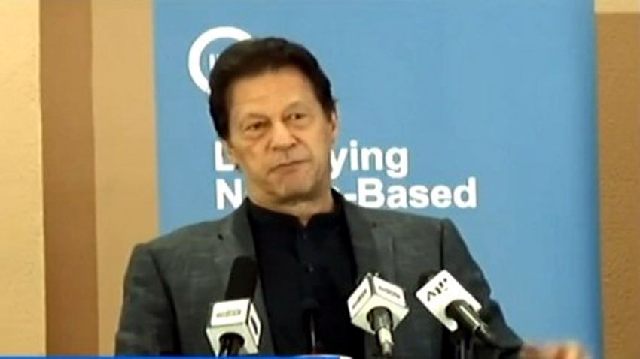 ---
ISLAMABAD:
Prime Minister Imran Khan has expressed extreme displeasure over the Federal Board of Revenue's (FBR) failure to take action against the sugar mills owned by political personalities and ordered the taxman to launch an indiscriminate crackdown in the light of an inquiry commission report.
The FBR on Wednesday presented to the prime minister a report about recovery of taxes from the sugar mills which according to a sugar inquiry commission had minted billions of rupees through illegal means.
The sugar inquiry commission – headed by the Federal Investigation Agency (FIA) chief – was formed to probe into a sudden shortage of sugar that resulted in a steep hike in its prices in January 2020.
In its preliminary report – unveiled on April 5 – the commission had claimed that sugar mills belonging to the families of the country's top politicians including PML-N's Shehbaz Sharif, PTI's Jahangir Tareen and Khusro Bakhtiar, PML-Q's Moonis Elahi and PPP's Asif Ali Zardari were among beneficiaries of the crisis.
In its forensic report – issued on May 21 – the commission had accused the sugar mill owners of earning illegal profits to the tune of billions of rupees through unjustified price hikes, benami transactions, tax evasion, misuse of subsidy and purchasing sugarcane off the books.
The FBR report stated that the tax authority recovered Rs404 billion from the sugar mills on account of taxes. These taxes were evaded from 2015 to 2019. However, the report did not contain any detail about the actions the FBR took against the sugar mills owned by political personalities.
According to the report, the FBR had not yet completed its investigation with regard to the sugar mills of PTI's Jahangir Tahreen, Khusro Bakhtiar, Humayun Akhtar and PML-N's Shehbaz Sharif and their families.
These mills include Al-Arabia, Alliance, Chanar, Etihad, Gulf, Hunza, Jauharabad, JDW, JK, Macca, Ramzan, RYK, Shahtaj, Shakarganj, Sheikhoo, Tandlianwala, Two Stars Limited, Chasma, Khazana and Premier sugar mills.
Sources in the PM office said Imran Khan expressed displeasure over the report and asked the FBR as to why it did not take indiscriminate action against all culprits. The premier later ordered the tax authority to submit a report after carrying out indiscriminate action on the basis of the inquiry commission's findings.
Earlier, the prime minister had asked the FBR to recover all the taxes outstanding against the 89 sugar mills identified by the sugar inquiry commission.
COMMENTS (1)
Comments are moderated and generally will be posted if they are on-topic and not abusive.
For more information, please see our Comments FAQ