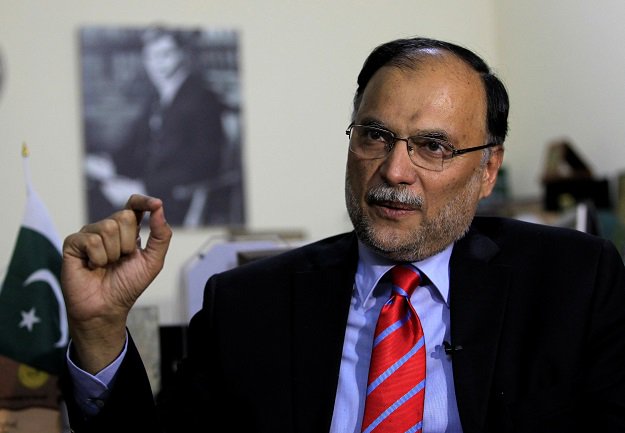 ---
LAHORE:
PML-N leader Ahsan Iqbal has alleged that the PPP was trying to divert the people's attention from the real issue of en masse resignations from assemblies by repeatedly criticising the N-league for not bringing an in house change in Punjab.
"Going by the PPP's unrealistic proposal, the Pakistan Democratic Movement will only end up in giving validity to the Buzdar government in Punjab," he told The Express Tribune on Saturday.
Opposition parties do not have numbers in the Punjab Assembly to succeed in passing a no-confidence motion, he said, adding that losing such a move would not only be a major setback for all opposition parties but would also be a compromise on the option of en masse resignations, as the alliance would lose the "moral authority."
Iqbal said: "The PPP wants the PDM to suffer the same fate as it did during the Senate chairman and deputy chairman election. The PML-N will not fall for this bait." He was of the view that the government would have fallen down like a "house of cards" if the Sindh ruling party had agreed to give en masse resignations from assemblies.
Also read: PPP demands apology from PML-N
Taking a bold stance against the PPP, he said the "fate of PPP" would be decided in the upcoming leadership meeting. Iqbal added that the future course of action of all the remaining PDM's parties would also be devised at the aforesaid meeting.
"Every party has its own plans as well, but the overall plan of the future course of action would be taken by the PDM unanimously," he said to a query on the PML-N's decision to launch a fresh round of protest and rallies against the PTI-led government with or without PDM parties.
According to media reports, Hamza Shehbaz during his meeting with his father Shehbaz Sharif has been advised to avoid politics of confrontation and continue with the policy of reconciliation. Such a development was not officially denied by the party, however, was rubbished by Iqbal who termed it a "table story and disinformation."
Separately, PPP Chairman during his Khairpur presser had said that the opposition alliance would have brought the PTI-led government down even in the Centre only if the PML-N had agreed to the option of bringing an in house change in Punjab. He alleged that likewise the PTI, some PML-N leaders were also "not happy" with the Gillani victory in Senate elections.
COMMENTS
Comments are moderated and generally will be posted if they are on-topic and not abusive.
For more information, please see our Comments FAQ