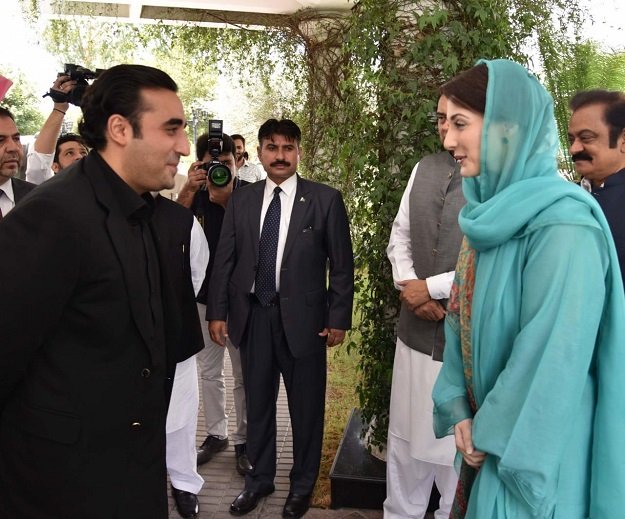 ---
ISLAMABAD:
The Pakistan Peoples Party (PPP) sought on Saturday an apology from the Pakistan Muslim League-Nawaz (PML-N) for electing unopposed senators in Punjab and for helping a candidate of the Pakistan Tehreek-e-Insaf (PTI) win over the Pakistan Democratic Movement (PDM)'s unanimous candidate Farhatullah Babar in Khyber Pakhtunkhwa.
A day after five opposition parties announced to form a new opposition bloc in the Senate and decided that a "show-cause" notice be issued to PPP and Awami National Party (ANP) for "deviating" from an earlier formula of seat distribution in the Senate, PPP lambasted PML-N for supporting PTI in Punjab and criticized a "secret meeting" of PDM parties after which they made the new bloc of 27 senators.
PPP leadership also believes that a conspiracy was hatched against PDM's long march by suddenly linking it with en-mass resignations from the assemblies, saying it was an attempt to save the PTI government.
Read more: Five PDM parties to form separate bloc
"PML-N should apologise to PPP for defeating PDM's unanimous candidate Farhatullah Babar and helping a PTI senator win," PPP Central Secretary Information Shazia Marri said, "Rana Sanaullah should apologise to PPP for electing unopposed senators in Punjab with the help of PTI instead of seeking an apology from PPP."
The opposition is in disarray and the rifts over the office of the Senate's leader of the opposition deepened on April 2 when five opposition parties – PML-N, JUI-F, PkMAP and BNP-Mengal and PkMap – agreed to form a separate bloc of 27 opposition senators in the upper house of parliament.
Serious differences emerged between the parties – both part of the anti-government alliance PDM – after PPP appointed its stalwart Yusuf Raza Gilani as Senate's opposition leader, apparently in violation of what had earlier been agreed upon in a PDM meeting.
In the statement, PPP MNA Shazia Marri said that "if PML-N brings a charge sheet against PPP then we also have a charge sheet against PML-N." MNA Marri has said that "PPP will ask at whose behest a conspiracy was hatched against the long march to save the PTI government by suddenly insisting on resignations."
On last night's meeting of the PDM parties, the PPP leader said that PPP and ANP will ask in the PDM meeting "why a secret meeting of certain parties of the opposition alliance was called."
She said that PDM is the name of the alliance against the government and "PML-N will have to explain its use against the opposition parties".
Marri added that PPP will ask the PDM chief Maulana Fazlur Rehman why the opposition alliance is being used against the opposition parties. On the issue of resigning from the assemblies, Marri asked if resignations were so necessary then why is the PML-N still sitting in the assemblies.
"On one hand, there is talk of running an opposition alliance without the PPP and on the other hand, the PML-N is not ready to resign without the PPP," she said.
Replying to PML-N vice president Maryam Nawaz's criticism on PPP for accepting votes from the senators of Balochistan Awami Party (BAP), 'which follows the commands of its Baap (godfather),' Marri said that if PPP had the godfather's hand on their shoulder, then there would have been no talk of opening cases against former president Asif Ali Zardari.
After the federal cabinet's meeting on Thursday, Federal Minister for Science and Technology Fawad Chaudhry had announced that the Broadsheet Commission has found the original record of the Swiss Bank Accounts and handed it over to the government, adding that legal teams were examining the record and Swiss account cases against Zardari could be reopened.
Read more: PPP is using PDM for personal gains: PML-N
Marri further said that all the senators who voted for Gilani were elected independently and "it is a childish attitude of the PML-N to prove that independent senators belonged to BAP party. BAP is considered to be a brainchild of the security establishment and the PDM blames it for the current political morass.
Moreover, she said that if PML-N wanted an opposition leader in the Senate, they should have asked PPP chairman Bilawal Bhutto Zardari for the post once, "he would have gladly given it".
The PML-N leadership also made a similar claim that PML-N supremo Nawaz Sharif would have gladly given the office of the opposition leader had PPP asked for it instead of taking support from BAP.
"PPP approached the PML-N leadership to agree on the name of Yousuf Raza Gilani, which was admitted by Ishaq Dar," she said while referring to a statement of Dar wherein he admitted that Zardari had approached him to get support for Gilani but he had turned down the request on grounds that the decision was already made in a PDM meeting and no new message should now be given to Sharif from Zardari.
"It is no crime that PPP elected its opposition leader as the majority party in Senate," she concluded.
COMMENTS (1)
Comments are moderated and generally will be posted if they are on-topic and not abusive.
For more information, please see our Comments FAQ