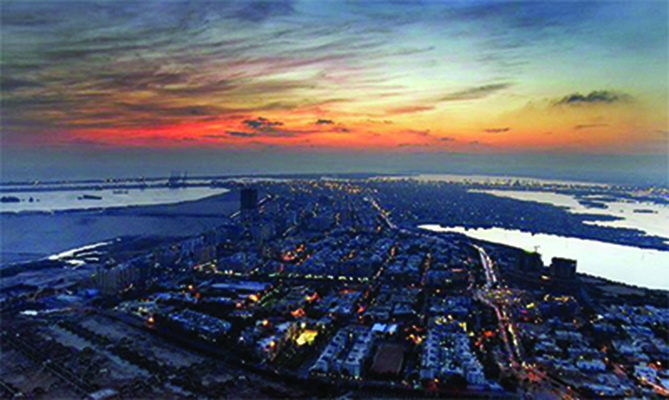 ---
KARACHI:
Over the course of 70 years, economic development in Pakistan has been a story of constantly changing policies and declining trends, opined speakers during an online panel discussion on sustainable development on Friday.
They stressed giving incentives to investors and called for research.
The session, hosted by the Institute of Business Administration, was titled 'Growth and Economic Stability: Challenges and Prospects' and had Dr Asma Hyder, the dean for the School of Economics and Social Sciences at IBA and faculty member Dr Adnan Hussain as well Dr Nadeemul Haque of the Pakistan Institute of Development economics (PIDE) and former finance minister Dr Miftah Ismail on the panel.
Read: 'Global investors show keen interest in Pakistan's economy, future outlook'
Opening his segment, Dr Haque voiced his reservations on growth via mega projects.
Pakistan has historically followed an economic model of direct investments and development in the form of roads, highways and power generation projects, he said.
Giving a brief history of foreign funded projects, he explained how since the time of the Kerry-Lugar Bill enhancing ties with America, to the modern day projects under the China Pakistan Economic Corridor (CPEC), Pakistan invested has invested in foreign megaprojects yet the economy has remained uncertain.
He further elaborated on how foreign organisations have increased their influence in important government bodies over time. The International Monetary Fund strengthened Pakistan's finance ministry in the 1970's and this led to them having almost direct control of the entire economy, he said.
Today, we have a planning commission for special initiatives, but the complete power on economic affairs and projects lies with the finance ministry, he added.
In its second segment, the panel invited Pakistan Muslim League-Nawaz leader and former finance minister, Ismail, to share his two cents on policy making.
Referring to his experience in government, Ismail explained how the economy of Pakistan was not conducive for investments.
Read more: Economy 'resilient' in the time of Covid
It is better to spend than to invest in Pakistan, he maintained. Elaborating further, he discussed different government policies that made investors uncertain.
Overnight currency devaluations and unannounced taxes on investments were a few policies he quoted as examples that reduce investment in the country.
As the session drew to a close, the panel discussed radical policies such as completely ending loss bearing state owned enterprises (SOE) and multiple government mandated investment bodies such as the Board of Investment (BOI) and the Trade Development Authority of Pakistan (TDAP).
The IBA conference is to continue virtually today (Saturday) and tomorrow (Sunday).