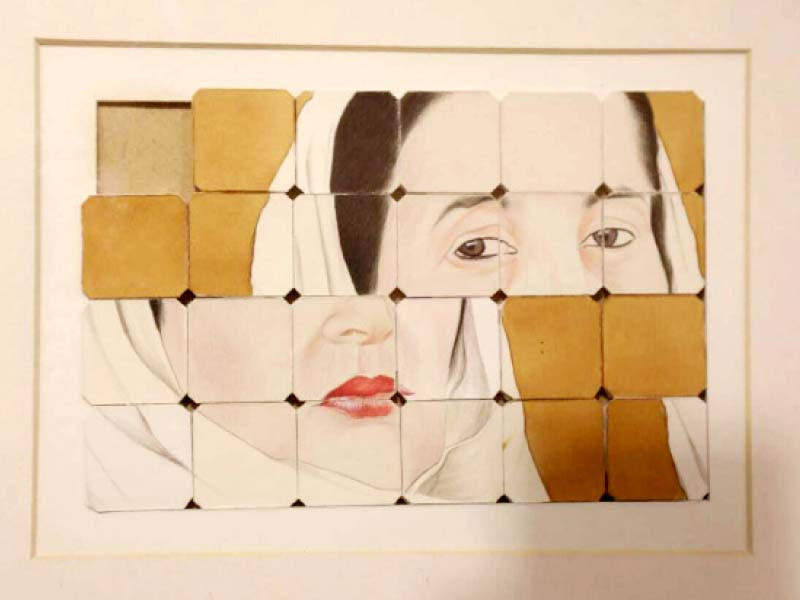 ---
KARACHI:
Dolls and roses, tea bags, a graveyard, trees, windows into rural life… imagination ran wild at Sambara Art Gallery - said to be the largest art gallery in Sindh - on Wednesday, when it hosted its maiden art exhibition, 'ArtFest Karachi'.
The five-day exhibition at Sambara Art Gallery kick-started on the day, with around 100 artists from across Sindh, most of them young graduates, who filled the vast empty space outside the Liaquat National Memorial Library with sculptures, drapery, paintings and other art pieces depicting their thoughts, experiences and ideas.
Among them was Manzihe Ali, whose work was a combination of dolls and rose petals.
"My work is a depiction of society," she said. "It signifies power structures that are given a sanctimonious status, be it in the cultural respect, religious or political. To question these structures is akin to questioning the status quo and, seemingly, disrupting the cohesiveness of a whole."
Another emerging artist, Zainab Hasan, used tea bags and flowers to explore the relationship between women and tea.
"A woman keeps her family happy by brewing the perfect cup of tea and keeps herself busy doing so," commented Hasan. "She [a woman] cannot get out of this situation."
Artist Samra Mansoor said she tried to capture the "real picture" of the Edhi graveyard, where unidentified bodies are buried.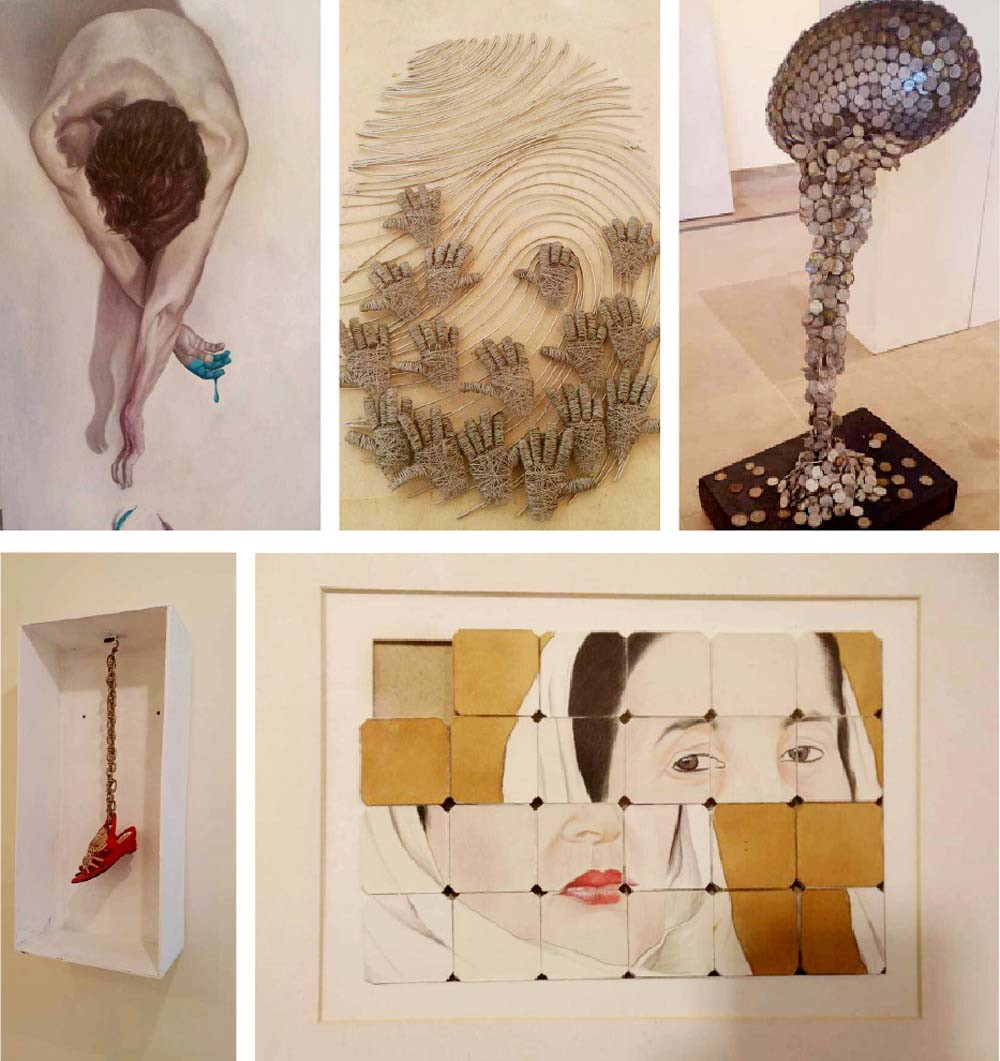 "We know them [the bodies] by numbers allotted to them and not their names," she added.
Meanwhile, Gulshan Ali Jatoi's art pieces were a venture into the rural life.
"We live in city abounded with machines. The 'natural look' is missing in cities," the artist lamented, adding that he used to paint flowers, trees, fields and scene from rural life before shifting to the metropolis.
Now, he said, he no longer explored the said subjects.
Hiba Afzal, who spent a significant part of life in hospitals with her parents, constructed installations to explain the relationship between time and health, while Saliha, in her work titled 'Shajra-e-Nasab', highlighted the similarities between families and trees.
"Both have roots," she said. Then, pointing to an art piece, added, "This is a banyan tree and we all have family systems similar to this tree."
'Space for thinkers'
According to Waheeda Baloch, the curator, Sambara Art Gallery is a space for artists, who are thinkers of society, to display their work.
She said the work of around 100 artists was featured at the first ever exhibition at Sambara Art Gallery.
Culture department director general Abdul Aleem Lashari said ArtFest Karachi was aimed at setting a new trend at the local level to promote artists.
"Senior, mid-career and emerging artists are showcased here to inspire the public," he said, adding that the gallery was the biggest one in the province.
Lashari said, "Young and emerging artists had no space [to showcase their talent] and we have provided them with a beautiful gallery."
Pakistan Peoples Party MPA Faryal Talpur, who inaugurated the exhibition, said she was impressed by the work of young artists, who showcased their views on different socio-cultural settings and mental conditions during the Covid-19 pandemic.
Sindh Culture Minister Syed Sardar Ali Shah maintained that the Sindh government had always supported cultural and literary activities and provided facilities to the artist community.
Sharing his views on art, he said, "Visual art is a medium of expression that uses colours. Art is not just random lines and colours, but the thought behind it makes it moving and impressive."
Published in The Express Tribune, March 25th, 2021.
COMMENTS
Comments are moderated and generally will be posted if they are on-topic and not abusive.
For more information, please see our Comments FAQ