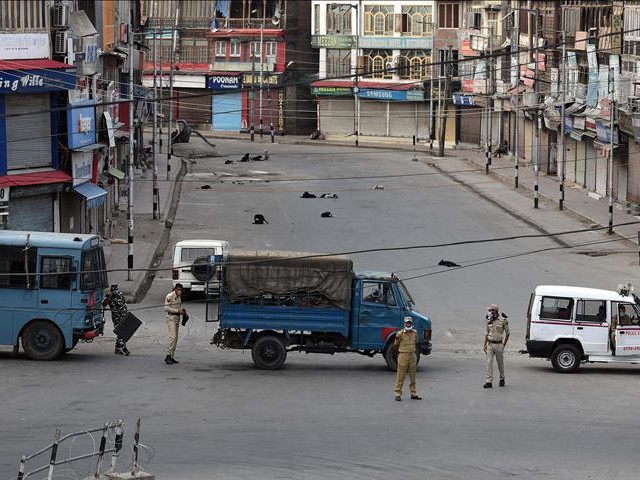 ---
NEW DELHI:
A non-partisan association of editorial leaders has expressed its shock at the routine detention of journalists in Indian Illegally Occupied Jammu and Kashmir (IIOJK) by the Indian security forces "for reporting or for their editorials".
"The Editors Guild of India is shocked by the casual manner in which security forces routinely detain the editors of Kashmir-based publications for reporting or for their editorials," a statement issued by the guild Monday evening said.
It referred to the recent case of Fahad Shah, editor of the Srinagar-based publication Kashmir Walla, who was summoned by the police for an article published in his publication.
"This was the third time that Shah was detained for his writings. His [detainment] is not the only case," the editors association said.
According to the guild, there are scores of journalists who are experiencing "this new normal, where they can be hauled up by security forces for writing anything that goes contrary to the government's narrative".
It asked the state administration to create an environment where the press can report news and "express opinions without any fear or favour".
The statement came days after the Indian forces allegedly assaulted two Kashmiri journalists during a protest in Srinagar. One of them claimed that he had been hit by a police officer with his gun butt, another said he had been grabbed by a police officer from his shirt collar and tried to choke him.
The police, however, denied that they intentionally hit one of the journalists with their weapons.
Journalists in the region say that summoning journalists to police stations have become a new normal.
The Srinagar-based Kashmir Press Club, a representative body of Kashmir journalists and media, has recently issued several statements highlighting the harassment of media workers in the region.
COMMENTS
Comments are moderated and generally will be posted if they are on-topic and not abusive.
For more information, please see our Comments FAQ