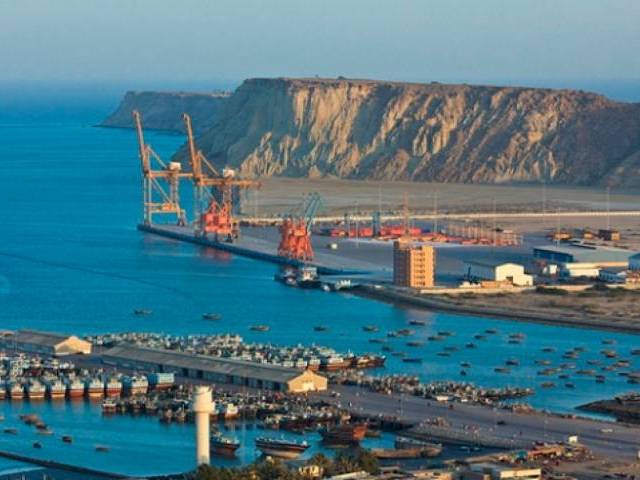 ---
KARACHI:
In a sea of men, she is a woman climbing the ladder of success.
Saira Khan, the head of commercial at Hutchison Ports Pakistan, has come a long way from when she was fascinated by the idea of enormous freight vessels covering distances across vast oceans. She still finds the imagery, the idea of transporting goods miles across the sea, and the world of logistics and transportation, in general, intriguing, except that she is a part of this male-dominated sector now.
Looking back at her journey to becoming a top executive at a container terminal operator, Khan said, "Even today, the majority of global trade is seaborne and being part of such a vast and constantly evolving industry was something that interested me. My field of expertise is marketing and I rose through the ranks over the years to where I am today as the head of a diverse commercial team at [one of] the biggest and container terminals in the country."
Khan, who holds a postgraduate degree in marketing from Hamdard University, joined Hutchison Ports Pakistan as the commercial and corporate affairs managers in 2017. It had been 13 years since she had begun working in the maritime ports and shipping industry.
Throughout these 13 years, and beyond that, she successfully overcame multiple challenges.
When asked about these challenges, she said, "As women with ambitions to climb up the corporate ladder we all face challenges since the culture is male dominated. However, with the right skill set, hard work and determination, there is no obstacle that can't be overcome."
She added, "I believe that women across Pakistan have what it takes to acquire senior roles in various corporations, but the fear of stigmas as well as stereotypes that plague us keep them [women] from achieving their goals. Once we move beyond these, no challenge seems hard enough."
Besides, Khan said, maintaining a work-life balance can be a serious challenge.
"However, it all comes down to finding the centre point where both aspects of life can be managed with the attention that they deserve. I personally know and have witnessed many women who do what I do and they are good at it. This means that there is always [the] possibility to find middle ground for things that you hold dear," she explained.
Moreover, Khan said she felt the way opportunities in the shipping industry were communicated to aspiring professionals, especially women, could be improved.
"There have been significant headways [in this regard], but there is still a lot of work that needs to be done. There is a need for aspiring women themselves, and their mentors, to assert that there are avenues for them in whichever field they want," she stressed.
She then went on to point out that the ports and shipping industry was usually perceived to be too tough for women and only suitable for men.
This is why women are hesitant to join this profession, said Khan. She added that in recent years, technological advancements have made it easier for women to make a career in the industry.
Regardless, there are very few women working in the industry in Pakistan as of now. But Khan is hopeful.
"It is heartening to note that the last decade has witnessed an increasing participation of women in leading positions in the port and shipping industry. I hope that this trend continues," she said optimistically.
Khan's hopes, however, are not just limited to her industry. She believes women across Pakistan have the potential to grow and achieve success in their respective fields.
"As a nation, we can't achieve the heights of glory unless women stand side by side with men. [Quaid-e-Azam] drew support from his sister, Fatima Jinnah. I want women today to look up to these ideals and understand the power that they hold. Making up almost half of the population now, women have the opportunities, resources and avenues available to them which can empower change across societies," said Khan.
This story is part of a weekly series that seeks to bring to light the unsung heroes of Karachi - the hawkers, traders, doctors, teachers, engineers, lawyers and daily-wage labourers. It is they who make Karachi the city of lights.
Published in The Express Tribune, March 8th, 2021.