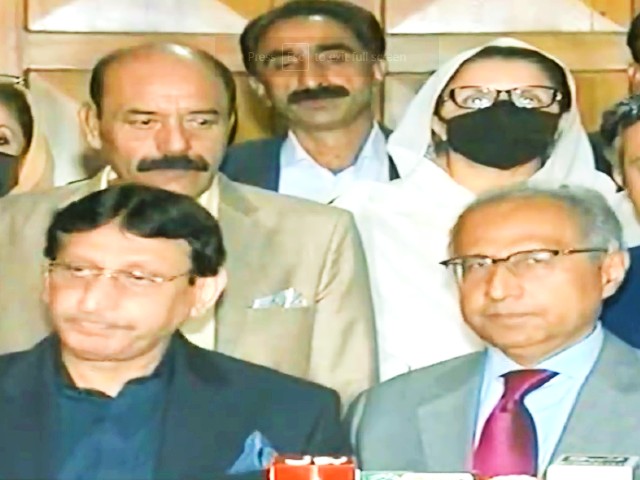 ---
ISLAMABAD:
After winning the vote of confidence from the National Assembly, Prime Minister Imran Khan faces another challenge as the ruling PTI coalition partners have started demanding the Senate deputy chairmanship and ministries from the government.
The premier has started consultations with his cabinet members in this regard.
Commenting on the development, sources in the government rejected the reports that law minister Dr Farogh Naseem was seeking deputy chairmanship in the upper house. It was said that Dr Naseem was only interested in holding the portfolio of law ministry.
It was further said that the government would face difficulty in lobbing for the Senate chairman and deputy chairman if they fail to take coalition partners on board as opposition's PPP has also started "making offers to the government allies".
The MQM-P wants Faisal Sabzwari as the Senate deputy chairman or its minister for quota.
On the other hand, PTI's newly elected senator Barrister Ali Zafar is willing to become the law minister in place of Dr Naseem.
Sources said that PM Imran had offered the post of minister for parliamentary affairs to Barrister Zafar but the latter denied the proposal.
It is said that the premier is satisfied with the performance of Dr Naseem, who is the incumbent law minister and is on an "extremely important" assignment in the United States and is constantly in touch with PM Imran.
Sources in the government said that the reports of appointing Dr Naseem as Senate deputy chairman are meant to bring disrepute to the law minister.
On Saturday, PM Imran secured 178 votes – six more than required – to win the vote of confidence from the National Assembly.
The special session was called after the prime minister voluntarily sought a trust vote following an upset in Senate elections.
According to the breakdown, 155 lawmakers from the PTI voted in favour of PM Imran while seven from the MQM-P, five each from BAP and PML-Q, three from GDA and one each from AML and JWP cast their votes supporting the prime minister.
Independent candidate Aslam Bhotani also voted for the premier.