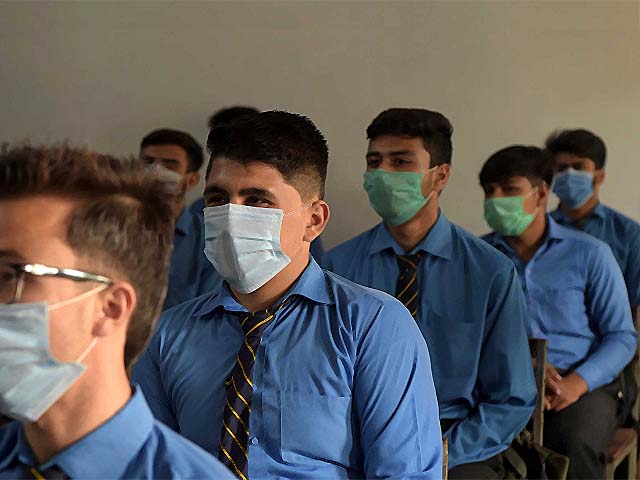 ---
KARACHI:
Sindh Education Minister Saeed Ghani announced on Friday that a biometric system would be introduced in schools to record the attendance of students and biometric attendance would be made mandatory for students at later stages.
Speaking at a session organised to commemorate the 30th anniversary of the All Pakistan Private School Management (APSMA), Ghani also elaborated on the renewed recruitment and transfer policy for government teachers, assuring that no one, including him, would be interfering in the appointment of teachers.
Biometric system
Ghani said a biometric system for the attendance of teachers in schools had already been introduced and now steps were being taken to mark students' attendance through the same technology.
The minister said the government was working towards making biometric attendance mandatory for students at schools.
Also read: Sindh changes exam duration, procedure for students amid pandemic
Recruitment and transfer policy
The provincial education minister acknowledged that there was a shortage of teaching and non-teaching staff in schools and attributed it to the ban on the recruitment of teachers brought in place in 2018 by the then education minister and a later restriction imposed by the cabinet in 2019.
He maintained that the restrictions were enforced because teachers refused postings in areas where they were needed and instead opted for postings in places of their choice.
Then turning his attention to the new recruitment and transfer policy for teachers, he assured that appointments would be made purely on the basis of merit and only candidates passing the test organized by the Institute of Business Administration, Sukkur would be hired.
He elaborated that the tests would be organised for vacancies at the union-council level and teachers would be appointed accordingly.
Ghani further stated that under the renewed recruitment and transfer policy, schools had been classified into three categories, namely red, yellow and green.
Ghani added that no teachers could be transferred to school in the red category; however, teachers employed in schools in the said category could apply for transfers elsewhere, provided that there was a vacancy in the applicants' choice of institutions for posting.
Teacher training
On the matter of teachers' training, Ghani said the government had finalized the plan for running five ofits 20 teachers' training institutes on the public-private partnership model.
He added that admissions to those institutions would be made on the basis of merit and tuition fees would be paid by the Sindh government for the four-year programme as a loan.
The provincial minister also announced that teachers trained at the said institutions would be given government jobs right after they completed their training and the expense of their fees would then be deducted from their salaries, on account of the repayment of the loan sans interest.
Clusters of schools
According to Ghani, 49,000 schools were set up in Sindh in the past, which was way beyond its need.
"Around 50 to 60 schools were established in areas where just one school was needed," he said, adding that in some areas there were no elementary and secondary schools, which barred children from continuing education after primary classes.
He said the government had now constituted 6,000 clusters of schools, with each cluster comprising schools within a radius of two kilometres and including at least one elementary and secondary school.
Also read: Ghani seeks NGOs' assistance to boost literacy, school enrollment
Ghani further stated that all school in the province had been located on Google Maps with GPS and the data of each school was available online, including information about the condition of the school and the number of students and teachers.
"I now request all private schools organsations to work towards listing all unregistered private institutions so that complete data of children in schools can be compiled," he added.
Through this data, steps can be taken to improve the education sector, he explained.
Moreover, he said, the government had been giving endowment funds to students in 47 colleges and universities and it now wanted to extend the financial support on that account to students in schools as well, steps for which were being taken.
The minister urged teachers, students and parents to play their roles and work with the government to make "revolutionary" improvements in the education sector.
COMMENTS
Comments are moderated and generally will be posted if they are on-topic and not abusive.
For more information, please see our Comments FAQ