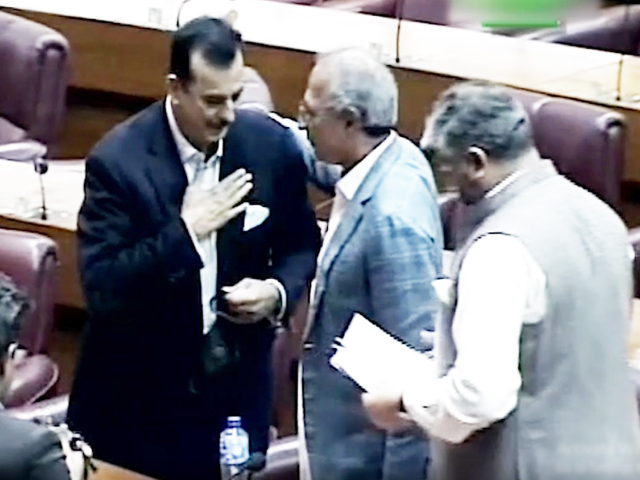 ---
QUETTA/ ISLAMABAD/ KARACHI/ LAHORE:
In a major upset in the Senate election, Yousaf Raza Gilani, the joint candidate of opposition parties, has been elected senator from Islamabad, by defeating Abdul Hafeez Shaikh of the ruling party, according to unofficial results.
Yousaf Raza Gilani, a former prime minister who belongs to the PPP, enjoyed the support of the Pakistan Democratic Movement (PDM), an alliance cobbled together by a dozen opposition parties against the embattled government of Prime Minister Imran Khan.
The Gilani-Shaikh duel carried a huge symbolic value as the PDM had said in the run-up to the Senate elections that Gilani's victory would mean a vote of no-confidence against the prime minister, Imran Khan.
According to an unofficial tally, out of the total 341 votes, 340 were polled. Yousaf Gilani bagged 169 votes, while his rival Hafeez Shaikh received 164 votes. Seven votes were rejected.
"Just as initial response", Shehbaz Gill, the prime minister's aide on political affairs, said unverified results shows a slim margin of five votes for Gilani, while seven votes were rejected. "We will challenge this result," he added.
غیر حتمی طور پر 7 ووٹ رجیکٹ ہوئے ہیں۔ پانچ ووٹ کا فرق ہے۔ ابھی اس نتیجہ کو چیلنج کریں گے۔

Just an initial response

— Dr. Shahbaz GiLL (@SHABAZGIL) March 3, 2021
PPP Chairperson Bilawal Bhutto Zardari called it victory for democracy. "Democracy is the best revenge," he wrote on his official Twitter handle after the results were announced.
Democracy is the best revenge. Jeya Bhutto!

— BilawalBhuttoZardari (@BBhuttoZardari) March 3, 2021
Soon after Gilani's historic win in today's election, PML-N Vice-President Maryam Nawaz took to Twitter to express her joy.
"Thanks to Almighty Allah who gave victory to the PDM. Fake mandate is snatched back by people's representatives – Despite pressure from their own people, lawmakers refused to vote for flour thief, sugar thieve, power thief, vote thief Imran Khan. You [PM Imran] now have no justification to occupy the Prime Minister's House. Leave the office you vote thief," she wrote on her official handle.
اللّہ تعالی کا شکر جس نے PDM کو فتح دی۔
جعلی مینڈیٹ عوام کے نمائندوں نے واپس چھین لیا-اپنے ہی لوگوں نے دباؤ کے باوجود آٹا چور،چینی چور،بجلی چور،ووٹ چور عوام کے مجرم عمران خان کو ووٹ دینے سے انکار کر دیا۔تمھارے پاس اب وزیر اعظم ہاؤس پر قابض رہنے کا کوئی جواز نہیں۔ووٹ چور کرسی چھوڑ

— Maryam Nawaz Sharif (@MaryamNSharif) March 3, 2021
PTI Senator Faisal Javed Khan accused the opposition of resorting to horse-trading in today's elections.
"Congratulations Fauzia Arshad of PTI for winning the women seat from Islamabad 174 vs 161 [votes]. This also tells there was a clear horse trading on the men's seat," he tweeted.
Congratulations Fauzia Arshad PTI for winning the women seat from Islamabad 174 vs 161
This also tells there was a clear horse trading on the men's seat.

— Faisal Javed Khan (@FaisalJavedKhan) March 3, 2021
Former Sindh Governor and PML-N leader Mohammad Zubair said the victory of Yousaf Raza Gilani is the first step towards sending Prime Minister Imran Khan packing.
Zubair said that the situation was not favourable and all forces were against us but we won. "Imran Khan talks about democracy... if he has a bit of self-respect left then he should resign and go home [now]," he added.
He said that it was a big upset since all forces were behind the government's candidate. "Now we will see whether Hafeez Shaikh lives in Pakistan or not. You see him leaving in next few days," he claimed.
The former governor said that PM Imran was imposed upon the nation after rigging in 2018 general elections but his days are numbered after today's results. "This is the first step toward addressing the grievances [of 2018 general elections]."
Also read: PM Imran to take vote of confidence from parliament, says Qureshi
Refuting the use money by the opposition in today's elections, Zubair said that resources were available to the government and not the opposition. "This [allegation] does not make sense... all the resources are available to the government... they are in a position to make much bigger promises than us. The lawmakers voted out of their conscience."
Hours after the major upset in the hotly-contested Senate elections, Foreign Minister Shah Mahmood Qureshi has announced that Prime Minister Imran Khan will take the vote of confidence from parliament.
"PM Imran has clearly stated that he is the prime minister of the entire parliament," he added.
According to Express News, the PTI coalition lost 17 votes for the general seat of Islamabad, including seven votes got rejected to due to rejection and 10 votes given to the candidate representing the opposition's alliance.
As per election results, the ruling coalition also lost seven votes in the women's seat, including five votes lost to rejection and two others in favour of the PML-N candidate.
Earlier, polling for Senate election was completed in the National Assembly along with three provincial assemblies – Sindh, Balochistan and Khyber-Pakhtunkhwa.
Polling was delayed in the K-P Assembly due to late arrival of lawmakers. It has been completed with the final vote cast by Shahram Khan Tarakai from the PTI.
Apart from Jamaat-e-Islami all other political parties participated in the upper house of parliament's elections which ended without any untoward incident.
Following are the candidates who won the Senate polls, according to unofficial and unverified results:
ISLAMABAD
Yousuf Raza Gillani – PDM (general seat)
Fauzia Arshad – PTI (woman seat)
SINDH
Palwasha Khan – PPP (reserved seat)
Saleem Mandviwalla - PPP (general seat)
Sherry Rehman - PPP (general seat)
Farook Naek - PPP (technocrat seat)
Jam Mahtab Dahar - PPP (general seat)
Taj Haider - PPP (general seat)
Shahadat Awan - PPP (general seat)
Khalida Ateeb - MQM-P (reserved seat)
Faisal Subzwari - MQM-P (general seat)
Saifullah Abro - PTI (technocrat seat)
Faisal Vawda - PTI (general seat)
BALOCHISTAN
Samina Mumtaz - BAP (woman seat)
Prince Ahmed Umer Ahmedzai - BAP (general seat)
Mohammad Qasim – BNP (general seat)
Manzoor Ahmed - BAP (general seat)
Sarfaraz Ahmed Bugti - BAP (general seat)
Danish Kumar - BAP (minority seat)
Saeed Ahmed Hashmi - BAP (technocrat seat)
Kamran Murtaza - JUI-F (technocrat seat)
Maulana Abdul Ghafoor Haideri - JUI-F (general seat)
Abdul Qadir – Independent (general seat)
Naseema Ehsan Zehri - Independent (woman seat)
Arbab Umer Farooq - ANP (general seat)
KHYBER-PAKHTUNKHWA
Sania Nishtar - PTI (woman seat)
Falak Naz - PTI woman seat)
Dost Muhammad Khan - PTI (technocrat seat)
Hamayun Mohmand - PTI (technocrat seat)
Shibli Faraz - PTI (general seat)
Gurdeep Singh - PTI (minorities seat)
Liaquat Khan Tarakai - PTI (general seat)
Faisal Saleem Rehman - PTI (general seat)
Zeeshan Khanzada - PTI (general seat)
Mohsin Aziz – PTI (general seat)
Hidayatullah Khan – ANP (general seat)
Attaur Rehman – JUI-F (general seat)
Prime Minister Imran Khan along with other notables including Opposition Leader Shehbaz Sharif, PPP Chairman Bilawal Bhutto Zardari and PPP Co-Chiarman cast their votes.
During the day, Chief Election Commissioner (CEC) Sikandar Sultan Raja visited the National Assembly Hall to review the polling process.
Voting began at 09:00 am and went on till 5:00 pm without any break.
Polling was due on 37 seats of the 104-member house. The National Assembly members voted for one general seat and one women's seat from Islamabad. Voting was held for 11 seats of Sindh and 12 each of Khyber-Pakhtunkhwa and Balochistan.
However, In Punjab, there were 11 seats but thanks to the efforts of the Pakistan Muslim League-Quaid-e-Azam (PML-Q) leadership all the senators have been elected unopposed. Therefore, there will be no polling was held in Punjab.
Overall, 48 senators will be elected this year.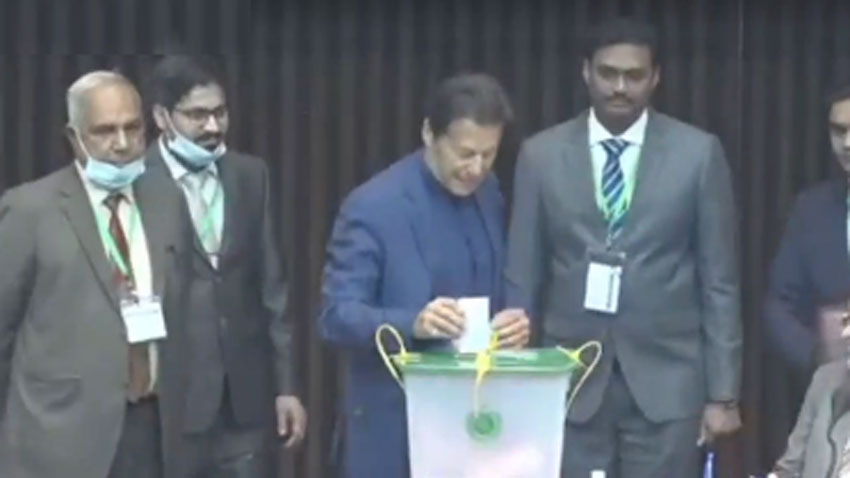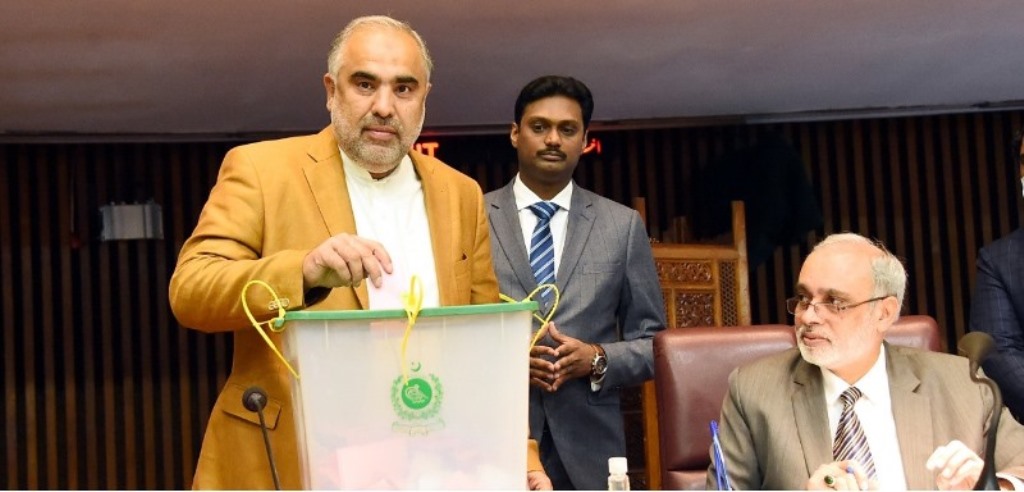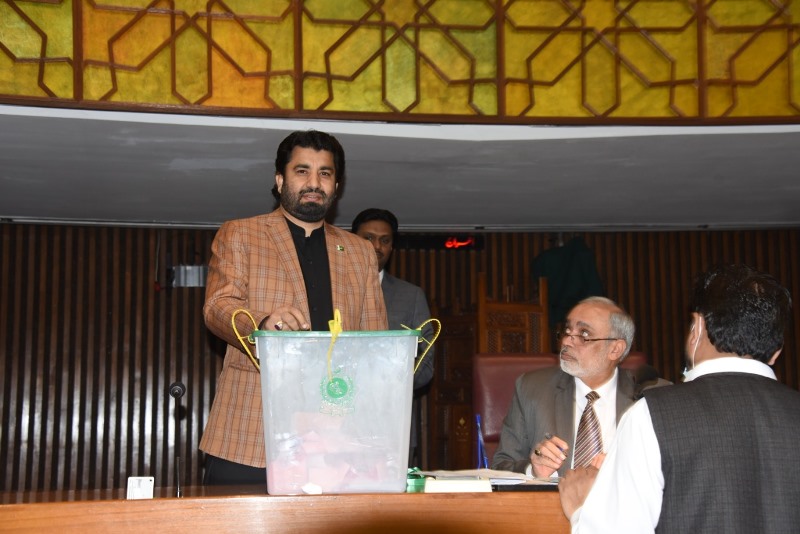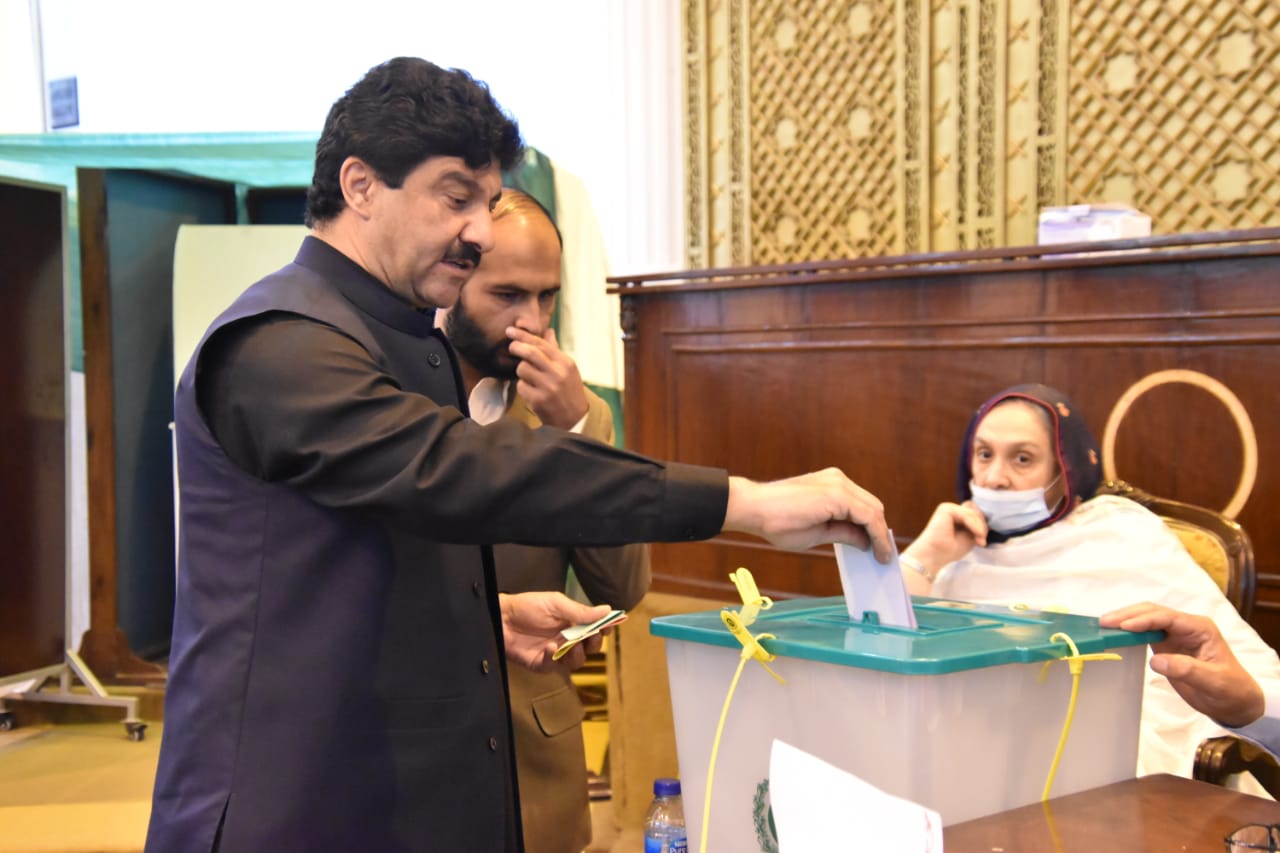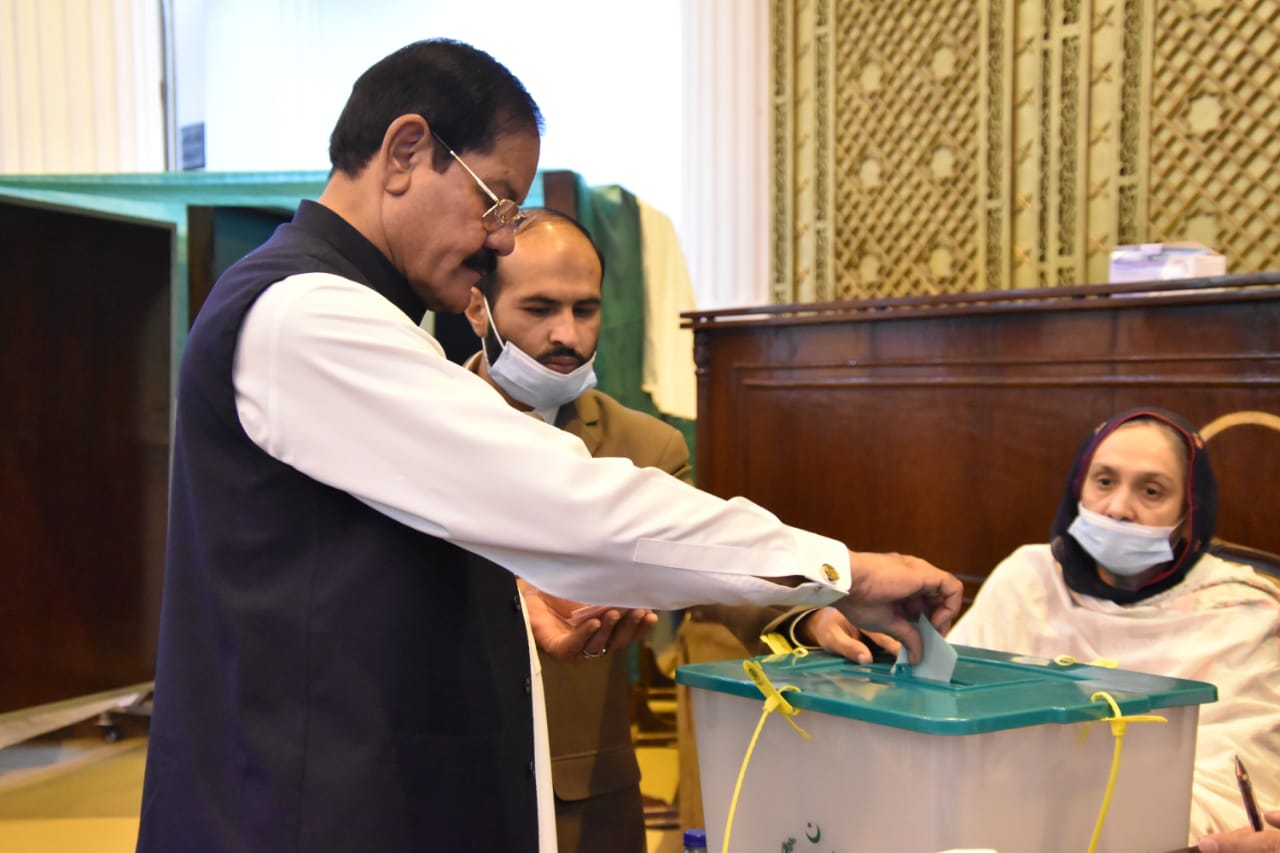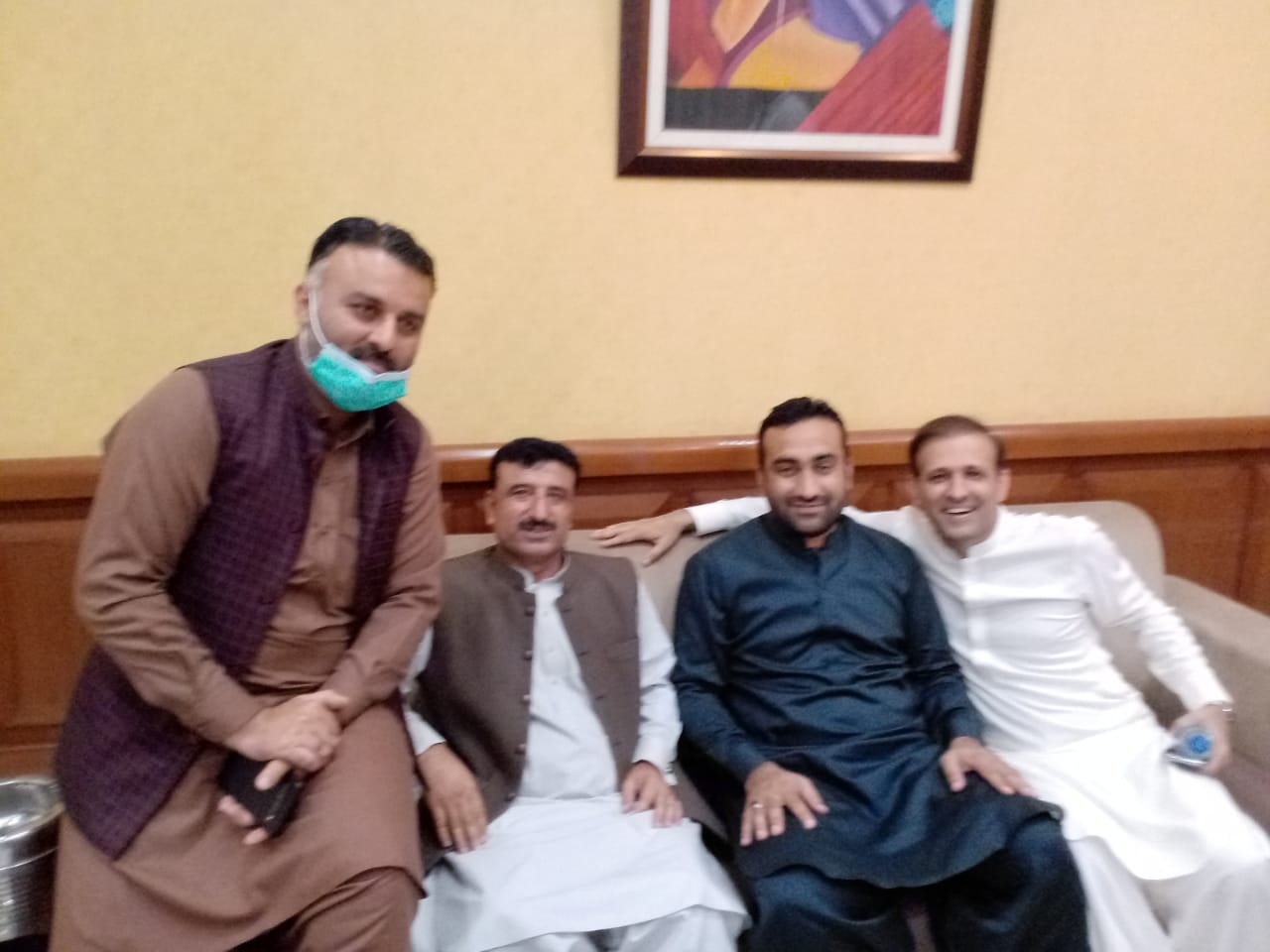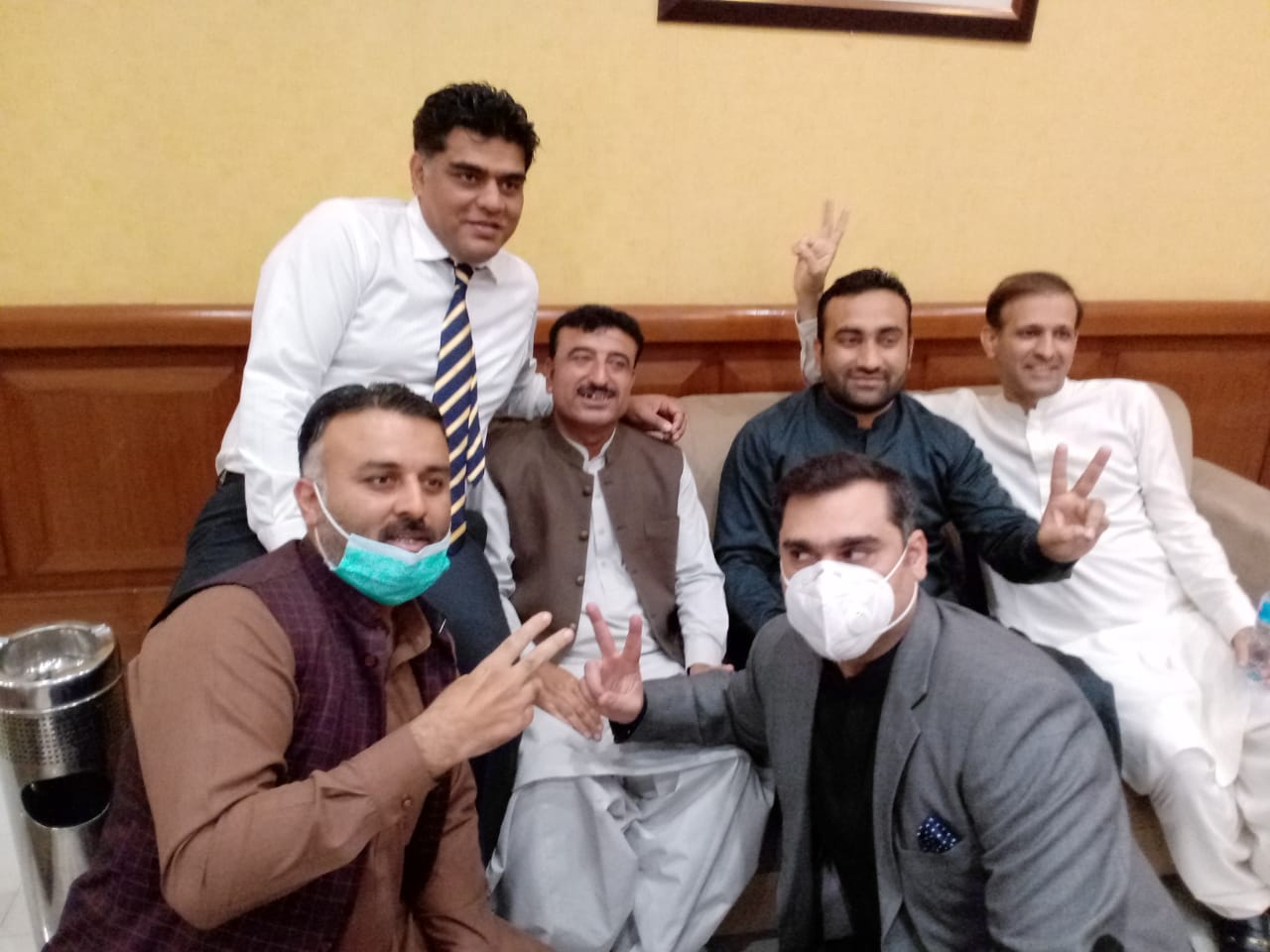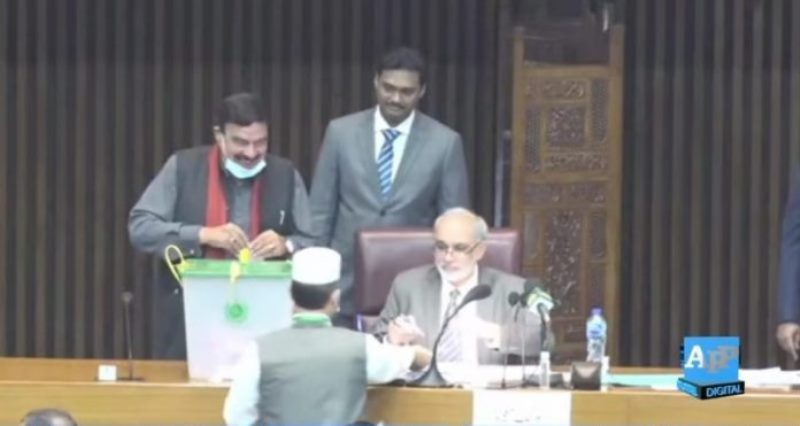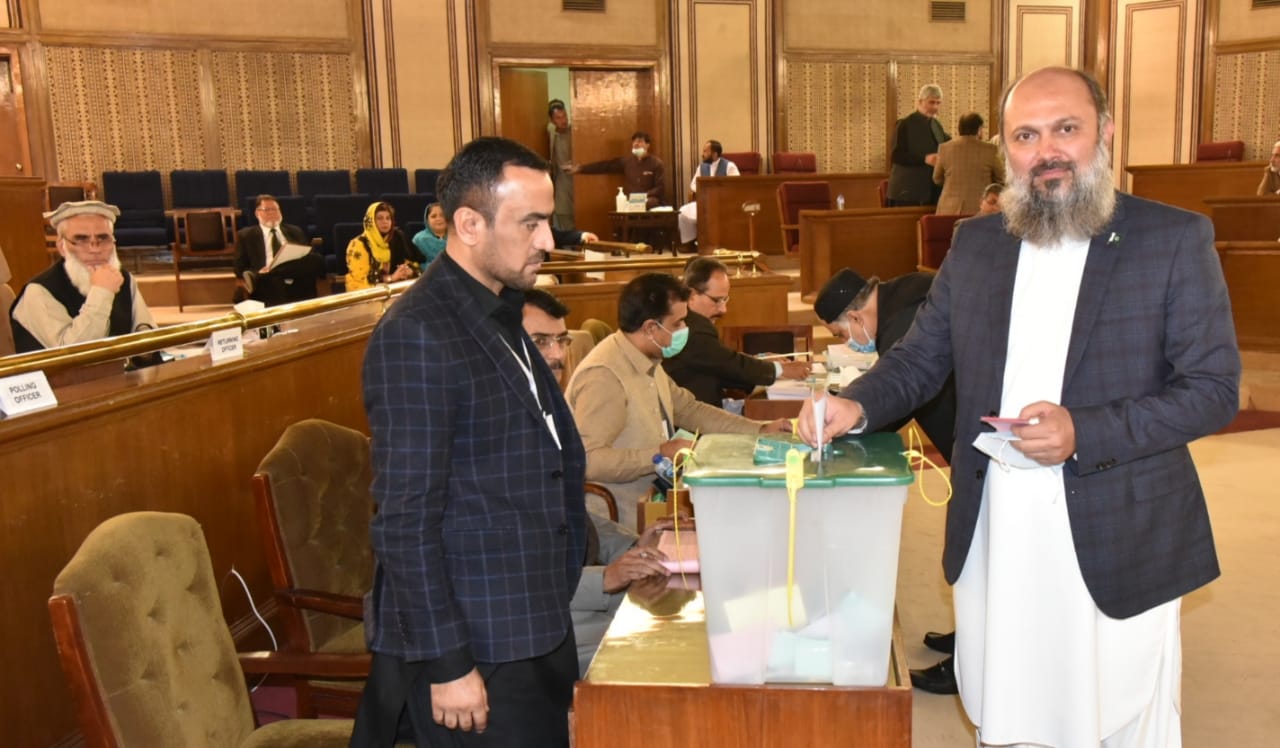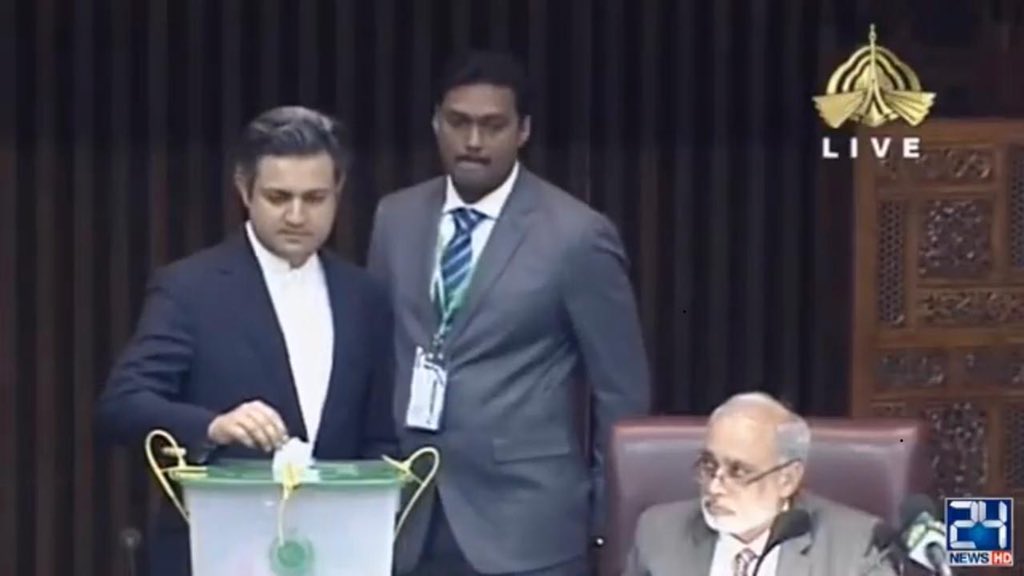 Media talk
Former premier Yousaf Raza Gilani on Wednesday said that PPP had already won.
"The purpose we came here for has been fulfilled," he said speaking to the media outside the parliament.
Talking about the viral of video of his son teaching PTI parliamentarians how to waste their votes, the former premier said that the video would have carried weight if PPP's MNA was visible in them.
"The video is planted. If it wasn't then the other MNA would also be visible," he said.
Taking a jibe at the opposition parties, Federal Minister Murad Saeed said Dr Abdul Hafeez Sheikh's victory was certain
"The opponent of Abdul Hafeez Sheikh's is the necklace thief of Turkey's first lady," Saeed claimed.
Talking about former premier Yousaf Raza Gilani's son's latest video, Saeed said that Prime Minister Imran Khan was right
"This man was shown for a week as a great democrat," he said adding that vote trading video had exposed the anti-government alliance Pakistan Democratic Movement (PDM).
Khursheed Shah, however, was hopeful that Yousuf Raza Gilani would win the polls.
Speaking to the media after casting his vote, Shah said that public issues were taken up by the Parliament in PTI's tenure.
"Parliament is the body of law interpreters," he said. "The role of NAB was the most important in the past two-and-a-half-years PTI has been in rule. The government's focus is less on issues and more on the opposition."
Moreover, PML-N spokesperson Marriyum Aurangzeb criticized the PTI's government for destroying the economy and increasing unemployment
"PTI has done nothing but proved its incompetence to govern," she said.
Backing Yousaf Raza Gillani, PML-N's Rana Sanaullah said that PPP leader has worked hard and would win.
"He will get 83 votes from PML-N," he assured.
PPP Chairman Bilawal Bhutto Zardari said the puppet government has been exposed across the country.
"We have shown that their own members are afraid of the government," he said speaking to the media outside the parliament adding that had PTI won the election they would not have been worried.
He further said that the by-polls have made it clear that the people were supporting PDM.
Opposition Leader Shahbaz Sharif said every member has to vote according to his or her conscience and ensure transparency to the Election Commission of Pakistan.
"Members will express their conscience through the ballot, he said.
He added that the performance of the government was before the whole world.
Federal Minister for Interior Sheikh Rasheed Ahmad said that the PTI ruling party would emerge as the largest party in senate polls as all allies of the government are on same page under the leadership of PM Imran Khan.
He said Senate election was important for the future of the country and coalition partners were united.
He said the difference of opinion was beauty of the democracy, adding all the PTI leaders were openly expressing their views on different issues and supporting our candidate.
Sheikh said the opposition doesn't want to abolish the culture of cash from Senate elections, adding, they couldn't bring transparency in their ten-year term.
Former president Asif Ali Zardari, after casting his vote, hinted at the involvement of an 'unseen force' in the Senate polls.
When asked by a reporter whether they have a hand in the elections, the PPP co-chairman asked, "When have they not been involved?"
To the question whether such forces are impartial [in the electoral process], Zardari asked, "Do you think so?"
On his earlier statement that the government would step down in March, the veteran politician said, "it has already happened, but those who don't want the government to go are the ones providing support to it."
Highlights
In the Sindh Assembly Karim Bux Gabol was seen surrounded by PTI MPAs as he came to cast his vote.
Pandemonium and melee defined the Sindh Assembly session on Tuesday when lawmakers from the Pakistan Peoples Party and Pakistan Tehreek-e-Insaf came to blows
Gabol, who was elected from the PS-100 constituency in East district in the 2018 general election, had announced on Monday that he would not be voting for his party's candidates in the Senate elections.
Former president Asif Ali Zardari also cast his vote. He had to get a second ballot paper issued after the first was not valid to be used.
PTI leader in Sindh Assembly Khurram Sher Zaman was initially barred from casting his vote in Sindh Assembly after a phone was recovered from him.
Lawmakers are prohibited to carry their cellphones to the polling booth.
Speaking to media after the incident, Zaman denied claims that a mobile phone was recovered from him and asked ECP to take notice of the incident.
PPP Senate candidate Farook H Naek approached the ECP saying that Zaman violated the law and should not be allowed to vote.
However, the PTI leader was later allowed to cast his vote
شکر الحمداللہ میں نے اپنا ووٹ کاسٹ کرلیا ہے، انشاءاللہ آج جیت انصاف کی ہوں گے.

— Khurrum Sher Zaman 🇵🇰 (@KhurumSherZaman) March 3, 2021
Jamaat-e-Islami MNA and MPAs boycotted the elections.
Meanwhile, PTI leader Sheheryar Afridi wrongly signed his ballot paper making his vote invalid.
The PTI leader later approached the presiding officer to allow him to revote.
In his request, the PTI leader said that he had been unwell for the past few days and could not attend party meetings to understand the procedure and therefore signed the ballot paper.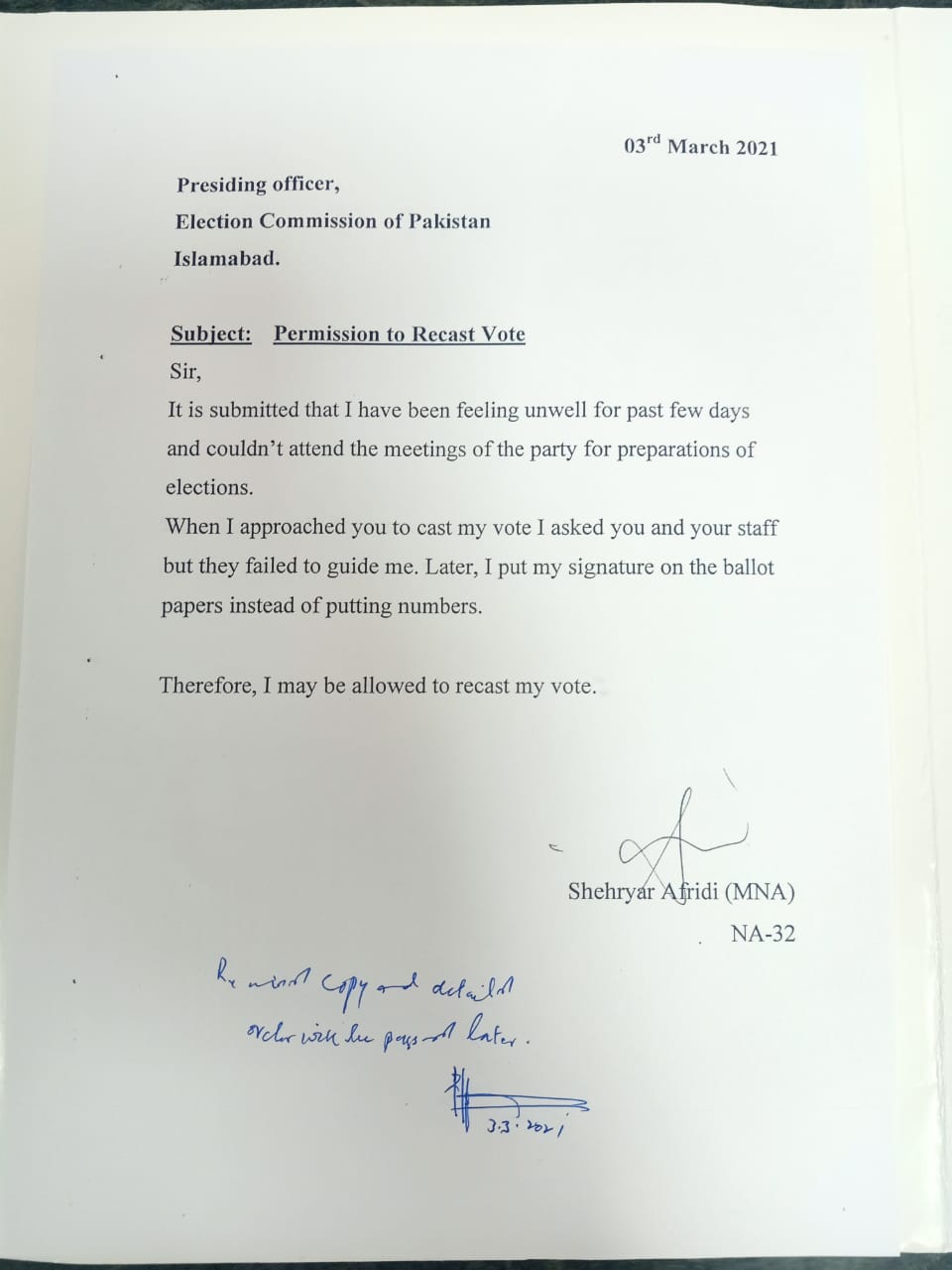 Afridi also tweeted that "crook and corrupt politicians would also sink..." adding that it was the start of a new era to close doors on the use of black money to enter a democratic system.
With the sun setting today, these crook and corrupt politicians would also sink IA. 2day is start of new era 2 close doors on use of black money to enter democratic system. The new era would usher into development & prosperity under visionary PM @ImranKhanPTI
#SenateElection2021

— Shehryar Afridi (@ShehryarAfridi1) March 3, 2021
Senate polls
This year's election of half of the members of the upper house of parliament is watershed as winning control of the Senate would enable the Pakistan Tehreek-e-Insaf (PTI) government to legislate easily, but a defeat on the other hand, might invite a no-confidence move against it.
The most high-profile contest of the "Senate Elections-2021" will be between former prime minister and joint candidate of the Pakistan Democratic Movement (PDM) parties, Yusuf Raza Gilani, and Finance Minister Abdul Hafeez Shaikh of the PTI – both vying for a general seat from Islamabad.
Amid rising political temperature in the country, the federal capital was rife with all kinds of speculations on Tuesday. Currently, the contest for the Islamabad seat reflects a battle between two alliances – one supporting the government and the other supporting the opposition PDM.
The Shaikh-Gilani contest, dubbed "the winner takes all", has forced both sides to woo parliamentarians, especially the ones who usually go unnoticed. Apparently, the government has numerical superiority in the National Assembly, but owing to some disgruntled treasury members, Gillani appeared confident that he can win.
On the other hand, Prime Minister Imran Khan and senior members of his cabinet are holding meetings with resentful National Assembly members (MNAs) to win their support back for Dr Hafeez Shaikh.
So much so that Prime Minister Imran has spent two consecutive days in parliament and met dozens of lawmakers from the treasury benches, who otherwise, do not get a chance to sit across the table with the prime minister.
Leading the government's Senate election campaign from the front, the prime minister has cancelled his other engagements to spend time with the lawmakers to muster their support.
COMMENTS
Comments are moderated and generally will be posted if they are on-topic and not abusive.
For more information, please see our Comments FAQ