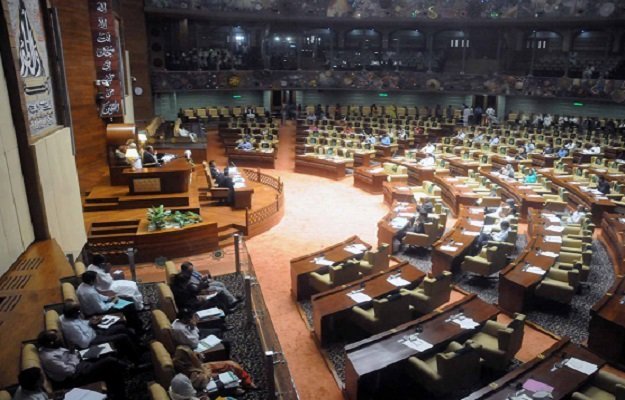 ---
KARACHI:
Pandemonium and melee defined the Sindh Assembly session on Tuesday when lawmakers from the Pakistan Peoples Party and Pakistan Tehreek-e-Insaf came to blows. The lawmakers resorted to scuffling and shoving each other, with the point of contention being a dissident PTI MPA, Karim Bux Gabol.
Gabol, who was elected from the PS-100 constituency in East district in the 2018 general election, had announced on Monday that he would not be voting for his party's candidates in the Senate elections, which are scheduled today (Wednesday).
In a video message, Gabol had alleged that the PTI had awarded tickets for the polls in exchange for money. He contended that the Constitution of Pakistan gave him the right to vote for the candidate of his choice.
The atmosphere began to heat up when he, along with two other disgruntled MPAs from the PTI - Shaharyar Khan Shar and Muhammad Aslam Abro, reached the provincial assembly the next day (Tuesday).
Lawmakers of the PPP, which leads the provincial government in Sindh, thumped tables, as a gesture to welcome and appreciate the three MPAs, much to the chagrin of the PTI members in the house.
When they had taken their seats, PTI leaders, namely Khurram Sher Zaman, Saeed Afridi and Bilal Ghaffar, who is the parliamentary leader of his party in the Sindh assembly, approached them, following which a brief conversation took place between them in hushed tones. Reportedly, Zaman, Afridi and Ghaffar asked the other three to accompany them outside the hall.
Also read: PTI lawmakers whisk away disgruntled MPA from Sindh Assembly
And after an interval of few minutes, the former escorted the latter towards the hall's exit, which set in motion of a round of insults, sloganeering, scrimmage and chaos, yet again marring the assembly session, which was being chaired by deputy speaker Rehana Leghari.
PPP lawmakers, including Imdad Pitafi, Burhan Chandio and Mukesh Kumar Chawla, went up in arms over what the dubbed the "kidnapping of an MPA" and tried to intercept them PTI lawmakers.
As a result, a brawl broke out between PPP and PTI lawmakers, as they kept on hurling insults and abuses at each other.
"This is not the way. Speaker sahiba, they are kidnapping an MPA from the house," Chawla shouted amid a melee, trying to gain Leghari's attention.
However, it were Zaman and other PTI MPAs who replied to the PPP lawmaker, asking him to to interfere in an "internal party matter", and maintaining they were in fact rescuing one of their MPAs who had been kidnapped.
This led to a scuffle between the members of the two parties, as PPP MPAs tried to take Gabol away from the PTI lawmakers.
Amid shoving, pushing and elbowing, lawmakers from both the parties continued to pull Gabol towards themselves, as if in a tug of war.
Meanwhile, some other lawmakers recorded the video of the fracas on their phones. And stuck in the middle, in a video that surfaced later, Gabol was seen shouting above the chaos, "PPP members are trying to kidnap me."
It was in the backdrop of this unruly situation that the deputy speaker adjourned the session.
Later, Gabol was escorted outside the assembly by PTI MPAs. He was seen being driven away in a car with PTI lawmakers Zaman and Raja Azhar.
Also read: PTI MPAs refuse to vote for party candidates in Senate polls
'Threat to life'
Following the assembly session, PPP MPAs claimed while speaking to the media that there was a "threat to Gabol's life, who was forcibly taken away by PTI MPAs."
"Every MPA if free to vote [for whomever they want]. Kidnapping members from the house in such a manner is not acceptable," said Sindh Women development Minister Shehla Raza on the occasion.
Who 'kidnapped' Gabol?
Separately, opposition leader in the Sindh Assembly Haleem Adil Sheikh claimed that Gabol had been "released" from the PPP's captivity.
"Gabol has issued a clarification, stating that PPP ministers and MPAs had kidnapped him and forced him to record a video against his party," remarked Haleem.
During a separate media talk, one of the three dissident MPAs, Shar said while speaking to media persons, "No one kidnapped us. We still stand by our stance of noting voting for the PTI candidate," he said, adding that Gabol had been "tortured" and taken away by PTI MPAs.
When a journalist asked Haleem about this, he hurled abuses at the reporter and went on to accuse him of being biased in favour of the PPP.
Eventually, journalists covering the media talk protested Haleem's behaviour.
Later, they were approached and requested by some PTI MPAs to end the protest and Haleem released a video apologising for his behaviour.