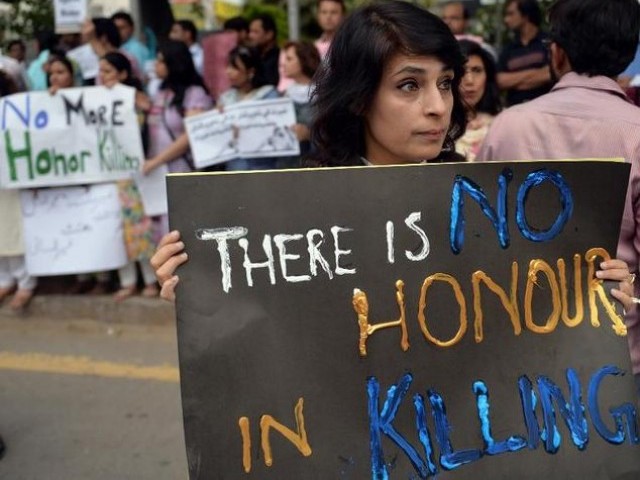 ---
LAHORE:
In another brutal incident of 'honour' killing, a woman was murdered by her father in Lahore's Shalimar area on Wednesday over suspicion of being in a relationship with a man.
The woman, Shahnaz Bibi, was a mother of six, and had recently started living in a separate house with her children following a divorce with her husband, Kashif.
According to initial information, the father, identified as Akram, suspected his daughter of being a relationship with a man named Zubair.
On seeing the two together, apparently inside Shahnaz's house, the father opened fire, killing Shahnaz on the spot and injuring Zubair.
A case was registered against the father with the Shalimar police by the victim's mother, Shamim Akhter.
Also read: Call for implementing pro-women legislation
The police had started legal proceedings after arresting the accused.
At least 83 women were killed in the name of honour in Lahore in 2020.
The police filed charges against the accused in 62 cases after arresting them, while 21 cases were being investigated.
About the reason for the prevalence of honour killing, scholar Dr. Anam Fatima said the issue was linked with the importance of reputation in societies.
Male empowerment has existed for ages as it is rooted deeply in most societies of the world, she said.
Men from traditional cultural backgrounds follow the principle of "male dominance," viewing women in their traditional domestic roles.
There is growing concern among such men, originating from traditional cultural backgrounds, that in alien lands "their" women may get "tainted" by the surrounding dominant culture.
Also read: Girl killed in the name of honour in Kohat
In order to avoid this, they may become exceedingly strict about religion, assume aggressive attitudes and at times resort to violence.
She said being dishonoured in an 'honour culture' is often considered a fate worse than death and the dishonour of one person can stain many others. This is what drives people in such cultures to engage in honour killings.
Men who are socially deprived and economically constrained may tend to develop "narcissistic enjoyment" by exercising power over women, the scholar added.
COMMENTS
Comments are moderated and generally will be posted if they are on-topic and not abusive.
For more information, please see our Comments FAQ