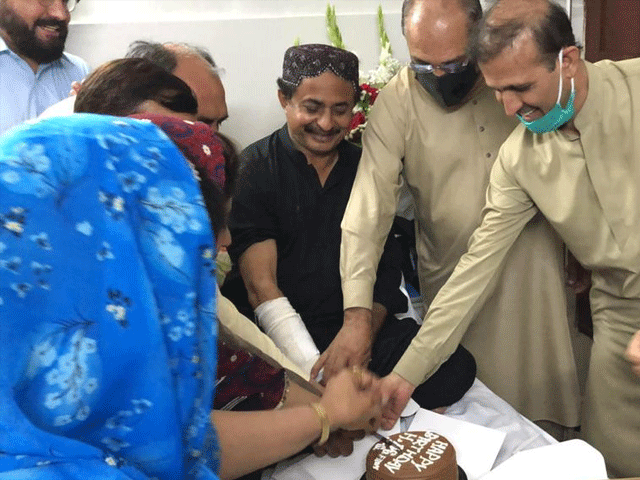 ---
KARACHI:
The Sindh government sought response from jail authorities on Tuesday after incarcerated Pakistan Tehreek-e-Insaf (PTI) leader Haleem Adil Sheikh celebrated his birthday at the Jinnah Postgraduate Medical Centre (JPMC).
The PTI's Leader of the Opposition in the Sindh Assembly was moved to a hospital from his jail cell two days ago, and is currently undergoing treatment at the JPMC's Orthopaedic Ward.
PTI leaders Shehzad Qureshi, Aftab Siddiqui along with other party members are said to have reached the JPMC with a birthday cake and bouquet to celebrate Sheikh's birthday.
Sources within the Sindh government maintained that no prisoner can be met in the hospital room without the permission of the home department and no celebrations can be held either.
The Sindh government was reported to have taken a strict notice of the matter.
Also read: Murtaza rips apart Haleem's claims of encountering cobra, gang war in prison
Leader of the Opposition in Sindh Assembly Haleem Adil Sheikh was shifted on Sunday to the National Institute of Cardiovascular Diseases (NICVD), Karachi — a hospital at which he had hurled allegations of corruption in the past — from prison after being advised by the doctors to undergo angiography.
In a request to the Sindh government, Sheikh — who was arrested by Sindh Police over charges of interfering in the election process in Malir's PS-88 by-election last week — said that he suffered from angina and hypertension and the doctors had been advising him to go through angiography.
The request was approved after which the PTI leader was transferred to the facility. Sheikh's spokesperson, while confirming the development, also claimed that 60 to 70 miscreants belonging to "[Lyari] gang war" had attacked Haleem during his stay at the Central Jail, Karachi.
Four days ago, the provincial opposition leader had also claimed that a deadly snake was found in his cell at the Special Investigation Unit's Saddar Centre, where he was detained.