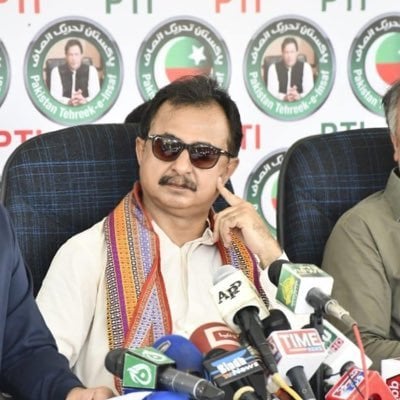 ---
KARACHI:
Opposition leader in Sindh Assembly, Haleem Adil Shaikh, claimed on Friday that a deadly snake was found in his cell at the Special Investigation Unit's Saddar Centre, where he was detained following his arrest over charges of interfering in the election process in Malir's PS-88.
Speaking to the media outside the anti-terrorism court, Shaikh said that a four-feet-long black cobra was left in his cell in a deliberate attempt to kill him. This was done on the directives of Pakistan Peoples Party Chairperson Bilawal Bhutto Zardari and Sindh Chief Minister Syed Murad Ali Shah, he alleged. Shaikh claimed that the snake was seen and photographed by police officers as well.
Commenting on the matter, Karachi AIG Ghulam Nabi Memon said that he has sought a detailed report from CIA Investigation DIG Arif Hanif over Shaikh's allegations. The matter will be investigated thoroughly, he said.
Whereas, police sources said that such incidents are common at the SIU centre in Saddar, where Shaikh has been detained.
An ATC had earlier sent the Pakistan Tehreek-e-Insaf lawmaker on two-day physical remand on Wednesday, on charges of violence, firing, attempt to murder and creating terror in Malir's PS-88 constituency during by-polls.
On Friday, Shaikh was produced before the ATC, where the investigation officer sought further physical remand of the lawmaker and co-accused till March 3.
However, the court sent the accused to jail on judicial remand till February 25 while directing the IO to produce them at the next hearing along with a progress report.
The court also issued notices to the IO and the special public prosecutor seeking arguments at the next hearing of Shaikh's bail plea, in the same case, slated for February 22.
During the hearing, Shaikh's lawyer contended that the case against his client was lodged to exact political revenge and has nothing to do with terrorism. Shaikh was attacked and the inclusion of Section 7 of the Anti-Terrorism Act is based on malafide intent, argued the defence lawker.
The court sent Shaikh on judicial remand till February 25.
According to the prosecution, Shaikh disrupted the election process during PS-88 by-polls, resorted to violence and violated the Election Commission of Pakistan's code of conduct.
Two cases were lodged against him under sections of the Pakistan Penal Code, pertaining to rioting, possessing a deadly weapon, unlawful assembly, obstructing public servant in discharge of public functions, attempt to murder, using assualt or criminal force to prevent public servant from carrying out his duty, and other sections, and as well as Section 7 of the Anti-Terrorism Act 1997, pertaining to punishments for acts of terrorism.
Separately, Shaikh is to be produced before the ATC again today (Saturday) after the inclusion of Section 7 of the ATA 1997 in a separate case against him pertaining to interference in anti-encroachment operation.
The cases against Shaikh are lodged at Gadap Town, Malir and Memon Goth Police Stations.
'Conspiracy to kill'
Speaking to the media outside the ATC, PTI member of Sindh Assembly Khurram Sher Zaman and Federal Minister for Water Resources Faisal Vawda expressed concern for Shaikh's safety.
"Haleem Adil Sheikh killed the snake when it was pointed out to him by the man delivering him his breakfast," Zaman said, quoting Sheikh's spokesperson. He said there was a possibility that Sheikh could be killed "just as these people killed Murtaza Bhutto", referring to the scion of the Bhutto family, who was murdered under questionable circumstances in 1996.
"They are not allowing Sheikh's family to meet him. Party leaders and even parliamentarians have not been given permission to meet the detained PTI leader," alleged Zaman.
Similarly, hinting at the troubled relationship between the PPP-led Sindh government and the PTI, Vawda said, "We should be grateful that they (Sindh police) released a snake and not a python."
'Premier takes notice'
Meanwhile, in a telephone call with Sindh Governor Imran Ismail, Prime Minister Imran Khan expressed displeasure at the report of a snake being found in Shaikh's detention cell, according to a statement issued by Ismail on the day.
The premier also expressed concern over the inclusion of anti-terrorism clauses in the cases against Shaikh.
'Using institutions for political purposes'
PTI leaders later staged a protest outside the Karachi Press Club condemning the arrest of Shaikh and the "false cases" against him.
PTI member of Sindh Assembly Saeed Afridi claimed that the Sindh government has always used the police against its political opponents.
Echoing the same, PTI MPA Jamal Siddiqui requested the Chief Justice of Pakistan to take note of the Sindh government's "bullying".
"We are the tigers of Prime Minister Imran Khan and are not afraid of such clever tactics and retaliation. The government in Sindh is run through force and bullying. No matter how hard Murad Ali Shah tries, he will be held accountable for every penny of Sindh's looted wealth," said Siddiqui.
Similarly PTI MPA Dua Bhutto accused the Sindh Police of acting as "PPP's B-team" instead of performing its basic duties. "We have governments in Punjab and Khyber Pakhtunkhwa, and the Centre, we have never taken false action against our political opponents," she said.
PTI lawmakers Arsalan Taj, Riaz Haider, Raja Azhar, Malik Shehzad Awan and Ramzan Ghanchi and other party leaders and workers also shouted slogans against the provincial government's alleged injustice.