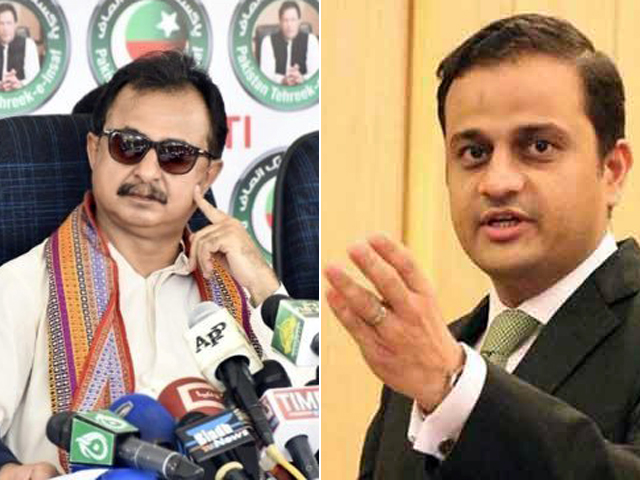 ---
KARACHI:
Adviser to Sindh Chief Minister on Law and Environment Murtaza Wahab Siddiqui on Monday refuted the claims of Opposition Leader in Sindh Assembly Haleem Adil Sheikh that he was tortured in Central Jail Karachi.
Sheikh's spokesperson had claimed on Sunday that 60 to 70 miscreants belonging to "[Lyari] gang war" had attacked the PTI leader in the Karachi prison.
Haleem Adil Sheikh was shifted to National Institute of Cardiovascular Diseases (NICVD), Karachi — a hospital at which he had hurled allegations of corruption in the past — from prison after the "mob attack" episode.
In a request to the Sindh government, Sheikh — who was arrested by Sindh Police over charges of interfering in the election process in Malir's PS-88 by-election last week — said that he suffered from angina and hypertension and the doctors had advised him to go through angiography.
Also read: Haleem Adil shifted to 'corrupt' NICVD after 'mob attack' in Karachi prison
"Sindh government is wrongly being held responsible [by PTI members]. He [Haleem Adil] was not tortured in the prison," Murtaza said while addressing a press conference in Karachi today.
He questioned how a person who was beaten up by several people instantly became active in the hospital. "You can see [in the video] he even made a victory sign [upon reaching the hospital], meaning that he succeeded in what he wanted to achieve," he added.
Murtaza, who is also the Sindh government spokesperson, said that PTI leaders regularly met Sheikh during his stay at the prison.
Lamenting the statements of PTI members including Sindh Governor Imran Ismail, he said that a person of his stature should not threaten the police.
"Even Ali Zaidi threatened [the police] on Twitter. He said he talked to Haleem Adil over the phone, however, it is against the law for him to talk to a prisoner," he said, urging the PTI members to let the police do their job.
Murtaza said that Haleem Adil was removed from Karachi's Malir PS-88 constituency following the orders from the Election Commission of Pakistan (ECP).
"ECP itself wrote that Haleem Adil Sheikh was roaming around in different areas of the constituency with weapons in a car," he said and added that even media reports showed footage of firing during the by-polls.
"Was police supposed to stay silent under such circumstances? Police did what needed to be done. It later asked the court for remand which was granted," the PPP leader added.
'Deadly cobra'
Talking about the claims of presence of a deadly snake in the cell where Sheikh was kept after his arrest last week, he said that the entire cabinet including the chief minister condemned the incident.
He questioned how Sheikh killed a "four-foot long cobra" by himself, adding that it should be investigated whether the snake came by itself or was brought to the cell. "10 persons came to meet Haleem Adil between February 19 and 20. The police did not check their bags."
The Sindh government spokesperson further said that the federal government appoints the inspector general of police in consultation with the provincial government under an agreement reached in 1993. However, he added, that the federal government should avoid interfering in onstitutional matters of the province.
"If someone wants to remove or appoint the IGP, it should be done with consultation of the provincial government," he maintained.
COMMENTS
Comments are moderated and generally will be posted if they are on-topic and not abusive.
For more information, please see our Comments FAQ