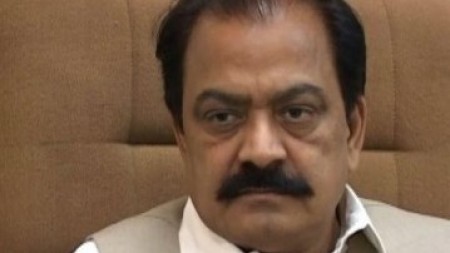 ---
LAHORE:
An anti-narcotics court judge sought details by February 25 of bank accounts of accused Pakistan Muslim League-Nawaz (PML-N) Punjab president Rana Sanaullah, allegedly involved in a drug peddling case, on his application seeking restoration of his salary account that had been frozen.
The petitioner's counsel implored the court that his client's four bank accounts including the salary account of the National Assembly had been frozen by the Anti-Narcotics Force (ANF).
He argued that his client's properties had also been frozen. He added that his client's routine life has been disturbed by freezing his salary account.
Read more: 'Provide statement of witnesses to Sanaullah'
He prayed to the court that the direction is passed to concerned quarters for restoring the accounts of the accused Rana Sanaullah.
PML-N's Rana Sanaullah had been nominated in an FIR registered by ANF against him under differing charges including drug peddling charges.
According to FIR registered by Deputy Director Operations Anti-Narcotics Force on July 1, 2019, under sections 186,189, and 353 of Pakistan Penal Code (PPC) while sections 15, 17 of 9C of the CNSA 1997 against aforementioned states that the ANF received information that Rana Sana Ullah is involved in drug smuggling and now he is taking heroin to Lahore.
Published in The Express Tribune, February 23rd, 2021.