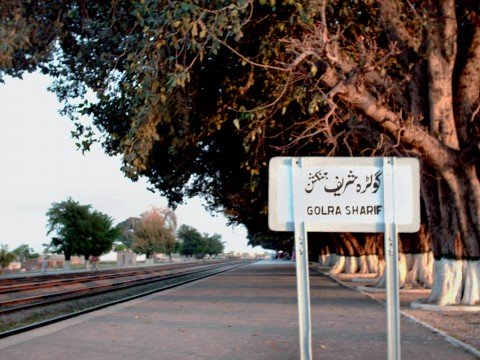 ---
ISLAMABAD:
In an effort to boost tourism the tourism dept with the collaboration of Pakistan Railways has come with a novel and commendable idea.
A nineteenth century refurbished steam locomotive chugged out of Golra Railway Station with ministers and senior officials on board for its maiden voyage as a tourist train on Monday.
Senate Chairman Sadiq Sanjrani along with Minister for Railways Azam Khan Swati inaugurated 'Safari Tourist Train' at Golra Railway Station on Sunday to promote tourism.
The train will take tourists from Golra Station to Hassan Abdal, Attock Khurd and Attock City and surrounding areas every Friday, Saturday and Sunday charging Rs1,000 for adults, Rs500 for children and Rs3,000 for saloon car.
Tourists will also be able to enjoy a trip to Hassanabdal during the journey besides a trip down memory lane at the Railways Heritage Museum at Golra Station.
The steam powered train can haul at least 1,500 passengers at a time which will pass through the old iron girder bridge, which is the most important, strategic and commercial cross on the Indus between Punjab and Khyber-Pakhtunkhwa.
Addressing the media at the inauguration, Sanjrani said that this safari train was an important step towards promotion of tourism in the country. Railways service is the backbone of the economy, he added.
He said that the concept of safari train was good; it could be a source of entertainment and tourism. He said that such trains should also be run from different cities as it could play a key role in promoting tourism.
"At one time, fresh water was also delivered by railways from Quetta to my village" Sanjarani added. He said that promotion of tourism was responsibility of every individual.
He said that the development of any country was linked with the tourism.
Railways Minister Azam Swati said that the objective of the train was to project the culture, civilisation, heritage and worth seeing beautiful places of Pakistan before the world.
He said that his priority agenda was to eradicate corruption from the railways. There were mostly good officers in the railways but there were a few black sheep, he said and added that he would selectively eliminate these black sheep.
Swati said that freight trains would also start soon. He said that the Railways would have to move forward for the sake of country. The minister said that a new signal system would be introduced in Railways.
Other dignitaries included Senators Taj Muhammad Afridi, Sajjad Hussain Turi, Mirza Muhammad Afridi, Aurangzeb Orakzai, Naseebullah Baazi and Dilawar Khan bound for Attock Khurd from Golra Railway Station.
Published in The Express Tribune, February 22nd, 2021.