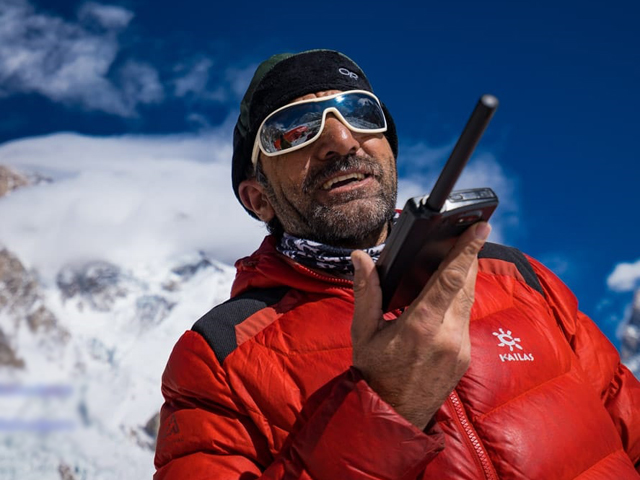 ---
ISLAMABAD:
An aerial search operation for three missing climbers — Pakistan's legendary Muhammad Ali Sadpara, Iceland's John Snorri and Chile's Juan Pablo Mohr — at K2 has been temporarily suspended on Tuesday due to strong winds and snowfall and will resume today (Wednesday) with army deploying C-130 for the mission.
World renowned Sadpara, 45, Snorri, 47, and Mohr, 33, were missing since February 5 while they were attempting to scale the 'killer mountain' in winter.
They have been last seen on Friday around noon at what is considered the most difficult part of the climb: the Bottleneck, a steep and narrow gully just 300 metres of the 8,611 metre (28,251 ft) high K2.
As soon as the weather clears, the search team will continue the operation — entering the fifth day — using the C-130 to find the missing climbers at the highest levels of K2. The entire death zone will be photographed with the latest camera installed in the plane, while Sajid Sadpara, son of Ali Sadpara, is also taking part in the search operation.
Speaking on Express News programme Expresso, Sajid Sadpara said his father was a world class climber and good decision maker but the hope for his life was fading with the passage of time.
He further said the decision to return was his own. Sajid had decided to descend from bottleneck to camp 3 from an altitude of 8,200m after the oxygen regulator he was using leaked.
Read more: Chances of Ali Sadpara returning alive 'next to none', says son
Talking to media in Skardu on Sunday, Sajid said, he spent that night waiting for the climbers at camp 3, and kept the camp light on so the missing mountaineers would notice it.
Sajid was sure that his father and the other two climbers went missing while descending from the summit.
Foreign Minister Shah Mehmood Qureshi said that the Pakistan Army and the government were making all possible efforts to find the climbers. He said that he had talked to foreign minister of Iceland in this regard and he was also being kept updated of the situation.
Qureshi said the Pakistan Army and the government were making all possible efforts to find the climbers. "Unfortunately, as time goes on, we are heading for despair," he said
Meanwhile, Inter-Services Public Relations Director General Major General Babar Iftikhar said Sadpara was a national hero and the army was putting all efforts to search him.
The US Embassy in Pakistan also wished for the safe recovery of all three climbers. In a tweet, the embassy said, "Our thoughts are with the brave climbers, Muhammad Ali Sadpara of Pakistan, Juan Pablo Mohr of Chile, and John Snorri of Iceland, who are missing on K2. We all hope for their safe return."
(With input from News Desk and DNA)