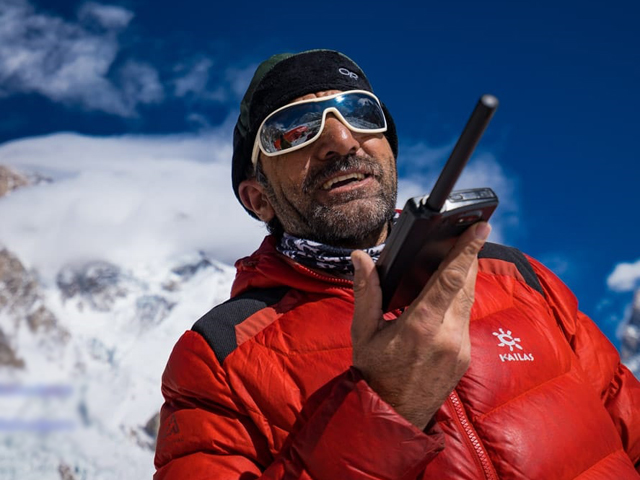 ---
The search for renowned mountaineer Muhammad Ali Sadpara and his two fellow climbers entered the third day on Monday as harsh weather continued to hamper search and rescue efforts.
Ali, 45, John Snorri, 47, of Iceland, and Juan Pablo Mohr, 33, of Chile, were last seen Friday around noon at what is considered the most difficult part of the climb: the Bottleneck, a steep and narrow gully just 300 metres shy of the 8,611 metre (28,251 ft) high K2.
The spot is just above the ceiling of helicopters, which have been searching for three days now.
According to AdventureStats, 13 out of the last 14 fatalities on K2 have occurred at or near the Bottleneck.
Nepal's Chhang Dawa Sherpa said another flight was conducted today by Pakistan Army's No 5 Squadron. "Flight over 7000m with the help of the Army Aviation 5 squadron. For the last 3 days, pilots made a great job, but we can't find any clue there."
He added that he was aboard the helicopter along with fellow Nepali Lakpa Dendi, but there was "less visibility and upper mountain is covered in clouds".
Dawa further said that the team is waiting for more permissible weather to attempt another search flight.
Ali's cousins, Imtiaz and Akbar, also reached K2 basecamp on Sunday evening. Both are experienced mountaineers and have summited K2 earlier.
Elia Saikaly: "Imtiaz and Akbar, Ali Sadpara's cousin and nephew arrived at basecamp a little more than 24 hours ago, both incredibly talented Pakistani climbers who have summited K2, to assist in bringing Sajid Sadpara down from the base of K2. (1/6) pic.twitter.com/O3Dp0Tnw1x

— Everest Today (@EverestToday) February 8, 2021
The two are heading up the mountain today and will assist others in finding the three lost climbers and in bringing them down to the base camp.
"Ali is a brother to us. A hero for Pakistan. We will climb as high as we can within our limits. There is hope, but we know the reality of the mountain, especially in winter," said Imtiaz.
"When Ali left basecamp, he had the Pakistani flag with him. Every time he climbs, he has the mountain close to his chest, Pakistan is in his veins and blood. He's our hero," added Akbar.
Akbar then said: "When Ali left basecamp, he had the Pakistani flag with him. Every time he climbs, he has the mountain close to his chest, Pakistan is in his veins and blood. He's our hero." (5/6)

— Everest Today (@EverestToday) February 8, 2021
Earlier, Sajid Ali Sadpara painted a grim picture of his father's chances of survival, On Saturday, he said that the chances of the three climbers returning alive after three days were "next to none" under such harsh conditions.
Talking to the media after the end of the second-day rescue mission in Skardu, Sajid suggested that the three climbers may have had an accident while descending from the K2 "Bottleneck", considered the most dangerous route of the entire expedition.
Read: Who is Muhammad Ali Sadpara?
"There is no hope to live [under such harsh conditions] for three straight days," Sajid said. "When I returned from Bottleneck at 8,200 metres, they were climbing up the Bottleneck at 11AM [on Friday]. I'm sure they made the K2 summit and on their way back they may have had an accident, that's why they are missing," he added.
Explaining his decision to return from the expedition, Sajid said that he realised that it will be difficult for him to continue the expedition without oxygen after reaching 8,200 metres, adding that when he tried to use the available oxygen, it emerged that their regulators had leaked.
He said that at that point in the expedition, he was mentally disturbed and his father and John Snorri asked him to return.
Ali Sadpara was also part of the team which successfully achieved the first-ever winter summit on Nanga Parbat in 2016.
Winds on K2's peak can blow at more than 200 kilometres per hour (125 miles per hour) and temperatures drop to minus 60 degrees Celsius (minus 76 Fahrenheit).
With Pakistan's borders open and with few other places to go, this winter an unprecedented four teams totalling around 60 climbers converged on the mountain, more than all previous expeditions put together.
Unlike Mount Everest, which has been topped by thousands of climbers young and old, K2 is much less travelled.
COMMENTS
Comments are moderated and generally will be posted if they are on-topic and not abusive.
For more information, please see our Comments FAQ