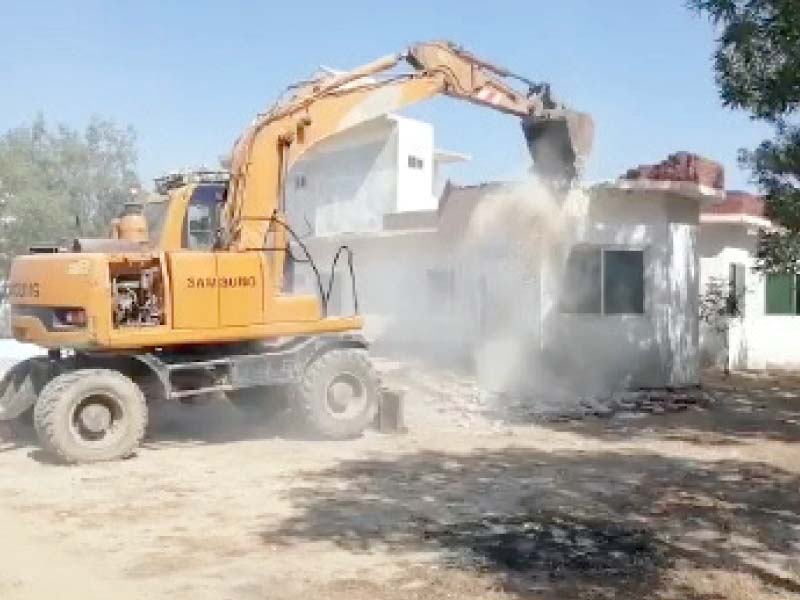 ---
KARACHI:
Citizens and cops clashed in Malir on Saturday, in the backdrop of an anti-encroachment drive, during which approximately 70 farm houses across five dehs and two sub-divisions were demolished and 548 acres of allegedly illegally occupied land was vacated.
Given that most of these farm houses were owned by Pakistan Tehreek-e-Insaf leaders- notably opposition leader in the Sindh Assembly Haleem Adil Sheikh- their relatives and other influential personalities, the demolition drive led finger pointing, with the ruling party in Sindh, the Pakistan Peoples Party, and the Pakistan Tehreek-e-Insaf engaging in a war of words.
The action
The demolition drive was conducted by the Karachi Metropolitan Corporation's anti-encroachment department on the directives of Malir deputy commissioner Ghanwar Laghari. Sindh Building Control Authority officials, district administration and other relevant authorities assisted the operation.
Preceding the operation, the Malir DC had issued a notification on February 3, 2021, ordering a three-day demolition drive, from February 6 to February 8, in Deh Khakar, Deh Konkar, Deh Tore, Deh Kharkharo, Deh Malh and two sub-divisions, Murad Memon Goth and Shah Memon Goth.
The notification had been sent to the Karachi Commissioner, police, Rangers and anti-encroachment department.
Consequently, Malir assistant commissioner Farooq, accompanied by police personnel and heavy machinery, commenced the operation on Saturday morning.
According to the relevant authorities, the lease of the properties in question had expired in 2015, but they owners continued to occupy them illegally. The officials also pointed out that while the land was leased for poultry farming and agricultural use, it was being used for other purposes.
Resistance
As soon as the drive started, scores of workers from the farmhouses gathered to resist the move.
They staged a protest for over an hour, due to which traffic flow on the Super Highway was affected.
Later, Haleem too joined the protest, declaring the demolition drive "illegal and an act of political revenge."
He claimed that he had acquired an stay order against the demolition of the structures from the court and threatened the anti-encroachment team and the Malir DC of taking up the matter with "higher officials."
The operation was suspended a short while later.
Reportedly, the protesters pelted stone at police, as a result of which the glass of official cars was broken and law enforcers had to step back and leave.
Later, a complaint was lodged at Gadap City police station against the demolition drive.
Plea filed
Besides, Haleem's relatives filed a plea against the demolition in the Sindh High Court.
The court has issued contempt of court notices to the Sindh chief secretary and other officers, barring them from continuing the demolition drive. It has also issued a new stay order on the razing of the structures and summoned the parties on February 23.
Published in The Express Tribune, February 7th, 2021.
COMMENTS
Comments are moderated and generally will be posted if they are on-topic and not abusive.
For more information, please see our Comments FAQ