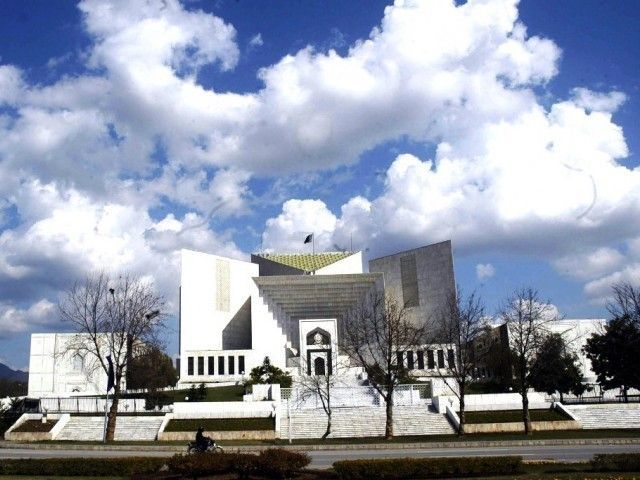 ---
ISLAMABAD:
The Supreme Court on Wednesday dismissed the appeal filed by the Federal Directorate of Education (FDE) against teachers demanding pay protection and the implementation of the court orders on regularisation of their services.
A three-member bench, comprising Chief Justice Gulzar Ahmed, Justice Ijaz Ul Ahsan and Justice Sayyed Mazahar Ali Akbar Naqvi, heard the case.
During the course of proceedings, Additional Attorney General Sajid Ilyas Bhatti informed the judges that the education secretary could not appear before the court due to a high-level meeting. He pleaded the court to review the procedure for appointment of employees.
Justice Ijaz said the employees' job had been regularised after ten years of their services and the Federal Public Service Commission (FPSC) had also declared the employees eligible for the jobs.
Read more: Yet another round of civil service reforms!
The deputy attorney general said these teachers had been recruited on the basis of a daily salary of Rs120. The chief justice, however, noted that teachers should not be appointed on a daily wage basis.
The CJ said the situation would have been different if the employees had been fired by the department. The court, after hearing the arguments, dismissed the appeal.
It is pertinent to recall here that daily-wage and contractual employees, who have been working in the FDE for the past decade, have been demanding that the government act on orders of the apex court and to immediately regularise their services. They have also been demanding the release of salaries since the beginning of their services.
Representatives of the FDE Daily Wages and Contract Action Committee said daily-wages teaching and non-teaching staff have been pushed to the brink of financial ruin because they have not been regularised even though some of them have been working for over 12 years.
In 2018, the Supreme Court had upheld a verdict from the high court and ordered the regularisation of all daily-wage workers in the FDE.
When the government failed to implement the orders, it had approached the court again. In response, the government had split the employees into different categories and had referred their cases to different authorities.
The cases of teachers in basic pay scale (BPS) grade 15 were sent to the federal cabinet while those of BPS-16 and 17 were referred to the FPSC.
Published in The Express Tribune, January 28th, 2021.
COMMENTS
Comments are moderated and generally will be posted if they are on-topic and not abusive.
For more information, please see our Comments FAQ