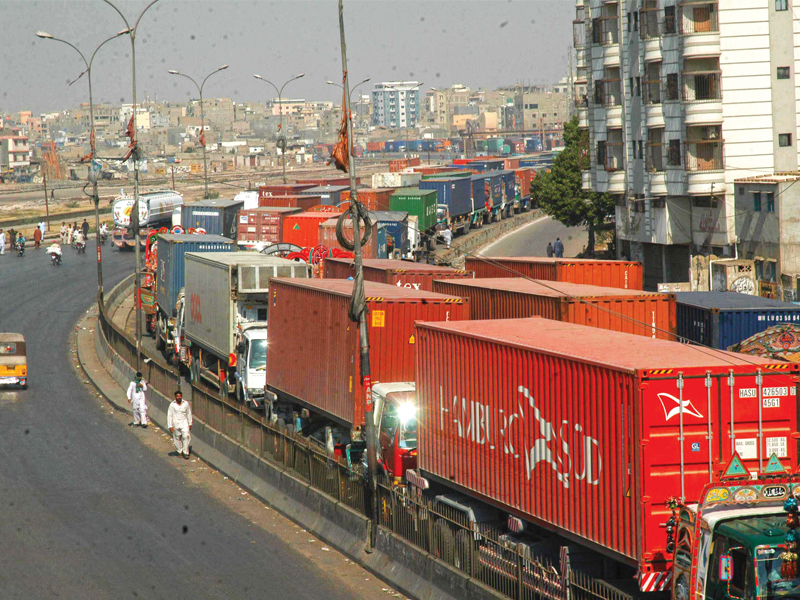 ---
Just days before Karachi is set to host a Test match after a long gap, its residents anticipate a thrilling experience… and gridlocks. In fact, they have already begun to experience it.
Nizamuddin, a Chhipa ambulance driver, fears the worst at the thought getting stuck in a traffic jam amid the closure of multiple roads for security reasons during the five-day Test match, from January 26 to January 30.
"In such circumstances, it takes us more than an hour to cover a distance that we otherwise cover within half an hour," he said.
Similarly, doctors and paramedics at the National Institute of Cardiovascular Diseases (NICVD), which is situated near the National Stadium- the venue for the match, urged the relevant authorities come up with a plan so as to ensure that healthcare professionals were able to avoid long queues of vehicles and reach their workplaces on time.
The plan and the logjams
Roads in the vicinity of the National Stadium are being closed for intermittent periods until January 30 and the timings of the closure varies on a day to day basis.
Important arteries that are being closed for traffic are Karsaz Road, Hassan Square flyover, New Town Road and one adjacent to Millenium Mall.
As per the diversion plan, when the roads are closed, traffic moving from Karsaz Road towards Habib Ibrahim Rehmatullah Road is being diverted to Rashid Minhas Road and commuters travelling from Hassan Square towards the National Stadium have to take a detour to University Road. Similarly, vehicles on New Town Road are diverted towards Jail Chowrangi and Shaheed-e-Millat Road.
Sharae Faisal and Rashid Minhas Road could be used for travelling to and from the airport while other arteries remain closed. However, the former, too, is temporarily closed for traffic during the movement of the South African team on the thoroughfare.
Those living nearby the National Stadium, though, are able to travel on selected patches of New Town Road, University Road and Rashid Minhas Road, even when the roads remain closed for others, so that they are able to reach their residences.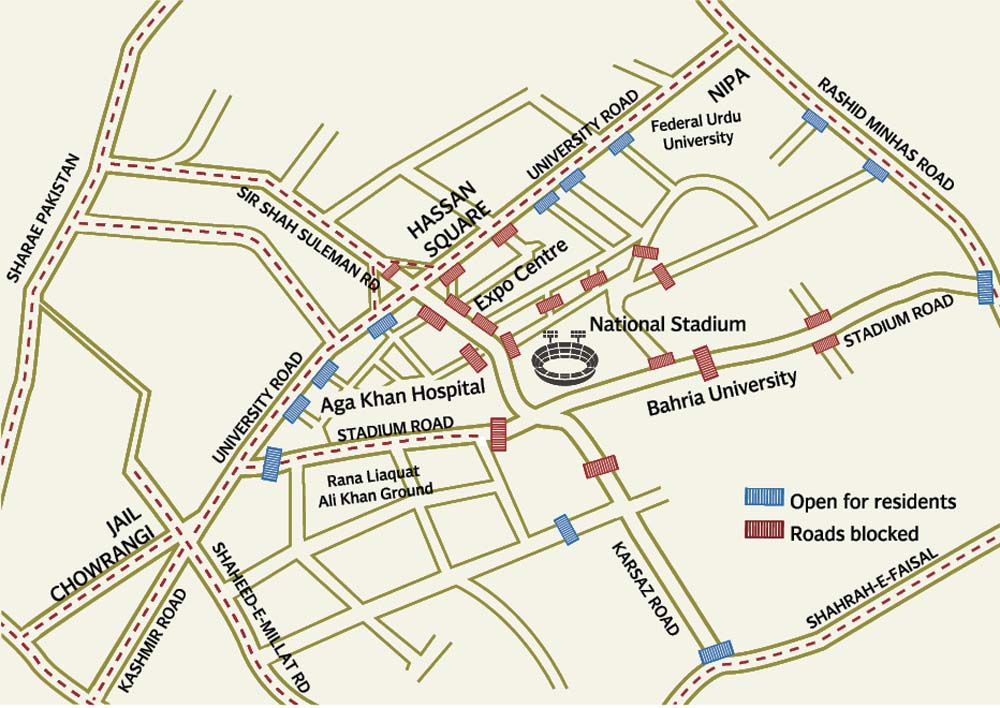 The spillover
With multiple roads remaining closed for traffic, Karachi's main thoroughfares, such as Sharae Faisal, Rashid Minhas Road and University Road, Sharae Pakistan, New Preedy Street and MA Jinnah Road, see excessive traffic and eventually, hours-long traffic jams.
Moreover, the closure of roads also makes it difficult for citizens, ambulances and health workers to reach hospitals located near the National Stadium.
Three of the city's main hospitals are located in the Stadium's vicinity, namely Liaquat National Hospital (LNH), Aga Khan University Hospital (AKUH) and the NICVD.
While the relevant authorities have made exceptions for those approaching AKUH and LNH- the commuters are able to reach the hospitals via New Town Road- those travelling to the NICVD are likely to face roadblocks.
To this end, traffic congestion on Sharae Faisal also makes travelling to and from Jinnah Postgraduate Medical Centre and Dr Ruth Pfau Civil Hospital more time consuming.
'Curfew-like situation'
And so, citizens, having to face a traffic nightmare on the city's roads, feel exasperated.
"If holding a cricket match is going to result in a curfew-like situation… it is better that authorities shift the National Stadium to the Super Highway or the National Highway, away from the city," said a citizen, Hasnain, speaking to The Express Tribune.
The anxiety is no less for traffic police personnel.
Two traffic police officials, Faizan and Danish, said while speaking to The Express Tribune that all their efforts to manage the traffic flow seemed futile in the face of burgeoning traffic load.
"We try our best and still have to face the derogatory behaviour of exasperated and irate citizens," lamented Faizan.
WITH ADDITIONAL REPORTING BY OUR CORRESPONDENT
Published in The Express Tribune, January 24th, 2021.