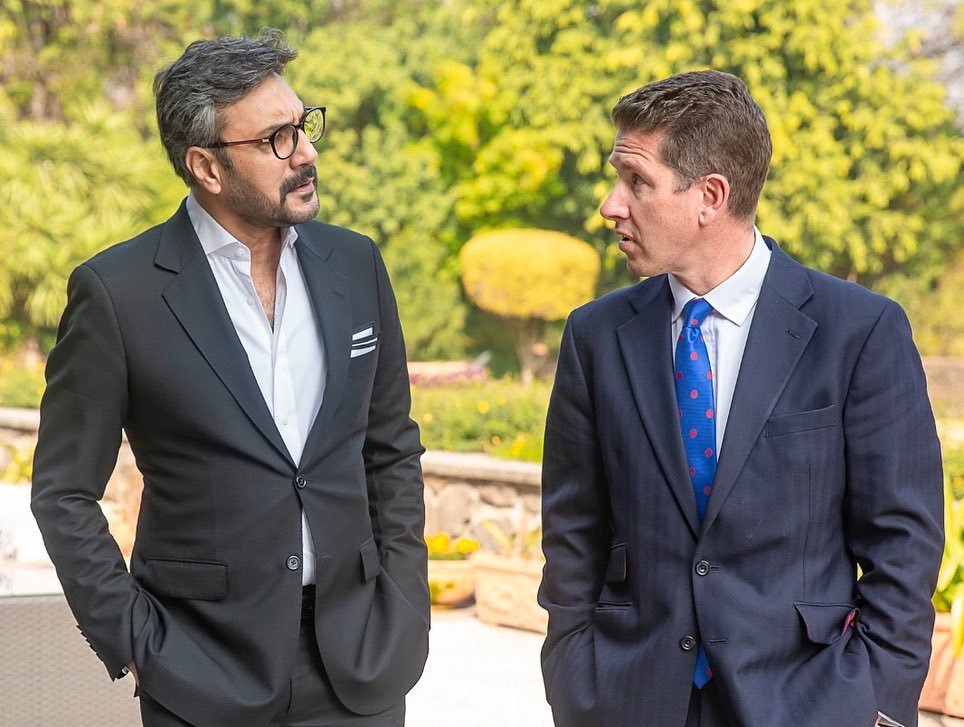 ---
Popular actor Adnan Siddiqui has many feathers in his cap, and his latest is an upcoming series titled Lala Turkey, in collaboration with Turkish actors and Diriliş: Ertuğrul executive producer Kemal Tekden.
So after detailing his fruitful round of talks with the Turkish personalities, along with fellow actor Humayun Saeed under the directives of PM Imran Khan, Siddiqui has dropped another bond he's in the process of tying.
Taking to Instagram on Monday, Siddiqui shared pictures with the British High Commissioner Dr Christian Turner and wrote, "In these times of global inclusivity, the world is an oyster in every sense of the word." The actor then relayed his 'firm' believe in the fact "that cross-cultural exchange across all fields will shape the new order of diplomacy."
"In a meeting with Dr. Christian Turner, British High Commissioner, this observation was underscored as we talked about renewed impetus to Pakistan-England ties through education, entertainment and cricket," revealed the celebrity. "Thank you, Mr Turner. It was an honour sharing tea and ideas with you. May our friendship grow personally and diplomatically, thank you Ms. Younis for making this happen," he concluded.
In October 2019, Siddiqui was the first to spill beans on an upcoming collaboration with the Turkish producer. During the time he was vacaying in Turkey, he shared that he was in Istanbul with the maker of Diriliş Ertuğrul.
"Right now, I'm with Qadir Sahab, and he is the man who created Ertuğrul, his company created it," said Siddiqui. "InshaAllah you will be hearing some good news," he hinted.
Then just last week, sharing photos with their Turkish guests on Twitter, Saeed wrote, "It was an absolute pleasure to host our Turkish guests; Mr Kemal Tekdin Executive Producer of blockbuster series Diriliş: Ertuğrul along with our beloved Cel Al, most popularly known as Abdul Rehman Alp and Dr Kashif Ansari of Ansari Films for bringing us all together."
He then added, "Me and my friend Adnan Siddiqui are absolutely thrilled to be bringing to you the biggest project ever in collaboration with Kashif bhai and our Turkish brothers."
COMMENTS
Comments are moderated and generally will be posted if they are on-topic and not abusive.
For more information, please see our Comments FAQ