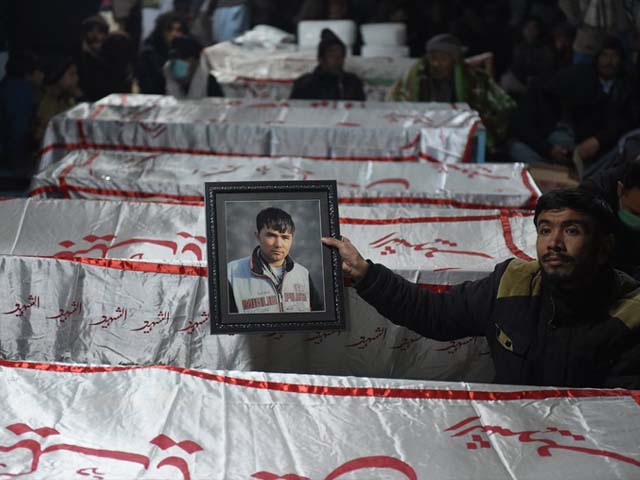 ---
PESHAWAR:
Seven of the 11 Hazara coalminers butchered by terrorists in Balochistan last week were Afghan nationals, according to Kabul which requested Pakistan on Friday to help repatriate the bodies to Afghanistan.
Kabul also sought consular access to one miner of Afghan origin who is said to have fled the grisly slaughter and is currently in the custody of local police authorities.
In a letter written by Afghanistan's Embassy in Islamabad, the Ashraf Ghani administration strongly condemned the brutal attack against Hazaras in the Machh area of Balochistan's Bolan district, and assured complete cooperation in investigation so that the perpetrators were brought to justice.
While speaking to The Express Tribune, a source within the Embassy identified the surviving Afghan collier as Rasul, son of Ghulam Ali. "The Embassy will be very grateful if the General Consulate in Quetta is provided consular access to Rasul," reads the letter.
Also read: Don't blackmail me, PM tells Hazara mourners
The Afghan consulate would be in close contact with Pakistani authorities for further information and coordination.
Meanwhile, a four-member committee, headed by a special magistrate, has sought information from the organisers of Quetta sit-in on the Machh tragedy, the district administration of Quetta said in a press release. It added that seven of the slain colliers were Afghan nationals.
The administration warned the organisers that the sit-in where hundreds of Hazara community members are in attendance could become cause of potential spread of the novel coronavirus in the province.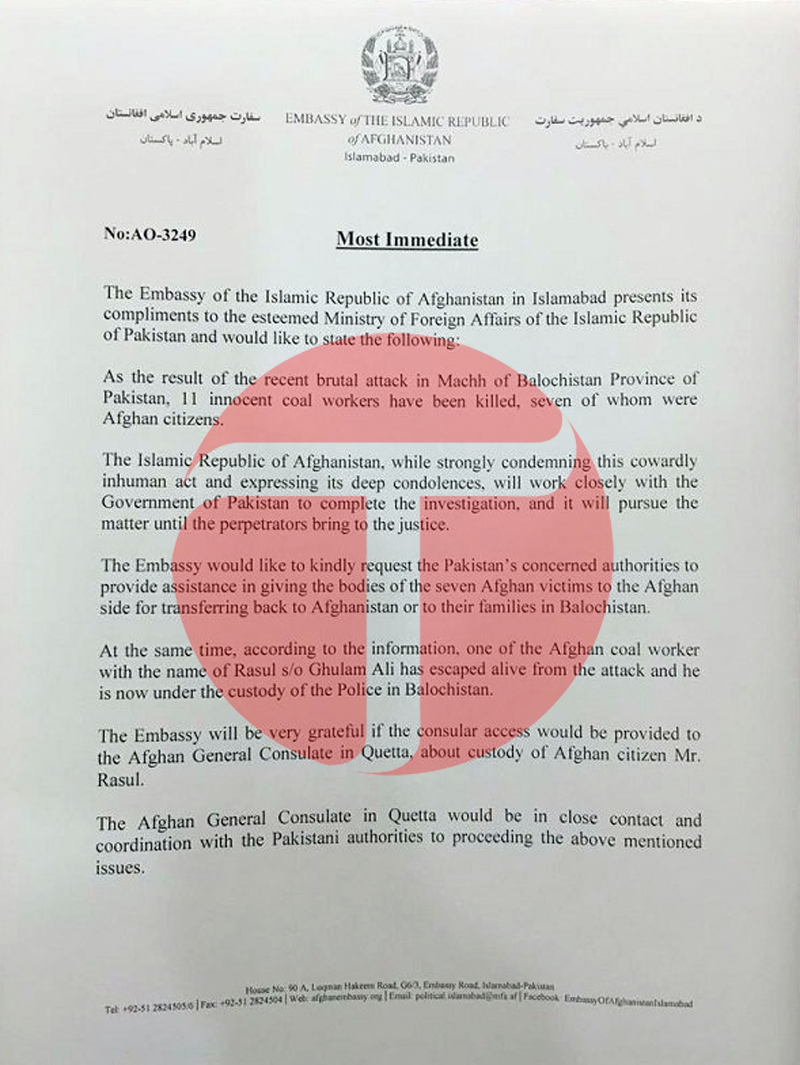 COMMENTS
Comments are moderated and generally will be posted if they are on-topic and not abusive.
For more information, please see our Comments FAQ