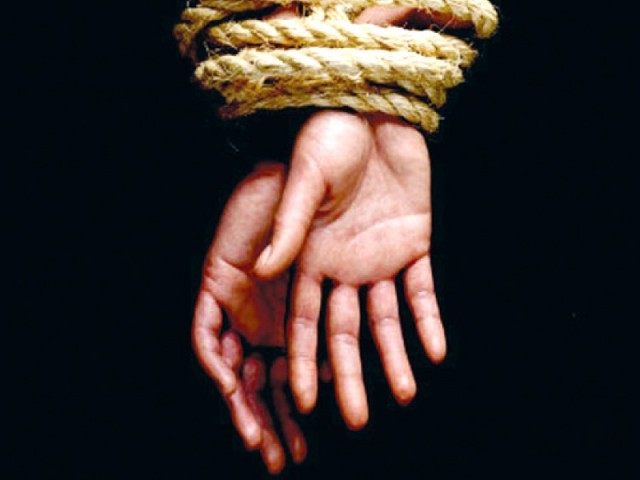 ---
KURIANWALA:
As many as six persons including a woman were abducted from different areas of Khurrianwala on Tuesday.
The victims also include two men, a baby girl and two teenage girls.
Police registered cases against the nominated accused and started searching for the abductees.
The case filed by Nimrah Abbas, a resident of Ganesh Mill Road, Factory Area, stated that her baby girl was playing outside the house when her in-laws including Fayyaz Mehmood, Shahid Faraz, Ahmed Sohail, Faisal Shabbir, Iqra, wife of Ali, and Farrukh Waqar came and kidnapped her baby girl in a white van.
Separately, a 15-year-old daughter of Muhammad Pervez and a resident of Muhammadpura area of Gulberg, was abducted by unknown persons.
In Mohalla Fatehabad Peoples Colony, Qasim's 16-year-old daughter was abducted by Sajid Ali and Ghulam Abbas while she was going to collect groceries for her house.
Moreover, Rehana Kausar's sister was abducted by seven persons including Aamir in Nadwala Road 31JB.
In addition to this, the son of Munawar Hussain and an employee of the FDA department at Nadwala Road 61RB, was standing outside his house when Ahsan Mushtaq, Hassan Taj and four others abducted him.
Furthermore, 60-year-old Muhammad Bota, father of Yasir Usman, was abducted by unknown persons on Jhang Road 67JB.
Police had registered separate cases against the kidnappers and started searching for the abductees. Police raids were also being conducted to nab the culprits.
Cases of abduction were not uncommon in the province.
On November 28, 2020, a 10-year-old girl was abducted and murdered in Chak No 711L, on the outskirts of Harappa.
On October 27 last year, police arrested two security guards over their involvement in the abduction of a newborn baby from a hospital in Faisalabad.
The police took the security guards into custody after they saw the security guards talking to the kidnapper in CCTV footage of the incident.
On September 27 last year, five people including a woman and four teenage boys were allegedly abducted in Faisalabad.
Three teenage boys, all students of ninth grade at a school in 203GB, Malikpur, were walking home after running some errands at a nearby shop to when they were abducted by unidentified suspects.
Separately, the 14-year-old sister of Hakeem Ali was abducted by the accused Sahib Khan and his four accomplices in suburban village 45GB.
Meanwhile, Arshad Mahmood's 13-year-old son was abducted by unknown persons while he was playing outside his house in Jhang Road, 77GB.
On August 21 last year, a shrewd burqa-clad woman had kidnapped a newborn baby from Allied Hospital, Faisalabad and fled away easily. Nosheen, a resident of Faisalabad's Nisar Colony had given birth to a baby girl.
An unknown burqa-clad woman had reached the mother's room to congratulate the family and asked to handover the baby girl to her for vaccination. The woman could be seen fleeing from the hospital with the infant in CCTV footage available with the media.
Hearing the news of the kidnap, the grandfather of the baby girl had suffered a heart attack due to shock and lost his life.
On May 17, 2019, the newborn baby of a labourer was kidnapped from Lady Willingdon Hospital, Lahore.
About 40 kidnapping cases are reported in Punjab daily on average but over half of them are not pursued due to various reasons.
Official data shows that 12,230 kidnapping cases were registered in the province during the first 10 months of 2020.
(THE VICTIMS' IDENTITIES HAVE NOT BEEN DISCLOSED AS A MATTER OF POLICY)
Published in The Express Tribune, January 6th, 2021.
COMMENTS
Comments are moderated and generally will be posted if they are on-topic and not abusive.
For more information, please see our Comments FAQ