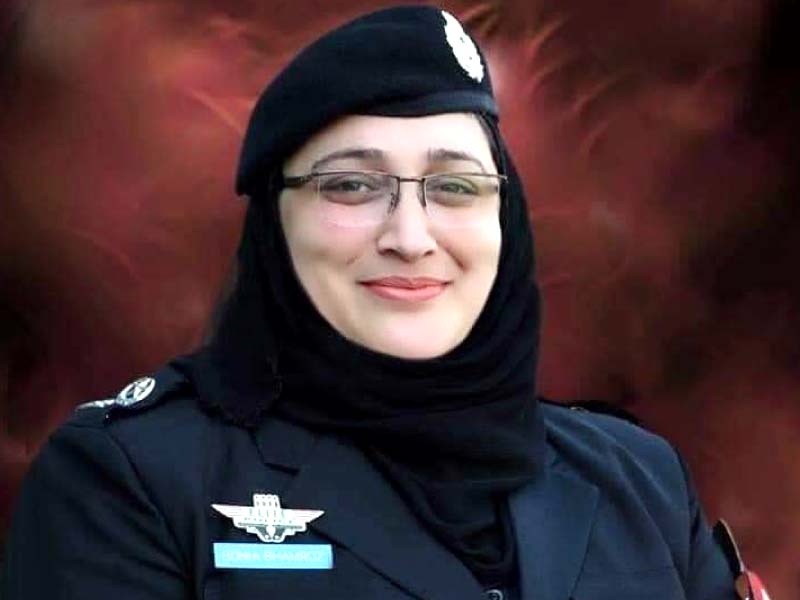 ---
PESHAWAR:
Some four days ago, the province of Khyber Pakhtunkhwa, in what's nothing shy of a historical move, welcomed its first female District Police Officer (DPO). But where the grade-18 officer of the Police Service of Pakistan and Chevening-fellow SP Sonia Shamroz is the first woman in K-P to climb a rank so high, she's definitely not the last.
In recent years, several policewomen serving across various law-enforcement wings in the province, have shown exemplary performance in the line of duty. Many among them have had to fight against all odds for their place in the constabulary, and yet they have proven to be every bit worthy.
One such lionhearted officer is Deputy Superintendent of Police (DSP) Rozia Altaf, who's credited for spearheading women's service in the valorous Elite Force — a department trained in counter-terrorism, guerilla warfare and martial arts. "Elite Force is a contingent of soldiers living on the front line. Women are made part of the team after receiving advanced training in dealing with terrorists, destroying their hideouts, using heavy weapons, and defusing bombs," Altaf told this correspondent.
Similarly, in the city of Peshawar, DSP Anila Naz, has come to fore as the provincial capital's first female traffic police officer. Although, her department's considered to be one of the trickiest police wings to manage, Naz has been quick to lay down the ground-rules in pursuits of better administration. Soon after assuming position, the officer took herself the responsibility to educate the people of Peshawar about challans, traffic signals and basic driving principles. It is believed that if DSP Anila Naz's efforts bear fruit, the city could soon be seeing a new dawn for its muddled traffic system.
Another stalwart from the same command, is an officer named Shazia, who is currently serving as Peshawar's DSP Traffic Education Unit. The quick-witted officer was highlighted in her department for taking charge of various awareness campaigns during the early days of Covid-19, in her province. "It was a difficult decision to make, but I knew I had to lead by example. I'd be on the city's highways disseminating Public Service Announcements about Covid-19 during the day, and then come home to take care of my elderly parents and children. I wasn't scared for myself, but the fear of exposing my family to the disease would gnaw at me every day," the DSP expressed.
A few other women summiting new horizons in the field also include Elite Force Lady Commando Gul Sana from Tank and ASI Saima Sharif from Peshawar. The two officers are currently part of the United Nations coveted peacekeeping mission, where they have held the country's name with great honour.
The gender gap in police service
However, where the list of notable women in K-P's law-enforcement agencies appear to be growing every day, the sector is certainly not one without gender disparity. Despite fighting tooth and nail to join the ranks of K-P's constabulary, there are yet many departments in the police service, the doors to which remain closed to female officers to-date. For instance, per sources, the number of female investigators in most districts of the province, including Peshawar, is almost non-existent. This gender-gap in the department means that there is not a single police investigator in the entire provincial capital, who's truly capable of investigating women's issues with empathy.
On the other hand, lack of housing for women is another issue which has long plagued the department, but was recently decided to be taken up with the provincial chief minister. "Proposals to increase the number of women police officers in K-P, to set up separate police stations for women, and to activate women's desks and establish permanent housing for women will soon be sent to the Khyber Pakhtunkhwa Chief Minister. After which, it is hoped that the problems of our policewomen will be solved on priority and permanent basis," a provincial government source informed The Express Tribune.
Published in The Express Tribune, January 5th, 2021.
COMMENTS
Comments are moderated and generally will be posted if they are on-topic and not abusive.
For more information, please see our Comments FAQ