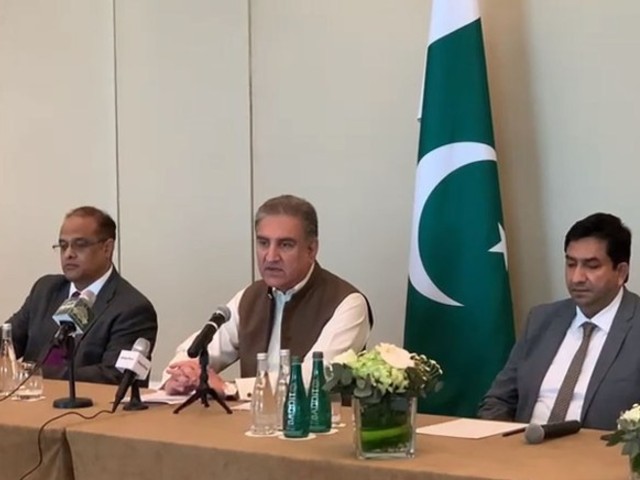 ---
ABU DHABI:
Foreign Minister Shah Mahmood Qureshi said on Friday India was planning, and seeking "tacit approval" from "important players, whom it considers its partners", to undertake a surgical strike against Pakistan to divert attention of the world from its own worsening domestic situation.
Addressing a press conference in Abu Dhabi, Qureshi warned that India's irrational approach was driven by its frustration, emanating from internal unrest due to the RSS-BJP regime's policies aimed at subjugation of religious minorities and disadvantaged segments of the society.
"India is planning a false flag operation … we are well aware about Indian designs. We have intelligence report about false flag operation by India," the foreign minister said. "I want to share all this information with the UAE government and the rest of the World," he added.
The foreign minister visited United Arab Emirates (UAE) for two-days, where he held meeting with his counterpart Sheikh Abdullah bin Zayed Al Nahyan. On Thursday, he called on UAE Prime Minister and the ruler of Dubai Sheikh Mohammed bin Rashid.
At the press conference, Qureshi said the situation in Indian Illegally Occupied Jammu and Kashmir (IIOJK) had deteriorated due to India's oppression of the Kashmiri people. He added India was looking to divert focus from its internal issues since the human rights situation in the IIOJK was the worst.
He also mentioned the country-wide protest of Indian farmers and mishandling of coronavirus pandemic, that led to an agitation by the citizens against the incumbent Bharatiya Janata Party (BJP) government, led by Prime Minister Narendra Modi.
He said that Pakistan had revealed "India's sponsorship of terrorism in Pakistan" through a dossier that had been shared with the international community. He also mentioned 'the Indian Chronicles' report by EU DisInfoLab, which he termed a proof that India was misusing the international bodies.
"Pakistan is a peaceful country, however, it is firm on giving a befitting response in case India makes any attempt of military misadventure," he said, urging the international community to take notice of India, which was "playing a dangerous game of targeting peace in the region".
Meeting with UAE FM
Speaking about his meetings in the UAE, the foreign minister said he held wide-ranging talks with his Emirati counterpart and discussed issues of bilateral importance. "Pakistan and the UAE enjoy close brotherly relations and stood by each other in difficult times," he said.
Earlier, the Foreign Office said in Islamabad that Foreign Minister Qureshi and his UAE counterpart, Sheikh Al Nahyan, held a meeting in Abu Dhabi in which both sides agreed to develop an institutional mechanism to strengthen the bilateral relations and promote cooperation in various fields.
During the meeting the foreign minister stressed that 1.6 million Pakistanis living in the UAE had been contributing to the UAE's development for many decades. He apprised his counterpart of the difficulties being faced by the Pakistani community in the UAE and stressed the need for their early resolution.
The two ministers also discussed the positive progress made in establishing peace in Afghanistan. Qureshi said Pakistan was committed to continuing its sincere efforts for peace and stability in the region. He also apprised his counterpart of the deteriorating security situation in the IIOJK.
Qureshi appreciated UAE's support to Pakistan and the rest of the world during the Covid-19 pandemic. He assured his counterpart of Pakistan's active participation in the Expo 2020. Both sides agreed to continue consultations on issues of mutual interest.
Earlier in Dubai, the foreign minister visited Pakistani consulate, where he was received by Consul General Ahmed Amjad Ali and senior officials. The foreign minister was briefed that Dubai Consulate repatriated 58,500 Pakistanis stranded during the coronavirus pandemic.
The foreign minister commended the consul general and his staff for taking special care of the Pakistani community in Dubai. He directed the consul general to use economic diplomacy to acquaint the effective investors of Dubai with the best investment opportunities available in Pakistan.
Meanwhile, Special Assistant to the Prime Minister (SAPM) on National Security and Strategic Policy Planning Division, Dr Moeed Yusuf on Friday said Pakistan had reminded the world that peace was a collective responsibility where it should prevent India from destabilizing the region, an attempt to divert attention from its domestic troubles.
The SAPM, in a tweet, said as Foreign Minister Shah Mehmood Qureshi had just informed international media in United Arab Emirates (UAE) and we had very specific and reliable intelligence of Indian plans to attempt surgical strikes against Pakistan.
"We know that India is deeply unnerved because its acts of aggression against Pakistan through state sponsored terrorism and blatant disinformation based propaganda have been exposed."
India's desperation, he said had reached absurd levels where if they think they could strike a united and proud nation that was a nuclear power.
"We have informed the world that we know exactly what India wants to do. We also know that some capitals were already aware."
The SAPM said: "Let there be no doubt that Pakistan stands for peace but if provoked, our armed forces are fully prepared to thwart any aggression on our homeland and teach our enemy the lesson they deserve."
(APP WITH ADDITIONAL INPUT FROM OUR ISLAMABAD CORRESPONDENT)