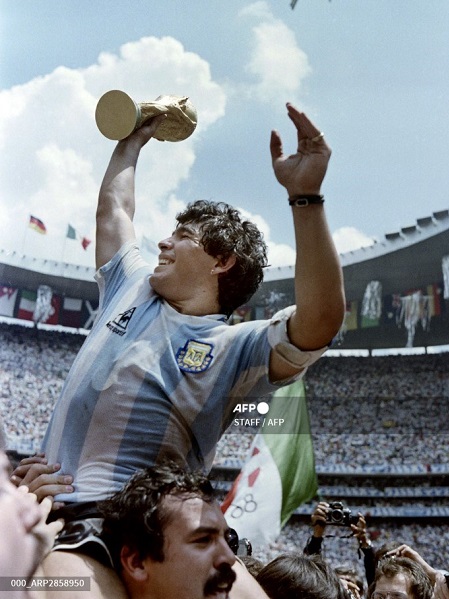 ---
When Muhammad Daniyal Nadeem alias Denna's father heard legendary Argentinian footballer Diego Maradona had passed away on Wednesday, he was plunged into anger and sorrow to the point that he - a former footballer himself - could not eat.
In recent years, he had only watched the World Cup to see Maradona watching the games from the spectators' stands.
That, according to Karachi United Football Club's star player Denna, is the power of Maradona. That is how much he is loved in Lyari and how much his death, on the other side of the globe, had stunned football fans here.
"I've never seen Maradona play myself, but the love for him came to me from my father. I've grown up admiring the man - he was a legend and it is a loss," remarked Denna. "I've been sharing clips of Maradona and tributes to him all day. Everyone in Lyari is talking about him."
Plus, he smiled, his father would say the gifted footballer was also loved because he had shown the English that they didn't own the sport - a reference to Maradona's iconic 1986 Fifa World Cup campaign, which led Argentina to glory and included the notorious 'Hand of God' incident, earning him a lifetime of English commentators and fans' wrath.
The former Napoli FC and Barcelona FC star is well-loved - indeed, idolised - in Pakistan and Denna believes the only reason there haven't been any gatherings in tribute to him is the fear of Covid-19. And so, the clubs in Lyari have only seen people remembering the larger-than-life legend and his feisty persona that represented football in all its glory.
In the eyes of K-Electric player Akbar Ali, who is protesting against KE for shutting down the football team and forcing players to work nominal jobs, Maradona's death is symbolic for him and for Karachi's football community.
"It's the death of a star. Today, my club Phool Patti FC didn't train, we didn't play any matches, in protest [against KE] but also in mourning. Everyone in Lyari is sad," he explained. "Here, we only take the names of [Brazilian footballer] Pele and Maradona. Now we admire Lionel Messi too, but Maradona has been like a god even to those who didn't see him play."
Pakistan Steel Mills footballer Muhammad Tariq, too, feels the world of football is smaller without Maradona's presence. "Every football fan is sad, whether here in Malir on any other place."
Echoing Tariq, Meer Ahmed from Ibrahim Hyderi's Baloch Mujahid FC said the visionary player's passing was felt more keenly because of the grief of community elders. "We grew up hearing legendary stories about him. He was bigger than even Messi now. We haven't planned any gatherings yet because of Covid-19, but we share the sorrow of all football fans."
Maradona passed away in Buenos Aires, Argentina, due to a heart attack after battling a series of health problems at the age of 60.
Considered by some to be the greatest football player ever, his death has left the sports world in shock and grief.
Published in The Express Tribune, November 27th, 2020.
COMMENTS
Comments are moderated and generally will be posted if they are on-topic and not abusive.
For more information, please see our Comments FAQ