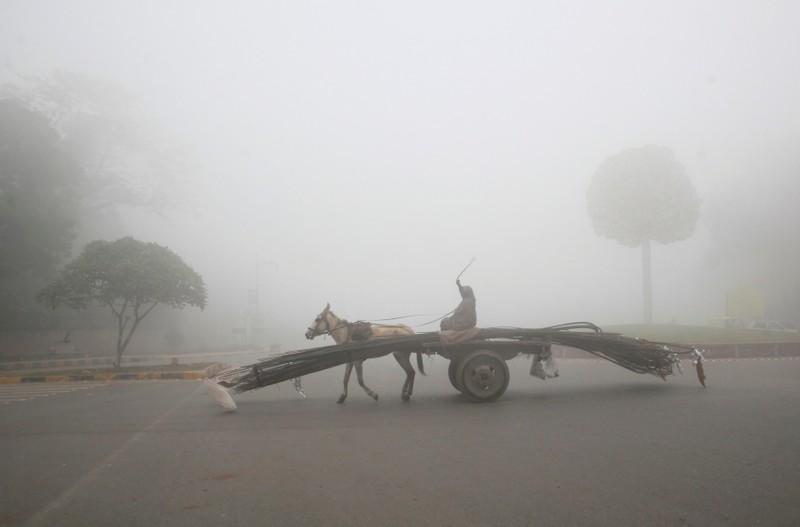 ---
LAHORE:
With smog caused by pollution on the rise in the provincial capital, citizens in some areas have complained of breathing problems.
The air quality index in some areas exceeded 400, deemed very unhealthy for the population. The smog is also on the rise in several other cities.
Medical experts advised the citizens to wear masks and goggles to avoid the effects of smog. The smog intensifies in the evening, they pointed out.
While the authorities sprayed water in areas most affected by smog after shutting down traditional brick kilns, some air pollution detectors were not functioning because of lack of repair.
The Punjab Environment Department has seven air monitoring stations and a mobile unit. According to sources, four air monitoring stations are not functioning due to faults. Air pointers purchased in 2015 are also lying nonfunctional in offices.
International organisations monitoring pollution have forecast that the air quality index in Lahore is likely to remain between 302 and 442 during the coming week. Major causes of air pollution and smog include smoke from vehicles, factories and conventional brick kilns, dust and fire set to crop residues.
Section 144 has been enforced in Lahore and other cities of Punjab against burning of crop residues. Meanwhile, the Parks and Horticulture Authority is spraying water in the areas most affected by smog in the morning and evening.
According to Punjab Environment Minister Bao Mohammed Rizwan, the traditional brick kilns have been closed down from November 7 to December 31 under court orders. During the past month, 165 FIRs have been registered against those responsible for pollution.
Chairman Environment Commission Justice (retd) Ali Akbar Qureshi said the government has no long-term policy against smog and some departments were themselves setting garbage on fire. People were paying fine of Rs2,000 but not getting their cars fixed to avoid smoke.
On the other hand, Punjab Relief Commissioner Babar Hayat Tarar has delegated powers for smog prevention to the deputy commissioner Lahore. The DC said action had been taken against owners of 564 vehicles and 238 factories, while Rs2 million worth of fines had been collected as part of efforts to curb smog. The relief commissioner has also issued a warning to transport, environment and agriculture department officers to take steps to prevent smog.
According to the relief commissioner, about 12% of the smog is caused by burning of crop residue in India and 8% in Punjab, 43% from vehicle smoke, 25% from gas and fumes from factories and 20% by burning garbage.
Director General Punjab Agriculture Extension Department Dr Anjum Ali Butter said incidence of burning crop residues has dropped significantly this year as compared to last year and farmers were destroying paddy residues in modern ways. He said that there were reports of burning of crop residues in Indian Punjab, due to which there were fears of increased smog in Lahore, Sialkot, Narowal and other border areas.
Ayesha Ejaz, a resident of Mughalpura, told The Express Tribune that smog was causing irritation in eyes and difficulty in breathing in the area. Along with the smog, there is a danger of re-emergence of coronavirus.
Mohammad Amin, a resident of Droghawala, said his area was affected by pollution throughout the year. There are dozens of mills in the area that burn tyres. He said the pollution had intensified as the winter had begun and many people had fallen sick because of incessant smoke.
Medical experts said wearing masks and goggles, and washing the face after remaining outdoors could protect the people from the novel coronavirus as well as smog.
Published in The Express Tribune, November 8th, 2020.
COMMENTS
Comments are moderated and generally will be posted if they are on-topic and not abusive.
For more information, please see our Comments FAQ