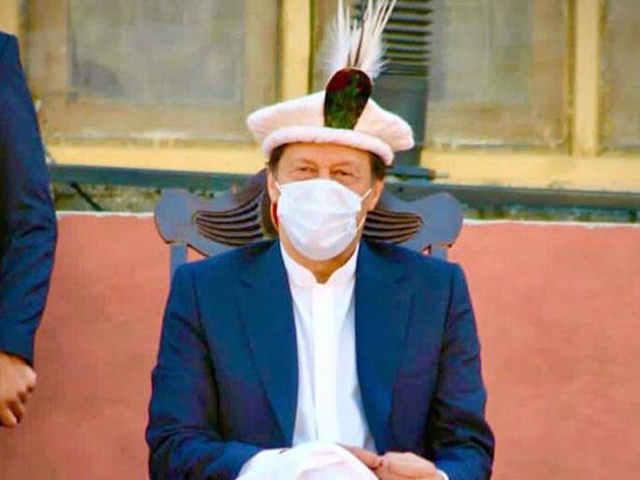 ---
Gilgit-Baltistan (G-B) Chief Election Commissioner Raja Shahbaz Khan dismissed criticism over Prime Minister Imran Khan for attending a public gathering in the region ahead of elections on November 15, reported Geo News.
Talking to a programme of the channel, Khan maintained the premier participated in the Independence Day celebrations of G-B and it was "not a political gathering". He stressed action would be taken against violations of election rules, if it happened.
The prime minister addressed an Azadi Parade in G-B on the occasion of its 73rd Independence Day celebrations on Nov 1 where he announced that the federal government has planned to grant status of a provisional province to G-B. He was accompanied by Federal Minister for Kashmir Affairs and G-B Ali Amin Gandapur.
In his address, the prime minister excused to announce any development package for the region due to the violations of the Election Commission's rules, however, he assured people to uplift backward areas of G-B, along with other similar regions of the country.
Pakistan Peoples Party (PPP) Senator Sherry Rehman slammed federal minister Gandapur for participating in rallies, saying he had been illegally visiting and campaigning in G-B which was blatant violation of election rules in the region.
"He is announcing creation of districts, tehsils and development projects during public gatherings which was never allowed after the announcement of the election schedule," said the PPP leader in a message on Twitter.
The opposition party had filed a petition in the G-B court against the violations of election rules by the federal minister.
Rehman in another message on Twitter added the prime minister had decided to "add to the flagrant rigging and misuse of federal resources" through campaigning in G-B instead of waiting for the ruling in court on Monday.
"These acts are totally against Election Act," she added.
COMMENTS
Comments are moderated and generally will be posted if they are on-topic and not abusive.
For more information, please see our Comments FAQ