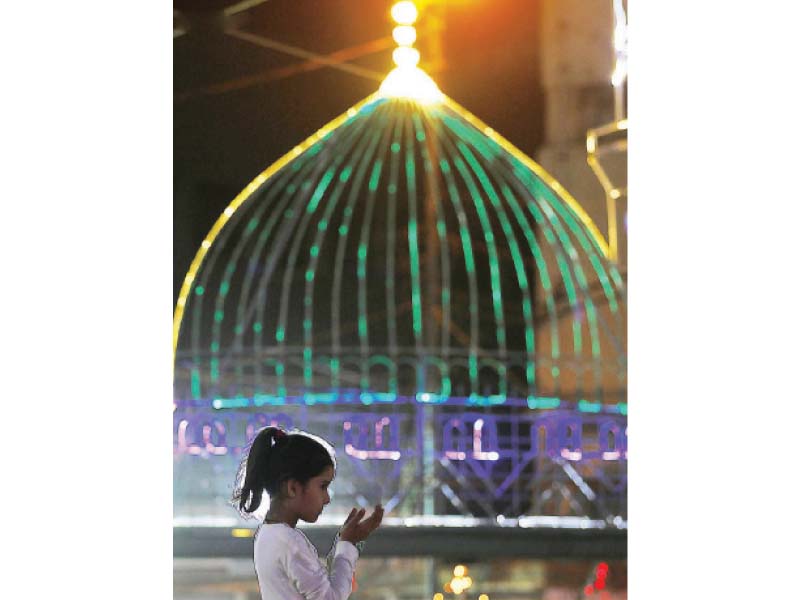 ---
Over 5,000 police personnel will be deployed to protect the main Rabiul Awwal 12 procession in Karachi and congregations today (Friday), said a police spokesperson on Thursday, sharing the final security plan for the occasion. Women and children have been restricted from participating in the main procession.
As per the plan, the main procession will culminate at Nishtar Park, with participants only allowed to join it after passing through walk-through gates and strict measures will be taken to ensure that no one carrying a weapon is allowed to join.
Participants are to cover the distance to Nishtar Park on foot and no vehicles, including motorcycles, trucks, camel carts and minibuses, will be allowed to joined the procession, except those with special passes.
Trucks used for distributing niyaz will also remain parked at designated spots.
More than 5,000 law enforcement personnel, including commandoes from the Special Security Unit and six Rapid Response Force squads, will provide security to the processions and gatherings held in relevance to Eid Milandun Nabi.
Besides, snipers will be deployed on buildings along the main procession route for surveillance, while CCTV cameras connected to the police command and control room have also been installed along the route.
Hyderabad
In Hyderabad, approximately 42 rallies will be taken out in observance of Eid Miladun Nabi today.
Large rallies will converge at Tilak Incline, from where they will head towards Station Road, Kohinoor Chowk and other areas.
The city's largest Eid Miladun Nabi rally, organised by Dawat-e-Islami, will be taken out from Affandi Town, while Pakistan Sunni Tehreek's rally will be taken out from Pathan Colony after Zuhr prayers. The Sakhi Abdul Wahab Shah Jeelani Trust's rally will be taken out from the shrine of Hazrat Sakhi Abdul Wahab Shah Jeelani near Qadam Gah Mola Ali (RA).
Anjuman-e-Fidayeen Pakistan's rally, led by Jamiat Ulema-e-Pakistan's (JUP) leader Sahibzada Shah Muhammad Owais Noorani, will feature a band of children and an artificial cannon. Over half a dozen small and big rallies will join this procession, and a Milad-e-Mustafa (PBUH) conference will be held after its culmination at Kohinoor Chowk.
Another rally led by JUP-Noorani's leader Sahibzada Abul Khair Muhammad Zubair will be taken out from Ahmed Raza Chowk around 2 pm. Dozens of other rallies will merge with the rally, which will culminate at Milad-e-Mustafa (PBUH) Chowk where a conference will be held.
The Hyderabad police have finalised the security arrangements for the celebrations. The police spokesperson said on Thursday that Mehfil-e-Naat will be organised at dozens of places and five of the biggest congregations in the city will be held at Bagh-e-Mustafa ground, Allama Iqbal ground, Puqqa Qila ground, Hussaini Chowkm Paretabad and Town Hall, Tandojam.
He said the Pakistan Sunni Tehreek, JUP and Muhammadi Masjid Bohri Jamaat Khana will take out the largest rallies in Hyderabad.
According to him, some 2,000 policemen will provide security to the rallies while another 1,000 policemen will be deployed at locations across the city.
People have set up stall along the rallies' routes for providing water and free meals to the participants of the processions.
On Thursday, the eve of Eid Miladun Nabi, Hyderabad was illuminated with colourful lights and festooned with flags, buntings and models of Masjid-e-Nabvi.
Published in The Express Tribune, October 30th, 2020.
COMMENTS
Comments are moderated and generally will be posted if they are on-topic and not abusive.
For more information, please see our Comments FAQ