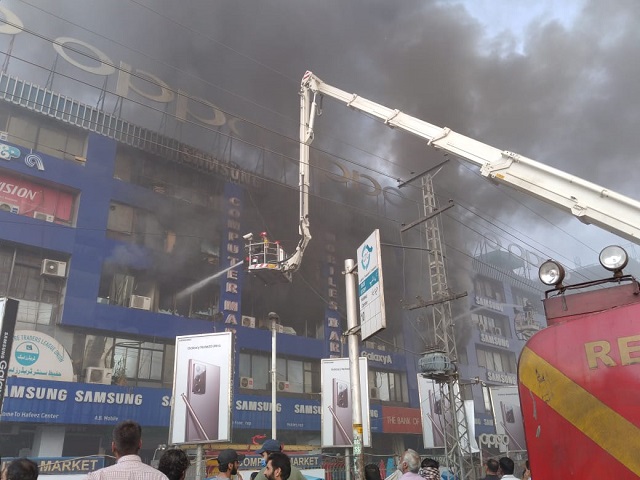 ---
LAHORE:
Rescue services scrambled to get under control a massive fire that broke out in an electronic market in Lahore on Sunday morning.
According to eyewitness testimonies, the fire initially broke out on the second floor of the Hafeez Centre and eventually spread to the fourth floor.
The intense blaze not only prompted a response from the rescue services, but also compelled a number of officials from the local administration to arrive at the site - these included Lahore Commissioner Zulfiqar Ghuman, Deputy Commissioner (DC) Mudassir Riaz Malik and Capital City Police Officer (CCPO) Umar Sheikh.
CCPO Sheikh said 25 people had been rescued from the building and there were no reports of casualties so far.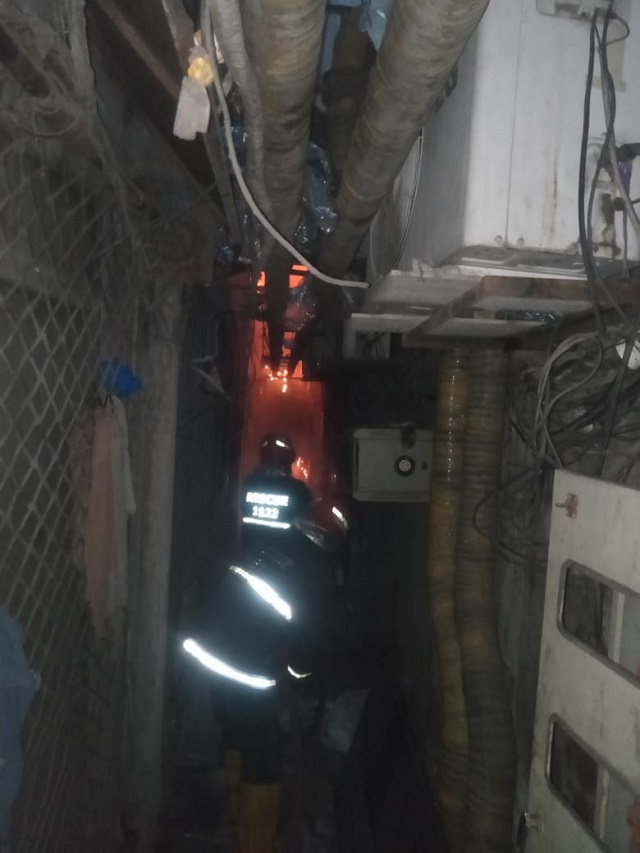 PHOTO: EXPRESS
Provincial Health Minister Dr Yasmeen Rashid also reached the market on the instructions of Punjab Chief Minister Usman Bazdar. After reviewing the relief operations at Hafeez Center, Rashid sought a report from the concerned authorities.
Speaking to the media, health minister said that CM Buzdar has taken immediate notice of the fire. "Rescue teams are working hard to contain the blaze. The investigation committee will conduct a full investigation into the fire. Those responsible will be identified after the investigation report. We appeal to the shopkeepers to cooperate fully with the relief teams," she added.
Moreover, DC Lahore and Director General Rescue 1122 Dr Rizwan Naseer briefed the provincial health minister about the steps taken to control the fire.
"Workers from Rescue 1122 and fire department are present at the site and are working on putting out the fire. Snorkels are also present and all resources will be utilised," the DC said while addressing the media, adding that he was leading the efforts himself.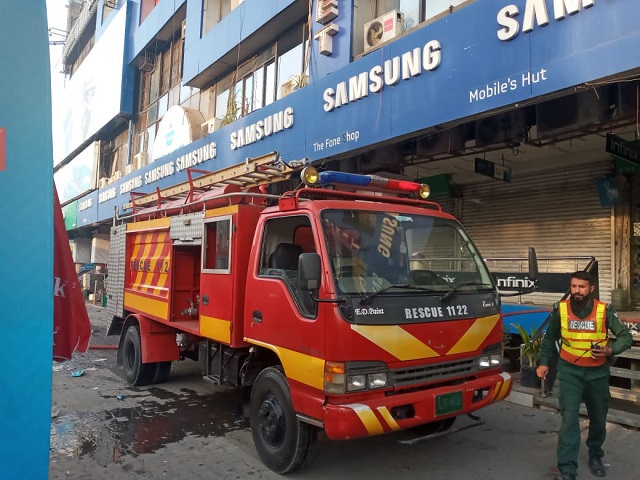 PHOTO: EXPRESS
Authorities revealed that the initial survey indicates the fire broke out due to a short circuit. However, a definite reason could only be given after the report was submitted.
Additional Chief Secretary Home Momin Agha was also present at the site of the rescue operation.
Taking notice of the incident, CM Buzdar directed authorities to use all resources to put out the fire.
Directing "immediate investigation" into the incident, the chief minister said, "priority should be given to rescuing people stuck inside [the building]."
وزیر اعلی پنجاب کی حفیظ سنٹر میں آتشزدگی پر قابو پانے کیلئے تمام وسائل بروئے کار لانے کی ہدایت

"انتظامیہ اور ریسکیو 1122آگ پر قابو پانے کیلئے ہر ضروری اقدام اٹھائیں. پھنسے ہوئے افراد کو بحفاظت نکالنا پہلی ترجیح ہے" ۔ وزیراعلیٰ @UsmanAKBuzdar

واقعہ کی فوری تحقیقات کا حکم

— Government of Punjab (@GovtofPunjabPK) October 18, 2020