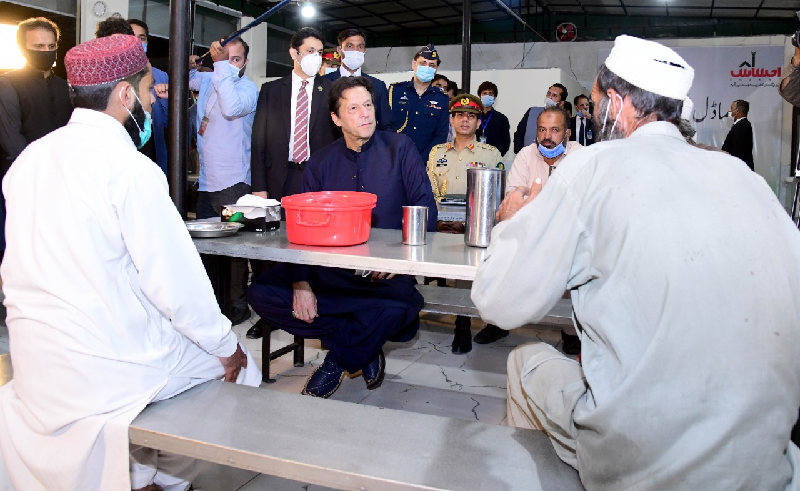 ---
ISLAMABAD:
Prime Minister Imran Khan visited Panagah (shelter home) in Islamabad on Thursday and directed the authorities concerned to ensure observance of quality standards to serve the down-and-out people with dignity.
During his visit to the remodelled Panagah shelter home which is also a Langar Khana (soup kitchen) in the federal capital's Sector G-9, the premier emphasised that initiative could turn counter-productive "if they provided a filthy or unhealthy atmosphere to the beneficiaries".
Special Assistant to the PM on Social Safety and Poverty Alleviation Dr Sania Nishtar, Pakistan Baitul Mal (PBM) Managing Director Aun Abbas Buppi and Senator Faisal Javed accompanied the prime minister, who inspected the facility including the registration room, washrooms and other sections.
وزیر اعظم عمران خان نے آج جی نائن اسلام آباد میں واقع پناہ گاہ کا دورہ کیا، مزدور بھائیوں سے ملاقات کی اور ان کے ساتھ کھانا کھایا۔ پناہ گاہ میں پاکستان بیت المال کی زیرنگرانی رہائش اورکھانے کے نظام کوجدید ٹیکنالوجی استعمال کرتے ہوئے بہتر بنایا گیا ہے۔#Ehsaas #MazdoorKaEhsaas pic.twitter.com/gEQIJ2Xuh1

— Sania Nishtar (@SaniaNishtar) October 15, 2020
PM Imran said the government would never worry about the funding of such facilities if it succeeded to win the people's confidence regarding efficiency and transparency as it would attract the donors to join the noble initiative.
The prime minister, who blended into the people and joined them at dinner, said the employment opportunities would grow manifold consequent to the government's ongoing economic policies.
During the briefing, the PBM head told the prime minister that work on remodelling of four shelter homes in the federal capital had almost been completed while the fifth one being built at Tarnol, was targeted to complete within 45 days.
He said by January next year, the PBM would establish five each shelter homes in Sindh and Balochistan, and eight each in Punjab and Khyber-Pakhtunkhwa.
On the occasion, Dr Nishtar said being close to the PM's heart, the Panagah initiative is particularly meant to support the daily wagers in major cities, who otherwise had to spend nights in the open bearing the harsh weather conditions.
She said the prime minister also directed to formulate certain standards to ensure quality and dignified living and dining for the beneficiaries.
The remodelling of Panagah in the federal capital was in fact the enforcement of the quality standards which would later be emulated across the country, she added.
COMMENTS
Comments are moderated and generally will be posted if they are on-topic and not abusive.
For more information, please see our Comments FAQ