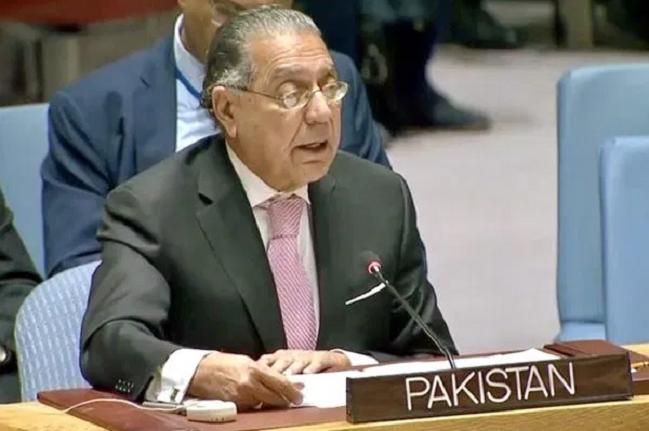 ---
NEW YORK:
Pakistan's Permanent Representative to the United Nations (UN) Munir Akram criticised Indian Prime Minister Narendra Modi's speech at the UN General Assembly (UNGA) on Sunday, for being silent on critical international issues.
Commenting on Modi's speech, the representative said: "The speech was divorced from the reality of an intolerant, divided, brutal and economically failing India, locked in disputes with all its neighbours."
Responding to Modi's self-praise about the reforms he has introduced in the country, Akram mocked Modi for including "freeing of 600 million people from open defecation", adding that the world is "not interested in how many Indians defecate in public".
Modi failed to mention critical issues such as Kashmir, the Middle East, the Palestine question or climate change, Akram stated.
In his address to the UNGA session a day earlier, Modi called for an "expanded role" for India in the UN, with obviously in mind its failed campaign to secure a permanent seat on the UN Security Council.
In his speech to the 193-member General Assembly, Modi said that India would not hesitate in raising its voice against, what he called, the "enemies of humanity, human race and human values – these include terrorism, smuggling of illegal weapons, drugs and money-laundering".
Outside the General Assembly, a large number of Kashmiris staged a rally at which speakers called on the UN to play its role in ending the suffering of Kashmiri people living under tight Indian military-imposed lockdowns, and to implement its resolutions that promised right to self-determination to them.
COMMENTS
Comments are moderated and generally will be posted if they are on-topic and not abusive.
For more information, please see our Comments FAQ