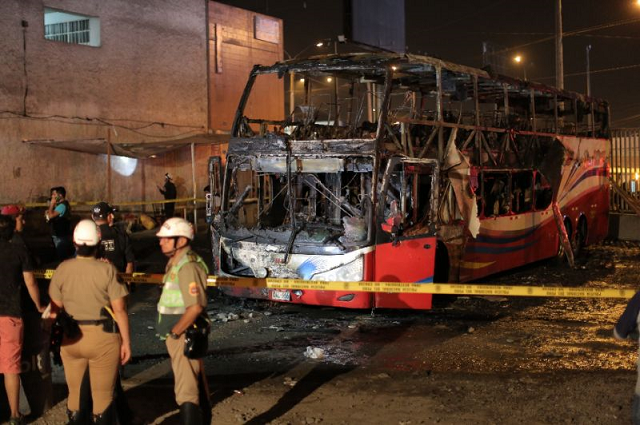 ---
HYDERABAD/ KARACHI:
At least 13 passengers died and 10 others sustained burn injuries after the passenger van, they were travelling in from Hyderabad to Karachi, caught fire following an accident, near ASF City on the M9 Motorway, formerly Super Highway, on Saturday evening.
Nooriabad Deputy Superintendent of Police (DSP) Nazar Muhammad Deeshak said that the ill-fated van, bearing registration number JF-6853, overturned after hitting another vehicle, sparking fire in the CNG cylinders fitted in the vehicle. Fire tenders stationed at an office of the Frontier Works Organisation (FWO) on the motorway put out the fire.
Most of the deceased and injured belonged to Hyderabad. "The bodies seem completely burnt," said Deeshak, who was among the first police team which reached the spot. "The bodies will be recognised only after the DNA test," he added.
The bodies were shifted to Karachi while nine of injured were taken to the Liaquat University Hospital in Hyderabad, even though the place of the accident was nearer Karachi than Hyderabad. Five of the injured were initially taken to Nooriabad trauma centre.
Those shifted to LUH have been identified as Abdul Rasheed,75; Ghulam Sabir, 50; Irfanur Rehman, 30; Asfand, 17; Muhammad Asad, Amir, 3-years-old Faiza, 2-year-old Noor Fatima and 2-year-old Aiza. Five of them are residents of Hyderabad and one each of Karachi and Jamshoro.
An infant, Muhammad Hammad, survived the incident unhurt but his mother, died in the accident, according to officials. According to Hyderabad Commissioner Abbass Baloch the van driver survived the accident and getting treatment at the LUH.
Meanwhile, Sindh Chief Minister Murad Ali Shah and the provincial Transport Minister Owais Qadir Shah expressed shock and grief over the loss of lives in the accident. The chief minister said that the government would extend every possible help to the victims.
The transport minister Shah sought report of the accident, particularly the cause of fire. Shah said that the transport department had been continuously taking action on the use of cylinders in public transport.
Shah said that the transport department had been taking action against the use of cylinders in public transport. He added that after a thorough investigation, a report would be released and whoever committed the negligence would be punished.
COMMENTS
Comments are moderated and generally will be posted if they are on-topic and not abusive.
For more information, please see our Comments FAQ