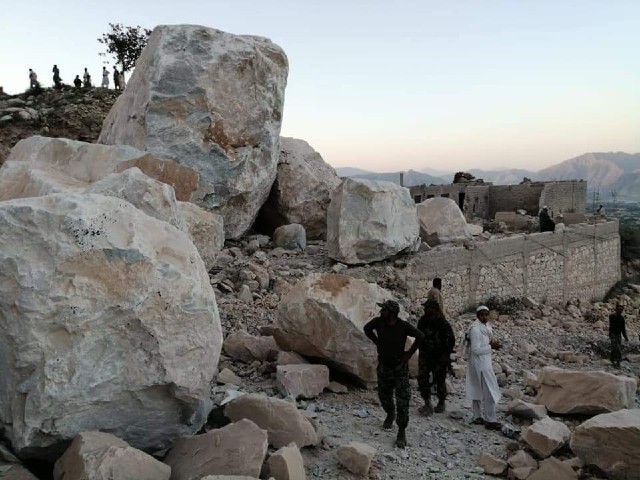 ---
PESHAWAR:
After 21 people perished in fatal rock sliding at a marble mine in the Safi tehsil of the Mohmand tribal district, the provincial government has decided to enhance the compensation paid to the family of the victims, from Rs0.5 million previously to Rs0.9 million.
The Khyber-Pakhtunkhwa (K-P) Chief Minister Mahmood Khan on Wednesday said that a further Rs0.1 million will be paid to the injured mineworkers.
In a statement on Wednesday, the chief minister said the provincial government will not abandon the grieving families in this difficult time. He said the government will also provide medical facilities to the injured labourers.
Meanwhile, K-P Labour Minister KP Shaukat Yousafzai confirmed that at least 21 people had died in the mine collapse incident.
During his visit to the site, Yousafzai had said that around 35 people were working at the mine when the incident took place.
"We have recovered 21 bodies from the debris of the caved-in mine while seven people are still missing," he said.
Yousafzai had said that the rescue teams had rushed to the site soon after the incident. "It was a difficult rescue operation carried out by rescue workers," he said.
CM for upgrading hospitals in merged districts
CM Mahmood has directed the provincial health department to expedite a process to upgrade hospitals in the newly merged tribal districts.
The chief minister issued these directives while engaging a delegation of doctors who had called on him on Wednesday.
The chief minister said that the provincial government has already expanded their universal health insurance scheme to the merged districts.
The delegation told the chief minister that in collaboration with the federal government, a hospital of hepatology and liver transplant was being set up at the Khyber Medical University while they proposed setting up another hospital for neurology.
The chief minister directed the relevant authorities to review the proposal and submit it to him. DNA
Published in The Express Tribune, September 10th, 2020.