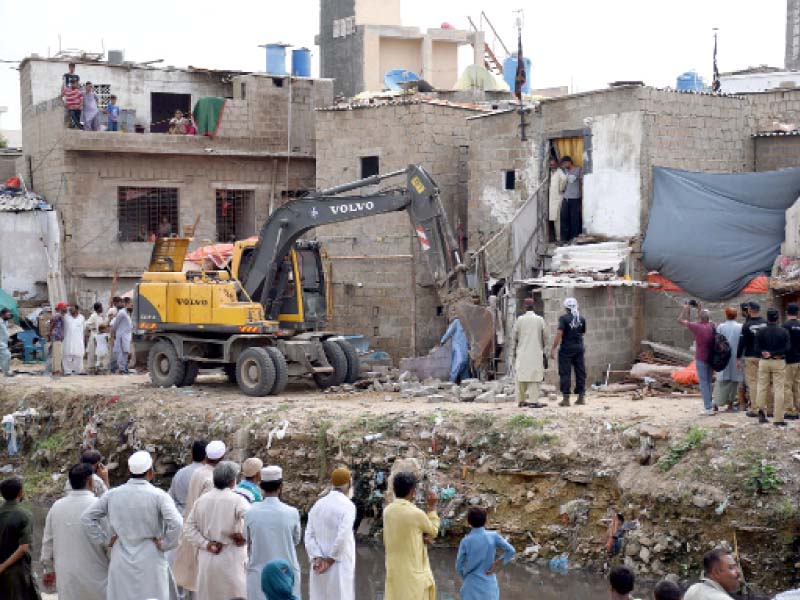 ---
KARACHI:
Sindh government spokesperson Murtaza Wahab declared on Tuesday that encroachments across Karachi would be demolished indiscriminately, as pointed out that it was illegal structures on and around nullahs that were mostly flooded during rains and caused blockages in stormwater drains.
Giving an update on dewatering activities in the city, he claimed water had been drained in most areas and faults in sewerage systems repaired.
"Still, the situation is bad," he added. "It is a 40-year-old problem and cannot be resolved immediately."
Referring to the recently announced Rs1.1 trillion package for Karachi by Prime Minister Imran Khan, he said the PM had announced a similar package worth Rs162 billon for the city in 2019, but nothing came out of it.
"People make claims of developing Karachi but fail to live up to their promises," he remarked. "However, putting the bitterness of the past aside, the Sindh government is ready to work with the federal government and making better use of the Rs1.1 trillion package, we will be able bring about a significant change."
The spokesperson also expressed reservations over the inclusion of Karachi Circular Railway's restoration scheme in Karachi Transformation Plan.
"It is a part of China-Pakistan Economic Corridor (CPEC). How then, can it be included in the plan?" he questioned.
Wahab recalled that it was made a part of CPEC in 2016, on the request of Sindh Chief Minister Syed Murad Ali Shah, adding that the progress on the restoration of KCR had slowed down since November, 2017.
"Sindh CM has written four letters, apprising the PM of the matter and moving him to prioritise KCR's restoration, but there has been no response from the other end," he decried. After all the work that the Sindh government has done on the project, "how can anyone else take responsibility for it?" he stated.
Published in The Express Tribune, September 9th, 2020.