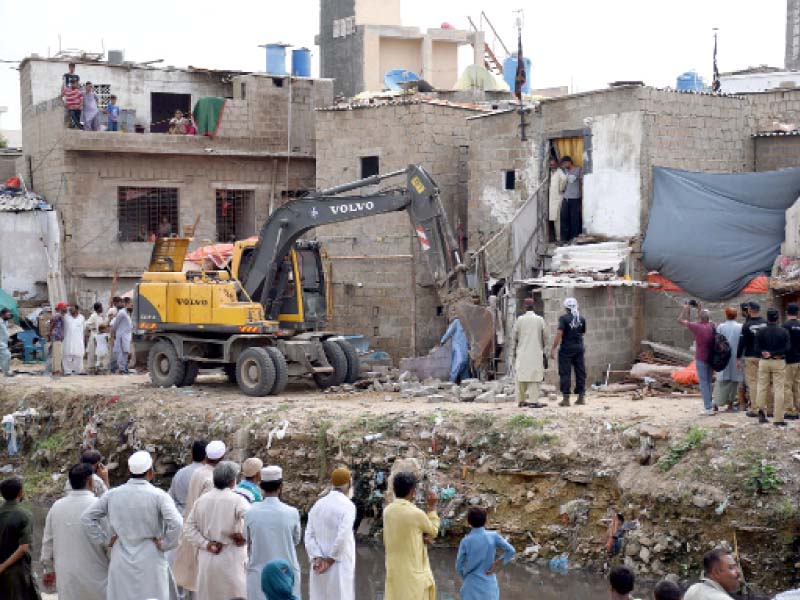 ---
KARACHI:
A melee erupted in the surroundings of Gujjar nullah near Café Pyala on Thursday, as scores of people, having resided in the vicinity for years, staged a demonstration and were forced to disperse by police.
Fearing homelessness, they took to the streets a day after authorities launched an anti-encroachment drive. The drive was launched on the pretext that illegal constructions hampered drainage and caused flooding during rain, after authorities gave residents an ultimatum of hours to vacate their houses.
"We have been living here for years. We are not occupiers," said a vexed protester, lamenting their imminent eviction.
He and others at the protest demanded alternative accommodation, as the government proceeded with plans to raze their dwellings.
The district administration asked mosques to make announcements about the demolition campaign the night before it was to start, instructing residents to vacate their properties by the next morning, the protesters complained, adding that they were not provided or even promised any alternative housing.
Acknowledging that the removal of encroachments was understandable, they said, however, that they needed to be shifted to safe places where they could live in peace.
The demands were later silenced as police in riot gear stormed the site of the protests, forcing the protesters to disperse.
Demolition measures
Meanwhile, district administration officials and Karachi Metropolitan Corporation (KMC) teams, led by KMC anti-encroachment senior director Bashir Siddiqui, carried out a land survey around Gujjar nullah, marking illegal structures within 25-feet of the waterway.
Besides, three shops were razed near Chakor nullah in Shah Faisal Colony and Korangi.
Siddiqui said that surveys had been carried out at two spots along Gujjar nullah and some shops were demolished near Korangi nullah. He added they had cleared an area spanning one-and-a-half kilometre on the day, while surveys would be conducted in more areas on Friday and more "soft encroachments" would be removed.
Negotiation
Earlier, visiting the protest, Jamiat Ulama-e-Islam-Fazl ameer Maulana Abdul Rasheed Nomani told the media his party had mediated negotiations between relevant authorities and residents.
It was agreed that residents would remove illegal structures from the nullah's surroundings on their own and government officials wouldn't use any heavy machinery for the purpose, he said, adding that it was also decided that a land survey would be carried out beforehand.
Nomani further stated that it was agreed there would be no demolition in the nullah's surroundings before the survey.
However, contrary to this, relevant authorities had announced the demolition campaign on Tuesday night, without any survey, and went ahead with it on Wednesday.
Speaking in this regard, the Central assistant commissioner assured that a survey would be conducted.
He also maintained that only "soft encroachments," such as sheds, fences and walls, would be removed during the first phase of the drive and shanties would be razed later.
"Tearing down hard structures is not a small matter and we don't even know the number of people living along the drains yet," he admitted.
Siddiqui also assured that displaced persons would be provided alternative accommodation. He further denied the use of heavy machinery during the initial phase, claiming that illegal structures were demolished with hammers and other tools.
Published in The Express Tribune, September 4th, 2020.